José Moreno Hernández is an American engineer and former NASA astronaut. He currently serves as a Regent of the University of California. Hernández was assigned to the crew of Space Shuttle mission STS-128. He also served as chief of the Materials and Processes branch of Johnson Space Center.
Early Life and Education
Born on August 7, 1962, in the small town of French Camp, California Hernández was one of four children to Mexican parents - immigrants from La Piedad, Michoacán who worked as farm laborers. As a child, Hernández worked alongside his family and other farmworkers throughout the fields of California, harvesting crops and moving from one town to another. He attended many schools and didn't learn to speak English until he was 12. Reportedly, his first memory of space is about adjusting the television in order to watch the Apollo 17 mission in 1972.
Hernández participated in a program called 'Upward Bound' during high school, a Federal TRIO program that prepares students for college. He graduated from Franklin High School in Stockton. While in college, he was involved in the Mathematics, Engineering, Science Achievement (MESA) program, an academic preparation program that provides support to students from educationally disadvantaged backgrounds so they can attain four-year degrees in science, technology, engineering, or math (STEM) fields.
Hernández's determination to overcome language barriers and educational disadvantages led him to earn a bachelor's degree in electrical engineering from the University of the Pacific and a master's degree in electrical and computer engineering from the University of California, Santa Barbara.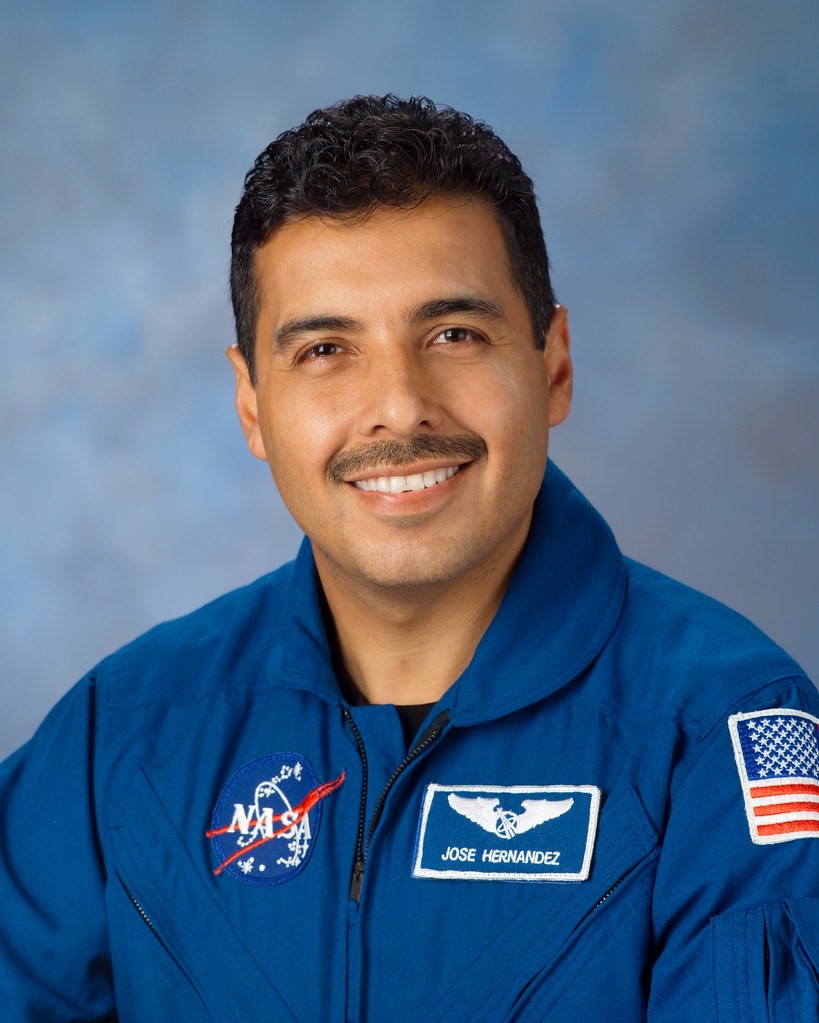 José Moreno Hernández FlikrNASA and the Road to Space
Hernández was rejected by the NASA astronaut training program 11 times but, undeterred, he persisted, working as an engineer for the Lawrence Livermore National Laboratory and the Johnson Space Center, where he supported the shuttle program.
In 2004, Hernández's perseverance paid off when NASA selected him as an astronaut candidate, becoming one of the few Hispanic astronauts in NASA's history.
Hernández underwent rigorous training at NASA's Johnson Space Center, preparing for missions to the International Space Station (ISS). In 2009, his dream was realized when he boarded the Space Shuttle Discovery on mission STS-128, where he spent nearly two weeks in space. During this mission, he conducted numerous experiments and helped deliver essential supplies to the ISS.
José M. Hernández Reaching for the Stars Foundation
Hernández's journey from the fields of California to the stars has inspired countless individuals, especially within the Hispanic community, to pursue careers in science, technology, engineering, and mathematics (STEM). He has become an advocate for education, emphasizing the importance of STEM education in unlocking opportunities for the next generation.
Through his foundation, which was formed in December 2005, the José Hernández Reaching for the Stars Foundation, he promotes STEM education, scholarship opportunities, and mentorship programs for underprivileged students. Hernandez firmly believes that every child, regardless of their background, should have the chance to reach for the stars.
Its mission is "to inspire youth to find passion in Science, Technology, Engineering and Mathematics (STEM) Education, establish a family commitment to education, and develop a support network through community engagement."
By awarding scholarships, the foundation focuses on helping students achieve their educational goals. An annual science conference is designed to inspire youth to pursue occupations in the math and science fields. The foundation also looks to connect with the community to establish a network of resources to help children.
Hernández published an autobiography of the same name Reaching for the Stars: The Inspiring Story of a Migrant Farmworker Turned Astronaut in 2012. Currently he is the CEO and president of Tierra Luna Engineering. For all his inspirational efforts, Jose was awarded the National Hispanic Hero Award in 2016.
Hernández's recipe for success:
Determine what you want to do when you grow up.
Look at where you are now and how far you have to go.
Determine a path to your goal.
Stay in school
Work hard.
Persevere.
A Million Miles Away
An Amazon Prime biopic of Hernández's life story, 'A Million Miles Away,' premiered on September 15th, 2023. Hernández is played by Michael Peña, who tracks Hernández from itinerant student to barrier-breaking electrical engineer to the International Space Station and motivational speaker.
Page created on 9/18/2023 2:57:24 PM
Last edited 9/18/2023 3:18:02 PM
Related Links
Reaching for the Stars Foundation
- The Foundation's goals are to educate students about the Science, Technology, Engineering and Math (STEM) fields. Scholarships are awarded to assist individuals in focusing their studies on the STEM pathways.