For many, traditional recipes offer a way of honoring one's heritage. Meet the Native chefs helping restore that sense of cultural memory at a new food lab in Minnesota.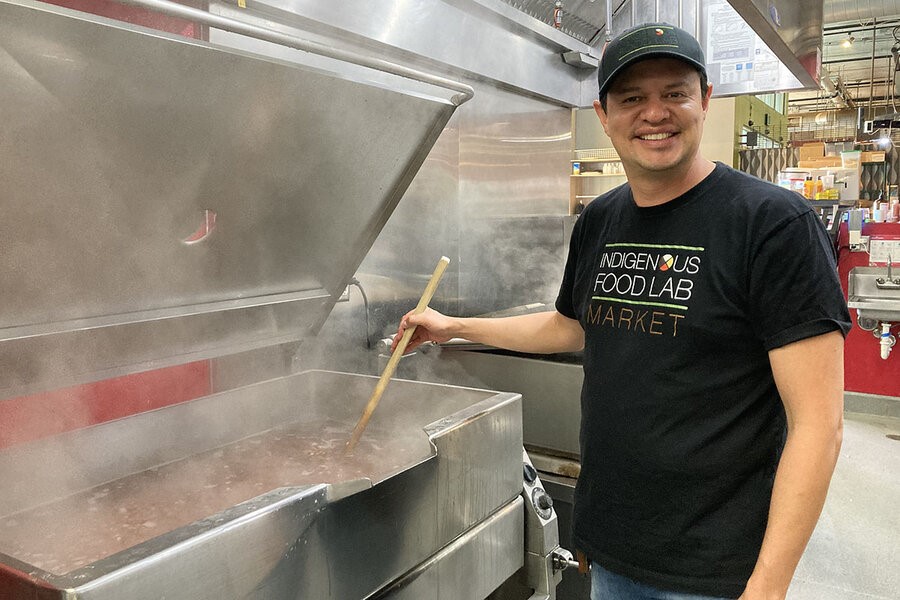 Ismael Popoca Aguilar, culinary program manager at the Indigenous Food Lab in Minneapolis, stirs a nixtamal preparation for making tortillas, Aug. 2, 2023. The lab, a restaurant and training center, opened in June. Colette Davidson
| MINNEAPOLIS - Streams of pearl vapor swirl upward from a rectangular vat in an open kitchen at the Indigenous Food Lab, where Ismael Popoca Aguilar is stirring a mixture of limestone, water, and corn with a thick wooden spoon. The nixtamal preparation has to be just right in order to make hominy – and the perfect tortilla.
"You see? This water is more cloudy. It increases the pH, and the skin of the corn dissolves," says Mr. Popoca Aguilar, who is Mexican Mestizo and culinary program manager at the Indigenous Food Lab, which opened in June in Minneapolis. "It's easier to make the dough that way."
Corn is a staple item on the menu here, used not just for tortillas but also as part of grain bowls rich with squash, beans, wild greens, and a choice of bison, whitefish, or turkey. The majority of ingredients are sourced from Indigenous communities in the United States, and only dishes free from products brought to North America during colonization are served. That means no pork, chicken eggs, wheat, or dairy.
It's all part of the vision created by Sean Sherman, an Oglala Lakota award-winning chef. Mr. Sherman is part of a wave of Native chefs who believe that reclaiming traditional cuisine can help revitalize Indigenous culture. Helping others cook food with ties to their ancestral heritage not only is healthier, they believe, but also can help nourish people's sense of identity.
The Indigenous Food Lab, located inside the Midtown Global Market, an indoor multicultural food and crafts market, operates in tandem with the Indigenous-run nonprofit North American Traditional Indigenous Food Systems, which Mr. Sherman created with Dana Thompson.
Part restaurant and part training center, the Indigenous Food Lab hopes to provide outreach beyond Native communities and to strengthen cultural ties within them by reclaiming their cultural ancestry and empowering them to become more self-sustainable. Plans are already in the works for similar ventures in Montana and South Dakota.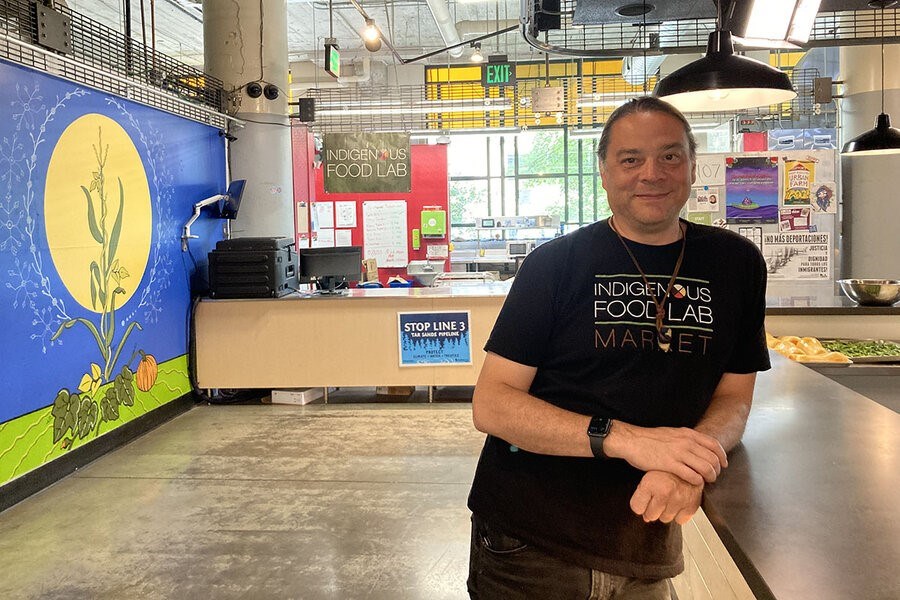 Colette DavidsonSean Sherman, an Oglala Lakota award-winning chef, founded the Indigenous Food Lab in Minneapolis. He is part of a wave of Native chefs who believe that reclaiming traditional cuisine can help revitalize Indigenous culture.
"We're creating a whole new generation of chefs, who can test things out and be role models. We're not trying to be like the past," says Mr. Sherman, who also runs the James Beard-awarded Owamni restaurant in Minneapolis. "Food is such a cultural identifier. We want to carry our philosophy and values forward of making healthy food and preserving knowledge as much as we can."
Stepping in to help
Minnesota's Twin Cities of Minneapolis and St. Paul have one of the largest urban populations of Native Americans in the U.S. More than any other racial or ethnic group in Minnesota, Native Americans suffer from the highest rates of poverty, which is compounded by injustices in the food system.
Inequalities were heightened during the pandemic as well as in the aftermath of George Floyd's murder by Minneapolis police officers in May 2020, which saw small businesses around the Midtown Global Market destroyed by fire and riots.
"There are lots of great programs to address food sovereignty, but we continue to struggle with food deserts in urban areas and getting healthy, fresh foods to [Native] communities," says Mary LaGarde, executive director of the Minneapolis American Indian Center. "There's a problem of proximity to major grocery retailers. If you have to take public transportation or shop with your kids, it can be really difficult. You're not going to find those healthier foods at the corner store."
Even in its early stages, the Indigenous Food Lab stepped in to help. In January 2020, Mr. Sherman had just found a spot to set up the lab when the pandemic hit and his plans were put on hold. Determined to move forward, that June, he and his team instead focused their efforts on food relief, distributing 10,000 meals per week to tribal communities, homeless encampments, and low-income housing districts in the area.
Since opening this past June, the Indigenous Food Lab has continued its outreach, starting by confronting misconceptions about what Indigenous food and culture means.
"People want to say, this is Mexican or this is Native American, but as chefs, borders are more cultural than physical," says Freddie Bitsoie, a Navajo chef and author, who was chosen as the Indigenous Food Lab's inaugural chef-in-residence. "We're trying to bring those borders down and remove the constraints that colonization has created. Our work is to let people know that there was a whole food system in place, not just picking berries."
Turning sidewalks into gardens?
As part of its mission, the Indigenous Food Lab is also training chefs to teach others about Indigenous ingredients and how to use them. This August, the lab livestreamed its first culinary course, Edible Boulevards, from its open kitchen within the Midtown Global Market. First up? How to make wild rice and beans salad.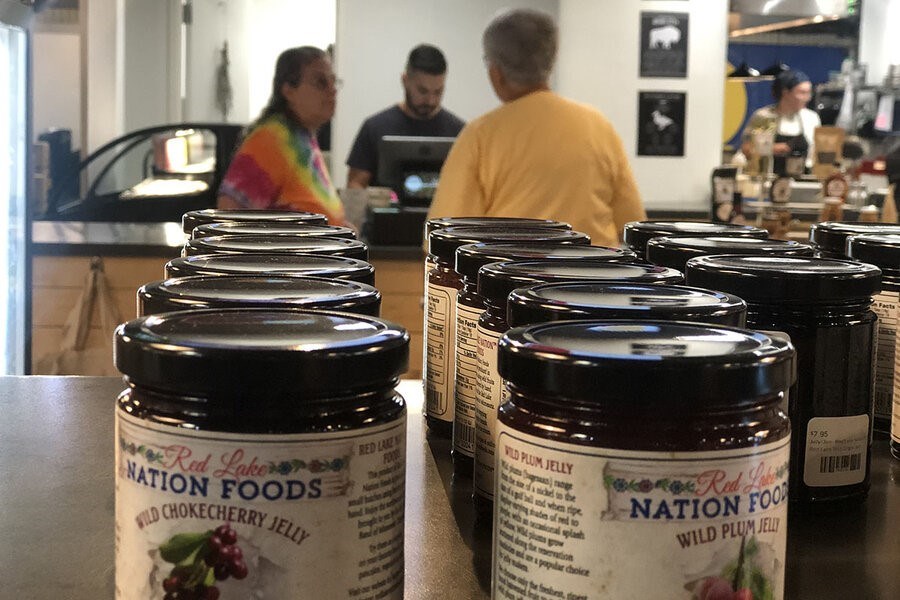 Colette DavidsonThe Indigenous Food Lab is located in Minneapolis's Midtown Global Market, an indoor multicultural food and crafts market. The lab operates in tandem with the nonprofit North American Traditional Indigenous Food Systems.
"We're trying to promote turning [sidewalk] boulevards into garden spaces," says Vern DeFoe, one of the Edible Boulevards teachers. "People are growing things but don't know what to do with them."
With the Indigenous Food Lab's help, Native communities can develop the infrastructure to support a traditional food culture while also promoting healthier options than in the past.
"I witnessed it firsthand growing up," says Mr. Sherman, who grew up on the Pine Ridge Indian Reservation in South Dakota and was raised on a U.S.-funded food program. While the U.S. funds the Food Distribution Program on Indian Reservations, which provides a mix of canned and frozen foods, fresh fruits and vegetables are largely absent, he says. "I didn't realize it until later in life, until I started piecing things together on why we have a lot of obesity, heart disease, and Type 2 diabetes [in our communities]."
That has translated into swapping out some foods traditionally found in restaurants offering "Native" foods. Instead of Navajo frybread or deep-fried tacos with sour cream and cheese, there are corn tortillas and freshly cooked vegetables. Wild rice is blended seamlessly into grain bowls but isn't a standout item. In-house herbal specialist Francesca Garcia has developed a handful of herbal teas, chaga lattes, and cocoa drinks – all caffeine-free and made with non-cane sugar sweeteners such as maple syrup.
The goal, says Mr. Sherman, is that this knowledge-sharing will inspire chefs and translate into more Native-owned and -operated food businesses on the market. Already, Ms. Garcia has plans to open her own tea business.
"Having friends and family capital gives people a lot of room to fail, but Native families generally don't have that type of capital," says Kit Fordham, executive director of Mni Sota Fund in Minneapolis, a Native community development financial institution in Minneapolis that provides wealth-building services to the urban Indigenous community, especially first-time business owners.
"And while they do exist, there are not a ton of success stories [of Native-run businesses] to look at," says Mr. Fordham. "The more people see a cousin or friend starting a business, the more they build confidence and see what's possible."
Mni Sota Fund is launching a $10 million campaign to acquire and renovate a building on the American Indian Cultural Corridor on nearby Franklin Avenue, which will serve as an Indigenous wealth-building center and include business and credit labs. Mr. Fordham says the company has doubled in size every year for the past five years, in terms of assets and revenue – proof of a growing desire within Twin Cities Native communities to launch new business ventures.
That's good news for Mr. Sherman and his team at the Indigenous Food Lab. Even if not everyone is looking toward branching out on their own, the lab offers plenty of learning and opportunities for growth.
Mr. DeFoe, who has been working alongside Mr. Sherman since the lab's beginnings, says that the work he does with the Indigenous Food Lab is what he's always wanted to do. Once a month, he joins team members to visit elders at the Little Earth community in Minneapolis – which has one of the highest densities of Native Americans in the U.S. – to serve breakfast, talk, and give back.
"I recently made wild rice porridge with blueberries and chokecherries for the community. Some people said, 'I haven't had this in such a long time,'" says Mr. DeFoe, who is Anishinaabe and grew up in Red Cliff, Wisconsin. "I was raised with fish and wild rice, but I have learned a lot about Native food since we started. I'm still learning."
Related stories