Audie Murphy: Soldier, Once and forever
by
Alexander Oliver

from

Fredericksburg, Virginia in United States

Alexander E. Oliver

12/7/2017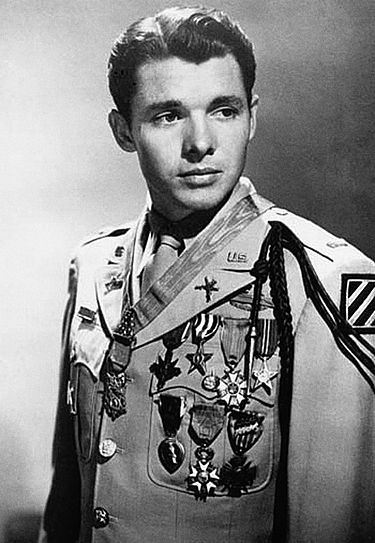 Audie Murphy photographed in 1948 wearing the U.S. Army khaki "Class A" (tropical service) uniform with full-size medals.US ArmyAfter his triumphant return from WWII Audie Murphy suffered what was then referred to as shellshock but in today's time is more commonly known as PTSD. He had issues with sleeping, vomiting, and war oriented nightmares. These symptoms were confirmed during a medical examination on June 17, 1947. At this time the seriousness of PTSD was unrecognized and untreated, while veterans were given sleeping pills there was no mental counseling or support system in place for afflicted soldiers.
However many were unwilling to discuss their issue from a fear of breaking social norms. It was considered rude and uncouth to bring up war during times of peace and also appeared like an invasion of privacy for returning soldiers. It was also considered rude because suggesting someone had their mind altered by war was the same as suggesting they had become mentally-ill which was a very negative societal situation. Audie however decided that enough was enough and went out of his way to speak publicly and openly about shell shock and the effect of soldiers returning from war to their families.
Prior to Audie Murphy's public advocacy for post war care veterans upon returning home were slapped with a pension and sent to fare for themselves. Those who suffered from battle fatigue (another name for PTSD) were sent home same as everyone else with no considerations for their damaged mental states. However Audie Murphy after becoming addicted a sleeping aid and subsequently curing his addiction, realized others faced the same problems as him. After coming to this realization, Audie Murphy became an avid public speaker regarding the issues facing veterans returning from battle. He very strongly openly and publicly pushed Congress towards actions aimed at helping the mentally damaged and physically injured returning from war. These advocacies increased public support and without his public acknowledgement of these conditions it may have been years later that people finally realized the importance of dealing with PTSD and other problems resulting from the combat experience of returning soldiers.
However along the line of soldiering, Audie Murphy while famous for his contributions to the treatment returning soldiers, also had a very successful movie career. Yet he is most widely known for this, instead he is most recognizable for being the most widely decorated and awarded soldier of the Second World War. He was decorated with many awards and merits such as the Medal of Honor, Bronze Star, Purple Heart, and many others. A full list of these decorations can be found (here), however the number of medals awarded to him made him the most highly decorated soldier of the Second World War. Not only did Audie Murphy improve the lives of so many other but he also served his country faithfully and courageously until his retirement from the service.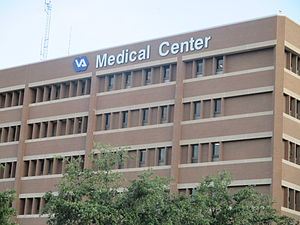 Audie L. Murphy Veterans Administration Hospital in San Antonio, TXBilly Hathorn The service is where many courageous heroes are born, but Audie Murphy's courage was also on the homefront. His public work involving PTSD affected all veterans and injured servicemen who have served since. However his work affects the minds and bodies of men and woman returning from war. As long as conflict and fighting continues there will always be a need for people to continue and support the work and efforts of Audie Murphy to help our troops. Soldiers are human, and as such will always be under mental strain and force, this means that as long as there is conflict there will be those who are permanently affected by its mental repercussions. So the work of Audie Murphy will always be relevant and necessary, for as long as the idea of war does exist in the future the issues of those who are mentally affected is also present meaning that the existence of conflict only further requires the application of the work of Audie Murphy. To phrase it bluntly as long as the idea of conflict exists Audie Murphy will always be around to help our soldiers.
Works cited
"Audie Murphy." Wikipedia, US Army, 20 June 2014, Audie Murphy photographed in 1948 wearing the U.S. Army khaki "Class A" (tropical service) uniform with full-size medals.
Hathorn, Billy. "Audie Murphy Memorial Hospital." Wikipedia, 15 July 2013, commons.wikimedia.org/wiki/File:Audie_L._Murphy_VA_Hospital,_San_Antonio,_TX_IMG_7759.JPG.
Page created on 1/10/2018 2:52:38 PM
Last edited 1/10/2018 8:35:24 PM
The beliefs, viewpoints and opinions expressed in this hero submission on the website are those of the author and do not necessarily reflect the beliefs, viewpoints and opinions of The MY HERO Project and its staff.