FOR IMMEDIATE RELEASE
Contact: Wendy Milette
[email protected]
1278 Glenneyre, #286
Laguna Beach, CA 92651
WINNERS OF THE 2010 MY HERO FILM FESTIVAL ACTIVIST AWARD CYCLE OUT OF POVERTY
Los Angeles, CA – 11/20/10 – The MY HERO Project is pleased to announce the winners of The 2010 Dan Eldon Activist Award: Jacob and Isaac Seigel-Boettner, with their film Pedal=Sight. This documentary short film is part of the feature film With My Own Two Wheels, which is currently in development. The movie will chronicle the incredible impact a bicycle can have on individuals trying to improve their lives. The Boettners' plan to use the completed film to raise money to purchase bicycles for desperately poor people around the world. The Dan Eldon Activist Award will grant 500 dollars towards the project's development.
Pedal=Sight tells the story of a young girl, Bharati Phakad Date, who lives in Sone Sangui, India. Many families in Bharati's community do not send teenage girls to school because the long travel time prevents them from helping at home. When Bharati receives a free bicycle from the Ashta No Kai organization, she can continue her education without hindrance. Bharati is now able to work towards her goal: "to eradicate poverty from this country."
Jacob Seigel-Boettner (22) has a Bachelors of Arts in Peace and Conflict Studies & Global Poverty and Practice from the University of California Berkeley and was awarded The 2010 Judith Lee Stronach Baccalaurate Prize for the pursuit of this project after graduation. Isaac Seigel-Boettner is a 4th year film student at Berkeley. All money raised screening With My Own Two Wheels will be donated to the six nonprofit organizations that provided bicycles to its main characters. The Boettners have a projected goal of 50 screenings to purchase over 500 bicycles for individuals worldwide.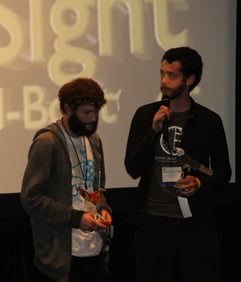 The brothers are extremely proud to be receiving this particular award, which is given in honor of their fellow artist and activist Daniel Eldon. Eldon was a photojournalist with a great passion for shedding light on controversial stories. In 1993, when he was only 22 years old, Eldon was killed by an angry mob while covering the conflict in Somalia for Reuters News Service. To honor his memory and his life's work, the MY HERO International Film Festival annually presents the Dan Eldon Activist Award to the short film that best embodies a spirit of positive global activism.
Kathy Eldon, Dan Eldon's mother, sponsors the award. As a journalist, author and humanitarian, she established the Creative Visions Foundation to support activists who, like her son, use media and the arts to call attention to critical humanitarian issues and use their disciplines as vehicles for social change. The author of 17 books, Kathy Eldon is currently working on three upcoming series for the Oprah Winfrey Network.
Kathy Eldon will present the Dan Eldon Activist Award at The MY HERO Film Festival Awards Ceremony. This event begins at 3pm on November 20th, at the Ray Stark Family Theater in USC's George Lucas Building. The 15th Anniversary Celebration Party will follow. Reservations are required.
To view Pedal=Sight and other winning films for the 2010 MY HERO Film Festival, visit http://myhero.com/2010
For more information on the feature film visit http://www.withmyowntwowheels.org
To learn about the Dan Eldon Activist Award and past winners go to http://www.myhero.com/go/films/festival_activist.asp
For more information about the MY HERO International Film Festival please visit http://myhero.com/filmfestival. Submissions for the festival are accepted year- round.
PLEASE NOTE, SEATING IS LIMITED, SO RESERVE YOUR SPOT NOW:
To reserve your free seat for the Awards Ceremony & Screening, please R.S.V.P. at http://myhero.com/rsvp
The MY HERO 15th Anniversary Celebration Dinner will immediately follow the film festival at USC. Donations are required for this dinner celebration. http://myhero.com/celebration
Page created on 1/25/2011 3:23:36 PM
Last edited 7/10/2017 5:22:01 PM