Ben Carson
by
Dr. Renee Shackelford
"I really felt I was the stupidest kid in the fifth grade."
"I did not like school very much and there was no reason why I should," recalls Ben Carson. "I was the dumbest kid in the class. What did I have to look forward to? The others laughed at me and made jokes about me every day."
But Carson's mother knew that education was the only way he was ever going to escape poverty and ridicule. She made Ben and his brother limit their television viewing to two programs per week. His mother also required that he and his brother each read two books per week and do written reports on them. Dr. Carson recalls, "I was in the fifth grade and had never read a whole book." With the encouragement of his mother, Ben Carson became a reader.
After the fifth grade, Carson not only excelled in school but went on to become a leader in neuroscience as head of Johns Hopkins University's Pediatric Neurosurgery unit. Carson is known as the originator of ground-breaking surgical procedures, a doctor who turns seemingly impossible hopes into joyous reality. He is a humanitarian who reaches beyond corporate boardrooms to touch the lives of inner-city kids.
His message to adults and children is really inspiring. In a September 1997 interview with PBS he spoke about overcoming obstacles and working to make the world a better place for everyone:
"As a person who deals in the neural sciences, I've come to have great respect for the brain and its capabilities. You know, the brain can process two million bits of information per second. It remembers everything you've ever seen, everything you've ever heard, and with brains like these, we really shouldn't be wandering around talking about what we can't do; we should be trying to create an atmosphere that helps our young people to realize that, whatever they can imagine, they can achieve."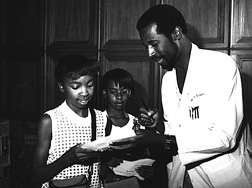 Dr. Carson has written a book about his life, Gifted Hands: A True Story of Healing and Inspiration, which is to be made into a motion picture. A review of this book described it as a portrait of a man's "extraordinary path to success." When his journey began, he was living in poverty, had a pathological temper, poor self-esteem and awful grades. Now this same person has been profiled on the ABC News show 20/20, listed in Who's Who in America, and received the American Black Achievement Award. There is also a stage play based on his life. "Ben Carson, M.D." ran in Baltimore, Maryland for more than two years and was a big success. His book, The Big Picture: Getting Perspective on What's Really Important in Life, explores how we can overcome obstacles to take action on behalf of something greater than ourselves. His book Think Big also explores his life philosophy. Someone who has made such a dramatic change in the course of his life can certainly inspire others to have faith in their own intellect. This is what makes him a hero.
Page created on 9/2/2005 3:43:24 PM
Last edited 1/6/2017 4:43:46 PM
The beliefs, viewpoints and opinions expressed in this hero submission on the website are those of the author and do not necessarily reflect the beliefs, viewpoints and opinions of The MY HERO Project and its staff.
Related Links
The Carson Scholars Fund
- recognizes and rewards outstanding students in grades 4-12 with $1,000 scholarships invested for college
Academy of Achievement
- Read an interview with Dr. Benjamin S. Carson. The Academy of Achievement brings students face-to-face with the extraordinary leaders, thinkers and pioneers who have shaped our world.
Extra Info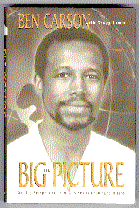 Read the The Big Picture By Ben Carson with Gregg Lewis; 271 page; Hardcover; Published by Zondervan (1/99)
Another book by Dr. Carson is called Think Big. In this book, each letter of the title Think Big stands for another word: T for Talent, H for Honesty, I for Insight, N for Nice, K for Knowledge, B for Books, I for In-Depth Learning, and G for God.
Dr. Carson is also the author of Gifted Hands
For more information on Dr. Ben Carson, check out the The Johns Hopkins University School of Medicine Departments of Neurology and Neurosurgery website.