Pablo Benito Juarez Garcia
by
Bethany from Spokane
Benito Juarez was the president of Mexico from 1858 to 1872. During his time as president he modernized the country significantly and is now thought of as Mexico's most beloved leader. Juarez was born with the given name Pablo Benito Juarez Garcia, in the village San Pablo Guelatao in Oaxaca. After his parents died when he was three, he worked on the corn fields as a shepherd until age twelve. He began his education late in life, but earned degrees in seminary and in law. Juarez served as a lawyer, judge, and later a governor in the state of Oaxaca.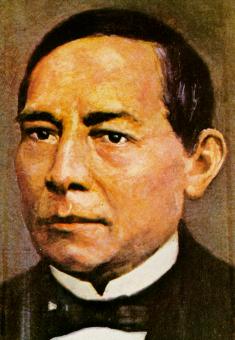 Portrait of Benito Juarez by Pelegrín Clavé [Public domain], via Wikimedia Commons
In 1955, Juarez created La Ley Juarez, which served to deny clerical and military privilege and demanded that all citizens be considered equal under the law--all citizens including those of indigenous heritage. Until this time, the indigenous people in Mexico had not been treated equally under the law and had suffered greatly at the hands of the Mexican people. This social revolution created opportunities for indigenous people that had previously not been available to them. Juarez believed, "Among individuals, as among nations, respect for the rights of others is peace." Benito Juarez led the reform in Mexico, which served to modernize the government from its ancient practices. Following his time as president, Mexico was globally considered a modern nation. His actions such as confiscation of church properties, abolition of special privileges of clergy and army, and resistance of the French occupation caused Juarez to leave a legacy of modernity and equity. These values continue to be important in Mexico today.
MY HERO suggests this interview from the Library of Congress with producer Michela Giorelli of Discovery Communications, following the screening of a new docudrama, "Benito Juárez, La Derrota de un Imperio," as part of Hispanic Heritage Month. The film portrays the four years and 45 days Juárez itinerantly led Mexico from the road (1863-1867). Juárez was forced to act as Mexico's itinerant president, carrying the National Archives and leading the country from a carriage while fleeing both the Mexican conservative army and the French troops!
Juarez is important to me because I recognize that without his leadership, Mexico would not be a globally respected country today. He was able to lead Mexico through one of the hardest times in its history and come out stronger on the other side. The gains he made for Mexico are impossible to ignore. Much of the responsibility for Mexico's status as a modern nation in our world rests on Juarez's shoulders. I also think that Juarez was an incredible leader in that he fought for equity for all citizens.
Benito Juarez is a hero in the Mexican culture because of his political success and ability to lead the country through rough times. But, he is a hero in my book because he took the necessary action to make equal rights for indigenous people in Mexico a reality. I know that Mexico would be a far different place today if he had not taken the stand that he did.
Page created on 10/13/2007 12:00:00 AM
Last edited 5/20/2020 11:57:41 PM
The beliefs, viewpoints and opinions expressed in this hero submission on the website are those of the author and do not necessarily reflect the beliefs, viewpoints and opinions of The MY HERO Project and its staff.

Related Links
Mexico Connect
- Mexico's Lincoln: The ecstasy and agony of Benito Juarez