Dennis Bergkamp
by Christian from Anchorage, Alaska
A hero is:
1. Not Selfish
2. A Leader
3. Competitive
4. Never Gives Up
5. Extraordinary
Dennis Bergkamp is one of the best soccer players ever. He was born in Amsterdam in May 1969. Since he was little, he loved to play soccer. He joined the Ajax Youth Team at age 12 and struggled to play because, to some coaches, he was too "light," but coach Johan Cruyff asked him to play with the first team and he never looked back. After playing successfully with Ajax and the Dutch National Team, he decided to go and play for Inter Milan, but things didn't go very well with their style of play and teammates. After three seasons in which he won the European Cup, he transferred to Arsenal.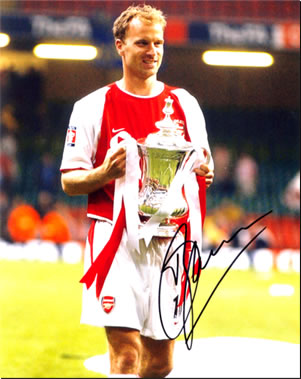 Bergkamp has played about 11 seasons with Arsenal and he has helped them win the league title and the FA Cup. On countless occasions, he has also played a lot of games for his national team in which he ranks second in all-time scoring. He retired from the national team in 2000. He currently still plays with Arsenal, but he is about to return to his first team, Ajax, for a couple of seasons and then retire.
Dennis is my hero because he not only fits my definition of a hero, but also because he is my favorite player ever and one of the world's best. You won't hear a lot about him because he is sometimes underrated or overshadowed by "big" name players, but if you talk to a person who truly knows about European soccer, he will tell you how great Dennis Bergkamp is.
Well, I hope you liked my tribute to Mr. Bergkamp. Thanks.
Page created on 7/2/2006 12:00:00 AM
Last edited 7/2/2006 12:00:00 AM

Related Links
Wikipedia
- Learn more about Dennis Bergkamp.