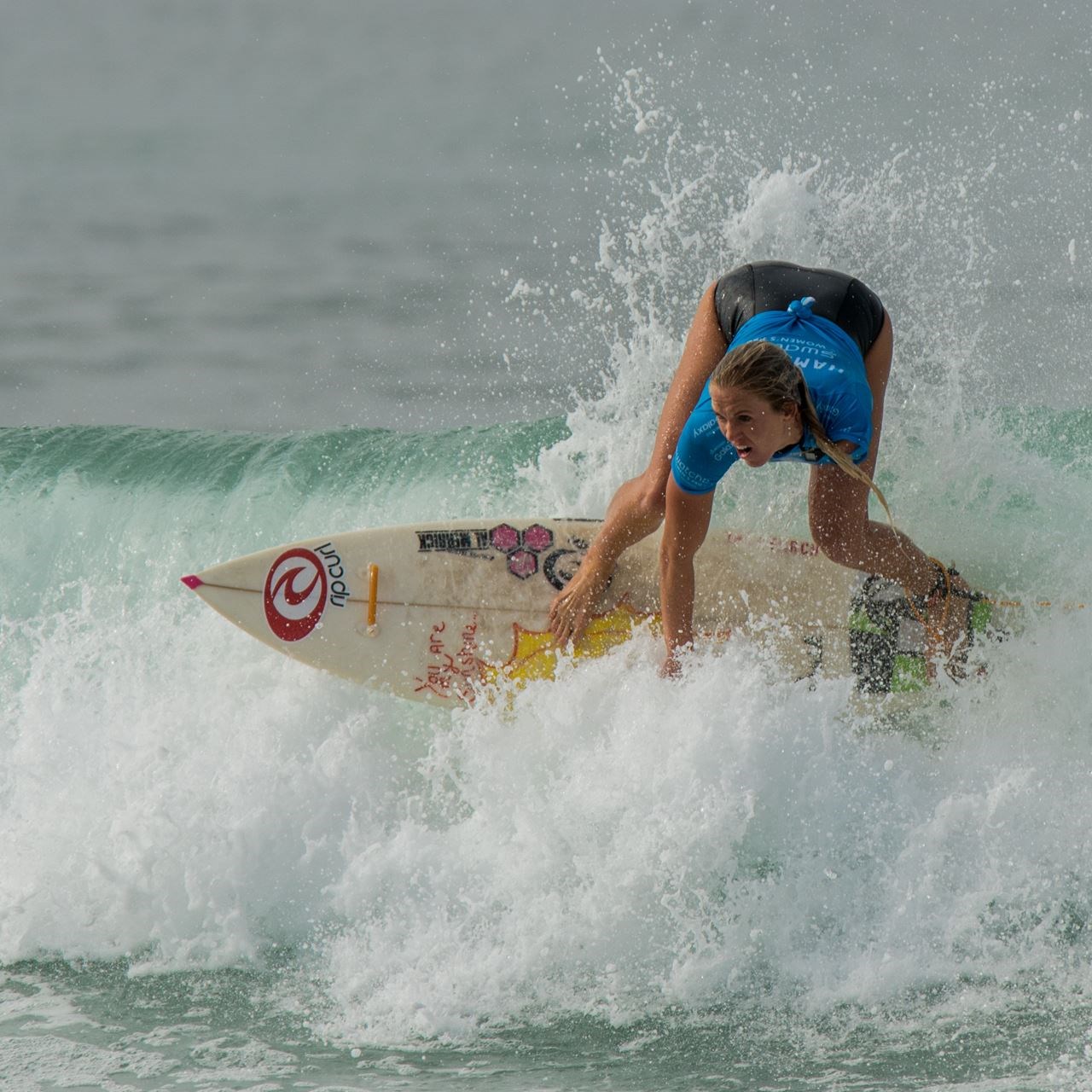 Bethany Hamilton SurfingWikimedia CommonsMy hero is the inspiring, stalwart, and humble Bethany Hamilton. She has been through so much in her life and is a truly amazing woman. She is a professional surfer who survived a shark attack that left her arm bitten off, but she ended up returning to professional surfing. Her triumph and journey was and is a big influence in my life. She has continued to inspire people, almost twenty years later, with her great journey and recovery story. She also has spread awareness and courage through many platforms, such as television, movies, news articles, and many books. She is my hero for her determination, faith, and strength in even the hardest of times.
Bethany Meilani Hamilton is a hero that I have had for a long time. She is a woman who has overcome and triumphed over a huge battle in her life and is a survivor of a situation that not a lot of people survive. She lives in Kauai, Hawaii, with her husband and two children. She has always lived in Hawaii, and that is where the attack happened as well, since she is a surfer. Most people around her would probably say that she actually lives in the ocean rather than actually on the island. She was born February 8th, 1990, and is still alive today living her fullest life, experiencing as much as she can. Living on an island has not stopped her from speaking at every opportunity, sharing her experiences and what she has learned, trying to help people live their life.
My hero, Bethany, has faced things that I cannot imagine and has accomplished so many things in light of what has happened in her life. After facing her shark attack at only the age of thirteen years old she influenced so many people and shared her story. Word spread about her everywhere, and then years later, a movie called Soul Surfer came out. This is a movie about her and her journey through everything, highlighting all of the details. It shows things from her faith, how she struggled once she got back home, and other challenges she faced. It also shows a lot of incredible victories that she had. After this, even more people were reached, even though it was so many years later. She started public speaking now that she is much older than thirteen and has figured out life without her arm. Bethany has done so much since the movie about her came out. She has continued to surf and place extremely well in world competitions and has won a few. She has written nine books. She even had her documentary come out last year, called Unstoppable. She has done all of this incredible stuff just because of an awful life-changing event. It's crazy how something so awful can make one's life so incredible and unexpected.
This person is important to me because she really showed me how to overcome struggles and doubts within my life. I saw the movie Soul Surfer when I was about eight, and seeing that movie broke my little heart. Ever since then I have really tried to follow in her footsteps and be like-minded with her. Being Christian also greatly helped me because she is, and through that she inspired my faith. She was just a person that I could connect to easily as a child because we had a lot of similarities. She was blonde, Christian, loved the water, and those are all things I could relate to. As well as her personality and struggle with having a brother. As a kid, I was very shy and had a degree of social anxiety. So it was really hard for me to have good friends when I was younger. Therefore, I could not really relate to anybody and I lived inside my brain. I was this shy little speck of a child, and seeing this girl in the ocean, surfing, and facing such horrible things really made me speechless. It made me believe that I could become a better person and do things I was scared of. She inspired my journey to step out of my comfort zone and to live my dash with purpose. What I mean by dash is that I am referencing the poem by Linda Ellis called "The Dash," and it is about how on our tombstone we have a day we are born and a day we die, but when it comes to our lives, what really matters is how we live the dash that is between the two numbers. She has impacted my life greatly, and that is why I chose her for this essay. She has gotten me through tough times and I am grateful for that.
Hardworking, resilience, motivational, unstoppable and encouraging are all words that describe why Bethany Hamilton is my hero. A big one on that list is unstoppable. She just keeps going and never quits. She is truly a hero in this sense. Inspiring others to be unstoppable, and to trust that faith in God can help you live unstoppably. Her message and story have been a saving grace when it comes to my life and will for many years to come.
Page created on 1/9/2020 7:41:03 PM
Last edited 6/19/2020 6:52:34 PM
Related Links
Bethany Hamilton's Website
- This talks about her journey, personal life, faith, movies, books and so much more.
CNN
- This talks about her journey and her life a little bit more currently since it is an article written not too long ago.