Bill Bradley has played many roles in his life. He was an athlete in high school, college, and in the NBA, a lieutenant in the Air Force reserves, a Rhodes Scholar studying at Oxford, a three-term United States senator, and a presidential hopeful for the 2000 election. He is also a husband; a father; an Olympic gold medal winner; the managing director of Allen & Co., a small, unique investment company; and host of his own talk show, American Voices, on satellite radio. In whatever game Bradley plays he is known and respected for his honesty and integrity.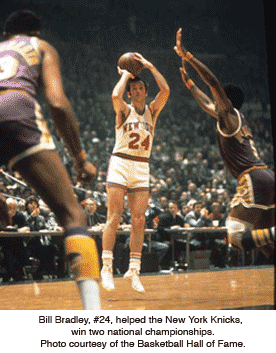 Bill Bradley was born in Crystal City, Missouri in 1943. Although he grew up as an only child, he was always looking to be a part of the team. A top-notch student, he balanced a full course load with his passion--and incredible talent--for basketball, which he began playing while in the fourth grade. For young Bill, basketball offered a way to fit in with his peers and belong to a team. It also gave him a challenge and a focus, which, even at that early age, Bill thrived upon.
In high school, Bill led his team to victory game after game, amassing more than 3,000 points in his high school career. With an outstanding academic record to match, Bradley had his choice of colleges to attend, but in the end, he chose to graduate from Princeton. Princeton didn't offer the athletic scholarships that dozens of other schools put up to woo Bradley, but he felt that school and life wasn't just about basketball. Bill also loved traveling, meeting people, and broadening his horizons. Princeton fulfilled his need to explore international and political issues with their international affairs program and their reputation for producing Rhodes Scholars. In college he became deeply committed to civil rights and politics; this commitment to equality and public service led him on to Oxford University in England, and gave him the opportunity to explore the Middle East, Russia, and Germany.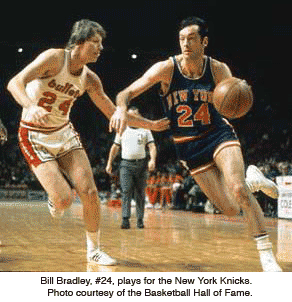 As he achieved high marks in academics, Bradley went on to win a variety of honors in college and Olympic-level basketball. In 1964 Bradley was elected captain of the Olympic Basketball Team that brought home the gold from Tokyo, Japan. He was a three time All-Star selection, the 1965 college Player of the Year, and the 1965 Sullivan Award winner (awarded to the top amateur player in the country). Before he left for Oxford, Bradley was drafted by the NBA's New York Knicks, but he held off on joining the team until he had fulfilled his lifelong ambition of studying abroad.
During his tenure in the NBA, Bradley also felt compelled to fulfill another part of his civic duty; he joined the Air Force reserves and for roughly six months in 1967, he served on active duty. His dedication to his country didn't hurt his performance on the court. After his first lackluster year playing for the Knicks, he helped the team win two national championships. Bill didn't let winning go to his head. He was perpetually a team player, saying that; "the great player is the one who makes the worst player on the team look good." He has taken that philosophy with him through every career he has had since.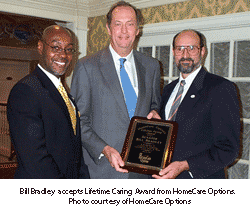 While playing for the Knicks, Bradley married, and he and his wife had one daughter. Soon after the birth of the couple's daughter, Bradley retired from basketball and moved on to his next role—as a U.S. Senator of New Jersey. In his eighteen years in the Senate, Bradley strove hard for reforms in taxes, the federal budget, education, and child welfare. He succeeded in passing legislation to help families pay for college tuition, to enforce child support, and to ensure the health of children. He saw his leadership position as one where he could work for the people, not for his own agenda and ego. He was constantly looking at ways in which reforms could make America better for all, not just a particular segment of the population or one political party. He advocated for the most efficient ways to mend the nation's problems and was very aware of each law's impact on the country as a whole.
Bradley's unique approach to government led him to run for the Democratic seat in the 2000 presidential election. He believed that his leadership could give the Democratic party a strong message, which was vital to winning the election. Bill lost the opportunity to fun for presidential office to then Vice President Al Gore; however he didn't give up on finding ways to reach out to the American public.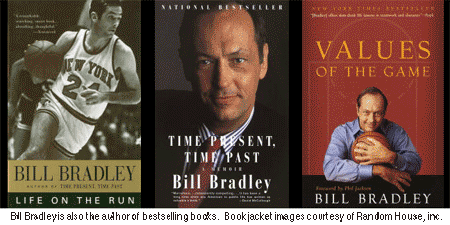 Most recently, Bill gets in touch with people through his own talk show. American Voices allows him to do one of the things that inspired him to go into public service in the first place--to talk with a variety of people, listen to their stories, and bring issues to the attention of the public. He has also written several books, drawing from his experiences on the court and the senate floor. Values of the Game; Time Present, Time Past: A Memoir; Life on the Run; The Journey From Here; and America's Choice (in 2006) all offer insight and knowledge from a unique, honest, and intelligent perspective.
Bill Bradley is one of those people who really exemplifies the positive role that politics and democracy can play for America and Americans. On occasion he has been called dull, but if "dull" means standing up for what you believe in, being a team player, and refusing to drop to a level of negativity and political bashing that is so prevalent today, "dull" might be something for which to strive.
Page created on 2/4/2006 10:55:34 AM
Last edited 1/5/2017 11:40:17 PM
Extra Info
**Read More!**
Check out an interview from Sports Illustrated here!
**On the Books!**
Bill Bradley talks about his hero, his father William Warren Bradley, in My Hero