Billie Jean King
by
Lizzy Roth

from

Boulder, Colorado in United States

Billie Jean King Changed the World with a Tennis Racket

By: Lizzy Roth

Billie Jean King changed sports forever by proving that regardless of gender, you can accomplish whatever you choose. At the age of 24 in 1966, King became the top-ranked women's tennis player and held that position for five years. With her determination and strong will, she was able to win many titles and get very far in her tennis career. Not only did she become one of the greatest tennis players, King campaigned for equal prize money for men and women's games, and with this, the U.S. Open became the first major tournament to offer equal prize money to both genders. To prove her point even further, King battled W. No.1 tennis player Bobby Riggs who previously defeated multi-champion Margaret Court earlier that year and claimed he could beat any female tennis player. With an estimated television audience of 90 million viewers and the pressure to win, Billie Jean King pulled through and defeated Riggs 6-4, 6-3, 6-3. King's main goal was to spread that people need to accept girls and women as athletes.

After all of her success, Billie Jean King was the first prominent female athlete to come out as bisexual. At the time, this was extremely out of the ordinary, especially for people with so much recognition, and she lost all of her endorsement deals due to it. Even so, she continued to fight for equality and improve herself as a tennis player. She proved that no matter your gender, race, religion, etc, you can accomplish anything. King received lots of recognition and has been honored by multiple organizations for her contributions to the tennis world as well as her fight for equality. Even after retirement, Billie Jean King still fights for what she believes in.

Billie Jean King is important to me because she showed me that anyone can accomplish what they want, no matter the obstacles if they stick with it and keep fighting. Being a tennis player, what she accomplished is really inspiring and shows me that if I work really hard I can get to the level she was at. She proved that to get where she wanted in life, she had to fight her fears and remain strong. King is a hero because she fought for what she believed in and changed the world because of it.

Citations:

Ott, Tim. "Billie Jean King." Biography.com, A&E Networks Television, 13 Apr. 2019, www.biography.com/athlete/billie-jean-king.

Schwartz, Larry. "Billie Jean Won for All Women." ESPN, ESPN Internet Ventures, www.espn.com/sportscentury/features/00016060.html.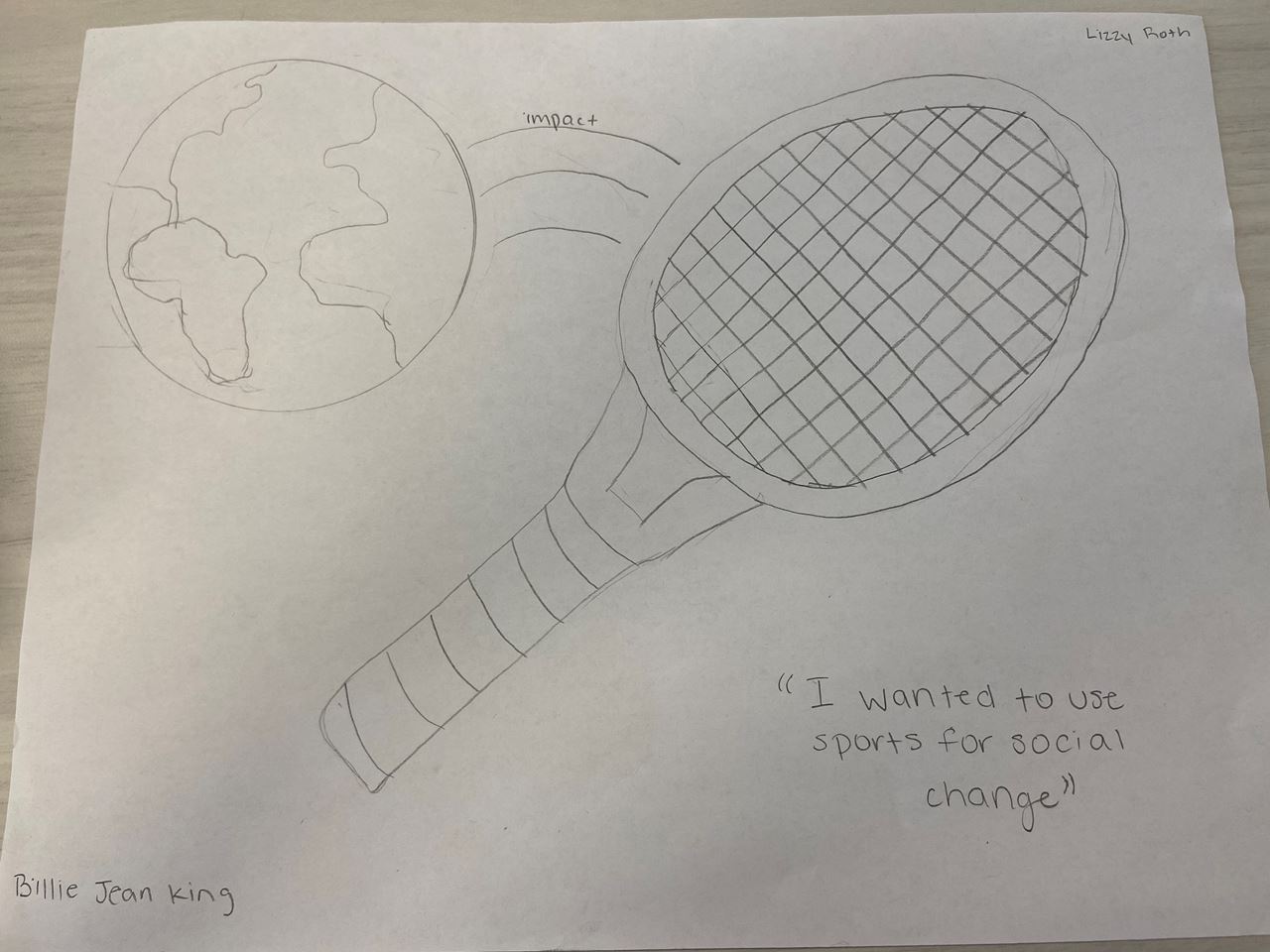 Billie Jean King used sports for change.Lizzy Roth
Page created on 2/28/2020 10:21:52 PM
Last edited 2/29/2020 3:26:23 AM
The beliefs, viewpoints and opinions expressed in this hero submission on the website are those of the author and do not necessarily reflect the beliefs, viewpoints and opinions of The MY HERO Project and its staff.