Dr. Oscar Elias Biscet Gonzalez was born of humble origins in Havana, Cuba, on July 20, 1961. Dr. Biscet is the founder of the Lawton Foundation, an organization considered illegal by the Cuban government. The Lawton Foundation peacefully promotes the defense of all human rights through nonviolent civil disobedience. Dr. Biscet is a follower of the Dalai Lama, Thoreau, Gandhi, and Martin Luther King, Jr., and wants to bring democracy and justice to Cuba.
As a nonviolent activist struggling to bring about democracy, justice and freedom to Cuba, Dr. Biscet embodies all the dreams, hopes and frustrations of 11 million Cubans on the island. As a victim, he represents everything that is horribly wrong with the 45-year-old tyrannical regime of dictator Fidel Castro.
By using nonviolent means to expose the crimes of the government of Cuba, and by being a young, charismatic black man, he threatens to demystify all the lies of the revolution of 1959. For this he has been singled out. When dictator Fidel Castro personally condemned Biscet as a counter-revolutionary "ring leader" before his trial, his fate was sealed.
Before his sentence, Dr. Biscet had been arbitrarily detained 26 times in 18 months. In February 1998, he was expelled from the Cuban National Health System and he and his family were evicted from his home. On several occasions, Cuba's State Security tried to subject Dr. Biscet to psychiatric examinations and pressured him to leave Cuba, to which he has responded that he will never abandon his country. He knows that the struggle is in Cuba and that in order to bring about change one has to stay and fight from the inside.
For his peaceful, pro-democracy struggle, Dr. Biscet served a three-year sentence in a maximum security prison in Holguin Province, 768 kilometers away from his home. He was released October 31, 2003, only to be arrested 36 days later on Dececember 6, when he was about to hold a meeting with fellow activists. Dr. Biscet remained incarcerated and was included in a wave of repression that took place throughout Cuba from March 18 to April 11 when almost 80 human rights activists, independent journalists, and other political dissidents were taken before summary trials and given sentences of up to 28 years in prison. On April 7, 2003, Dr. Biscet was tried and sentenced to 25 years for serving as a "mercenary to a foreign state" for demanding the respect of the Universal Declaration of Human Rights.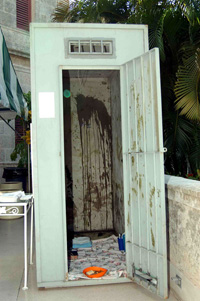 On November 12, 2003, Dr. Biscet was transferred from Kilo Cinco y Medio Prison to another maximum security prison in the Province of Pinar del Rio calle Kilo 8. He was put in a subterranean punishment cell with violent common criminals for peacefully protesting with 6 other prisoners of conscience. Dr. Biscet was confined for 21 days in a cell described as a "dungeon," without family visits, food supplies, toiletries, writing or reading materials, in a cell with no windows, electricity, or running water. His cell was heavily infested with rodents (rats) and many insects, including scorpions. Cuban authorities and prison guards denied Dr. Biscet access to proper medical and dental care, family visits or the possesion of his Bible.
In a fragment of a clandestine letter written to his wife, Dr. Biscet reported:
I'm arbitrarily confined in a cell with characteristics that violate the law, there are no windows, only walls; a gloomy space lacking sunlight and the sky's visibility. I cannot go out in the sun at the hour assigned because authorities want to handcuff me with my hands behind my back, a practice which violates prisoners' most elemental regulations. This is humiliating and illegal. Unsuccessfully, I have repeatedly requested "internal control" personnel to be alerted. My prison visit in November was arbitrarily suspended, prohibiting me from seeing my parents and wife. Of the eight months I have been imprisoned in Pinar del Rio, I have seen my family only once, during 2 hours, in the month of August. I am not allowed to have any type of communication with my son and daughter who live abroad.
Dr. Biscet has continued his fight for justice from prison. He has staged protests against Cuba's violation of human rights at the prison with acts of civil disobedience, such as fasting and holding prayer services.
So you ask yourself, who is Dr. Biscet? He is a man declared prisoner of conscience by Amnesty International. He is Fidel Castro's worst nightmare. He is a man wrongly imprisoned for believing in the Universal Declaration of Human Rights, for promoting democracy, social justice and liberty for all Cuban people. This is the reason I admire Dr. Oscar Elias Biscet Gonzales. He is a man of incomparable moral convictions and valor.
Page created on 8/10/2014 3:35:03 PM
Last edited 1/5/2017 11:43:25 PM
Extra Info
After pressure from the Catholic Church in Cuba, Dr. Oscar Elias Biscet and 50 other dissidents were freed by the Cuban government on March 11, 2011. Dr. Biscet chose to remain in Cuba, where he continues his advocacy for human rights.