Booker T. Washington
by
Shanayah from Raleigh
A hero to me is a person that helps others in need. A hero puts his or her life at risk to help others in harm's way. A hero doesn't give up on things; they keep striving to do the right thing. A hero overcomes trials and tribulations through life. They also are very honest, trustworthy and kind to others in their lives in general. And they do what's right and fair instead of what's wrong and not fair to everybody.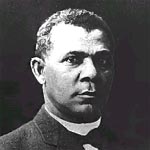 Booker Taliafero Washington was born on April 5, 1856 in Hale's Ford, Virginia, to a poor family. At age nine he was working in salt furnaces and coal mines because his family was so poor. He was an intelligent and curious child, growing up in poverty. He was driven to get an education but he was frustrated for not getting the proper school learning because he was black. He worked his whole life until he was sixteen years old; his parents told him to quit working to get an education. Since they didn't have any money, Booker had to walk 200 miles to go to Hampton Institute in Virginia. When he paid his tuition he went there and started working as a junior.
He become a teacher so that his people could gain equality in this country. He taught in Hale's Ford, which was his home town, and in Hampton Institute. In 1881 he founded the Tuskegee Normal and Industrial Institute in Tuskegee, Alabama. He traveled the country to speak to the blacks, whites and all races to raise funds. He became known as a well-known speaker in this country who made a difference in the world.
Booker spoke at many places. Then he spoke at the Atlanta Compromise; his speech was based on the hopes that blacks could have secure constitutional rights through their economic and moral advancement instead of their legal and political problems. Some blacks didn't always agree with his challenges but some whites agreed with his views. He just wanted to make a difference in the education fields so that all children would have a fair education program for all races.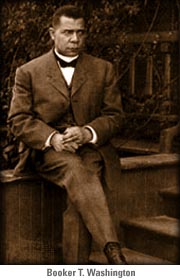 He instituted a variety of programs and helped establish the National Negro Business League. In 1896 he was going to be offered a cabinet post but he didn't want to work in the political environment. I think if it wasn't for Booker T. Washington, the education program wouldn't be as fair to blacks. He did what he thought was best for all people. He spoke on it and he said what was on his mind. He didn't give up on doing what he thought was best. He just wanted blacks to get a good education and fair jobs, just like the whites had, and he succeeded in doing that. That's why I could call him my hero. On November 14, 1915, he died.
Page created on 1/28/2009 1:34:52 PM
Last edited 9/10/2018 1:03:06 AM
The beliefs, viewpoints and opinions expressed in this hero submission on the website are those of the author and do not necessarily reflect the beliefs, viewpoints and opinions of The MY HERO Project and its staff.
Extra Info
Booker T. Washington's father was a unknown white man and his mother was a slave. She was a slave for James Burroughs who was a small farmer in Virginia. Booker's mother married Washington Ferguson who was a slave. When Booker started school his name was changed to Booker T. Washington to be named after his step-father.