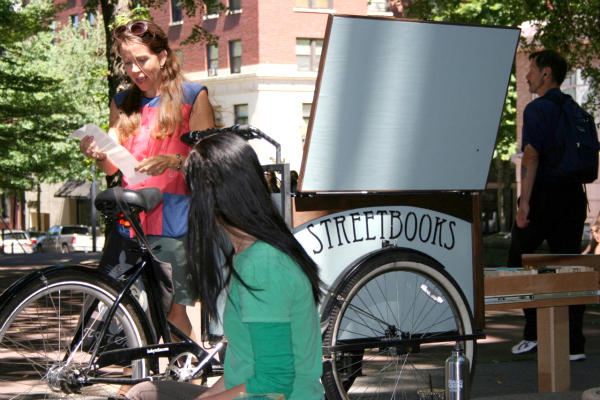 Courtesy of Ben Parzybok
Her Street Books project finds avid readers among the homeless of Portland, Oregon.

Every Wednesday and Saturday, Portland, Ore., residents can spot Laura Moulton fiercely peddling her bike as she tows along a wagon full of books. When she arrives at her destination, Ms. Moulton parks, opens her wagon, and sets up for her four-hour shift.
"There is at least one guy waiting every Wednesday morning to greet me, get his book, and head out," she says.
Ms. Moulton is Portland's mobile librarian. Since early June Moulton has been bringing books to the public with her library-on-wheels Street Books, an outdoor library for people who live outside.
"The power of the book," she says, "offer[s] a way to transport oneself out of a current reality." Books are also "a tool to help pass time, which a lot of people living outside have a lot of."
Moulton, a novelist and mother of two young children, bikes her library to Skidmore Fountain and Park Blocks – near Portland State University – on Wednesdays and Saturdays respectively. She brings about 40 or 50 books with her for each shift. But she says her basement is full of paperbacks that have been donated to her since the project began.
Each book holds an "old school" pocket on the inside cover with a loan card inside. Street Books patrons receive a library card that they can use to check out as many books they desire at a time.
"Being able to give them a card and tell them, 'I hope to see you again' – that's a powerful thing because these are people who cannot get a library card [at the local library] because they have no address," Moulton says. Her patrons show a high-level of accountability in returning books, which contradicts some assumptions about homeless people.
"The regular patrons are coming back and returning books very regularly," she says. "I have patrons who come and check out two or three books a week."
The loaned books have no set due date. Patrons simply return the book when they're finished reading.
Although there has been an incredibly diverse range of requests for books, from psychology to science to religion, Moulton says western novels and counterculture authors, such as Jack Kerouac and Ken Kesey, are popular.
"Portland is an incredibly bike-friendly and book-friendly city, and there are a lot of people living outside," says Moulton, who attributes her inspiration to establish Street Books to her long history of working with people who live outside.
Years ago, Moulton lived in the inner-southeast of Portland, where she grew to know a group of men who were visiting the St. Francis Food Bank. One man in particular, Quiet Joe, who lived outside by choice, grabbed her attention one day as they talked at length about a favorite author, A.B. Guthrie.
"I'm a writer and love books, and I've always been sort of struck by stories from the road from people who have been out and traveling," Moulton says.
The unexpected conversation with Quiet Joe – who Moulton identifies as a frontiersman in a contemporary society – showed her how two very different people could easily exchange experiences and thoughts because of a simple commonality – an experience she often shares now with her library patrons.
"If someone can just have a conversation … then I think so much of the other stuff goes away," Moulton suggests. The "other stuff," she says, includes perceptions, stereotypes, and judgments.
To capture the unique people she encounters, Moulton invites patrons to be photographed when they check out a book.
"It's kind of stark and an interesting thing to look at a person, ... [the] face of someone who has lived outside," she says. "Seeing the book that they choose is really fascinating and sometimes surprising and really poignant."
All of the photographs are posted on Moulton's online blog that has documented the Street Books project from day one. Street Books is also a project of the Regional Arts and Culture Council, who provided her with a grant.
"I wanted to provide a service, but I also wanted to create a sort of awareness around a group of people in the summer of 2011 in Portland, Oregon, that were going to go fairly unnoticed otherwise and maybe whose story is rarely told, except for as a statistic," Moulton says.
The grant ends in August, she says, but she plans to continue Street Books and establish it as a permanent presence in Portland.
"I definitely want to continue it. I have great people and resources at-the-ready," she says. "My hope is to launch a self-sustaining model of Street Books."
Moulton says she is pondering possible locations for Street Books to set up in during the cold winter months.
• For more information go to http://streetbooks.org