by
Robbie from Toronto, Canada
My hero is Tom Brady, the three-time Super Bowl champion quarterback of the New England Patriots, and one of the most famous, celebrated people of the 21st century.
But Tom Brady was not always this way; success in his early life was rare, and it looked like he might never amount to anything special. He grew up as an ordinary boy, the younger brother to 3 older sisters, each more remarkable than him. In high school, he wrote an essay about what it was like to be the forgotten one, the younger brother of three sisters, and dreamed that one day instead of him being known for being their brother, each of them would be known for being "Tommy's sister."
For most of his life and football career this seemed like nothing more than a distant fantasy. He was a backup quarterback in high school for a team that lost every game. At the University of Michigan, he was no more prolific, being the 4th string his first year and only becoming a starter in his 4th and final year there. He even struggled to catch the attention of young women at the University that he liked. And the few pro scouts that took note of him had nothing but poor reviews for him: "Poor build, very skinny and narrow, will get pushed down more easily than you'd like. Lacks mobility and the ability to avoid the rush, lacks a really strong arm." After college, his football career, which he'd once dreamed would define his life, seemed to have reached the end of the line.
But in the 6th round, with the 199th overall pick in the 2000 NFL Draft, the New England Patriots selected Tom Brady. New England was an organization that had been plagued with 40 miserable years of losing football. It was a disgraced, low-class franchise with a stadium far away from the city of Boston, and a team that was equally far from the city's heart. However, a new era of hope had begun in the 1990's when new owner Robert Kraft bought the team, a man whose passion for football and whose character and class would help change the state of football in New England. He had just hired a new coach, Bill Belichick, who many cynics believed not to have much of a future in football either. Together, Robert Kraft, Bill Belichick and Tom Brady would rise to reach the top of the football world, and become the most respected people in the most respected organization the league would ever see.
But their reign at the top did not begin instantly, it took some time and a little bit of luck to come. While sitting on the bench his entire first year, Tom Brady had begun to impress the coaches at New England, enough to make him the backup quarterback at the start of the 2001 season. But when starter Drew Bledsoe went down near the end of the second game of the year, Brady's opportunity had finally come. The Patriots were 0-2, coming off a 5-11 season and with a former 6th round pick at the helm, many questioned whether the Patriots could even win a game in 2001. But Tom Brady, as he would do so often in his career, defied the doubters. He led the team to an 11-5 record and then the Super Bowl, where they were major underdogs to the St. Louis Rams. Unphased, the first team in Super Bowl history to be introduced as a team, surprised everyone in beating the Rams and capturing the franchise's first ever Super Bowl. Tom Brady was the game's MVP. A new era in Brady's life had begun.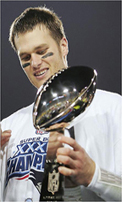 vThe team struggled in the 2002 season but came back to win the Super Bowl in 2003 and 2004, becoming the new century's first dynasty. Tom Brady is now one of America's most famous heroes, and one of the most respected people in the NFL. He is even considered by some to be a sex symbol, a distant contrast from the quiet, reserved guy who couldn't get the attention of women he liked. But his stardom has never gone to his head; in contrast, it humbles him. He has always carried himself with class in being the unquestioned leader of the franchise that values the very things he models himself after: commitment, professionalism, team-play, and determination. Although Tom Brady has never had tremendous talent, remarkable athletic ability or physical traits, he simply goes out and leads his team to victory with whatever it takes.
Now living in the New England area, Brady has given a rebirth to a lost franchise and brought it back to respectability. While this might be the reason he is a hero to some sports fans in that area, to me he is a hero because of how his determination allowed him to overcome such humble beginnings and challenges in his life to become what he is today. But it is not only his incredible determination that makes him a hero to me, it's his tremendous character and leadership that he has displayed throughout his glorious years in New England. He is a tremendous leader and teammate, and one of the league's most respected people, not just because of all the winning he does, but because of the kind of person he is.
Page created on 11/19/2006 12:00:00 AM
Last edited 8/6/2020 4:59:02 PM
Related Links
NFL
- The official site of the National Football League
New England Patriots
- The official site of Tom Brady's New England Patriots
Bibliography
Holley, Michael . Patriot Reign. 2004.
Kroft, Steve. "Tom Brady: Part 2." [Online] Available http://www.cbsnews.com/stories/2005/11/04/60minutes/main1014961_page2.shtml.