The true measure of our character is how we treat the poor, the disfavored, the accused, the incarcerated and the condemned.
Walter McMillian. An intelligent, independent, brave, and hard-working African-American man with his own pulpwood business. The freedom of owning your own business was rare for African-Americans in Monroeville where Walter lived, and although his freedom was frowned upon, Walter continued to be a generous, pleasant, respectful and accommodating person to all. No matter their skin color. Unfortunately, his personality did not prevent him from being falsely accused of murder. His investigation led to zero evidence against him, but they arrested him anyway. He was accused of murdering Vickie Pittman however he was framed by a white male with a lengthy criminal record including murder and drug charges. Walter had a joke of a trial. It lasted two and a half days. Three witnesses testified against Walter. All alibi witnesses, who were all black, were ignored, and unsurprisingly Walter was sentenced to death. Walter was taken to death row, with no help in sight he became hopeless.He was hopeless until he met Bryan Stevenson. Bryan Stevenson is a public interest lawyer who has spent his career winning reverse, relief, and release for over 125 death row prisoners. He has spent his life educating communities on racial inequality throughout the ages in America. He has founded an organization known as the Equal Justice Initiative (EJI) which is determined to end mass incarceration and protect basic human rights for those who are vulnerable or disadvantaged. In doing his legal work Bryan Stevenson has earned 29 honorary doctoral degrees from prestigious universities across the world, he has received countless awards, including the National Medal of Liberty, he spoke at a TED convention and become one of New York's best selling authors with his book Just Mercy. Bryan Stevenson took Mr. McMillian's case in post-conviction and proved McMillian innocent. He was then released after 6 years on death row.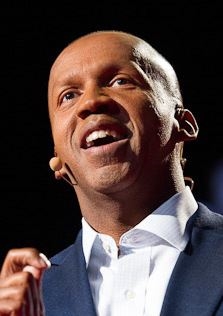 Bryan Stevenson giving his TED TalkJames Duncan Davidson [CC BY-SA 3.0 (https://creativecommons.org/licenses/by-sa/3.0)]Bryan Stevenson is a man whose sacrifice and leadership has resulted in the overturn of not only Mr. McMillian's case but countless major cases for hopeless African-Americans in the deep South, waiting as the end grows near on death row. This is why he is known as a hero and the face of today's civil rights movement.
Bryan Stevenson's commitment to his work has required sacrifice. An example of a sacrifice Mr. Stevenson makes is a reputational sacrifice. In his book, Just Mercy, he admits to representing people who have committed crimes by saying, "I've also represented people who have committed terrible crimes but...my work has taught me a vital lesson: Each of us is more than the worst thing we've ever done" (Stevenson 17). Stevenson takes risks on people with bad reputations, knowing that his own reputation could be at risk, but he insists on doing the right thing. He sacrifices himself for others because he knows they are better than their mistakes. Stevenson's organization the Equal Justice Initiative leads to two more sacrifices Stevenson makes. The sacrifice of his own life and finances. Ever since Stevenson created the EJI in 1989 they have stated, "EJI is a private, nonprofit organization that challenges poverty and racial injustice, advocates for equal treatment in the criminal justice system, and creates hope for marginalized communities" (Equal Justice Initiative). Stevenson has spent 30 years of his life putting work into this organization and has not even made a penny from it. The sacrifice of his own personal well-being is done to help others and not himself. Stevenson has almost sacrificed it all. His reputation, his finances, and his own life, to create equal treatment in the criminal justice system.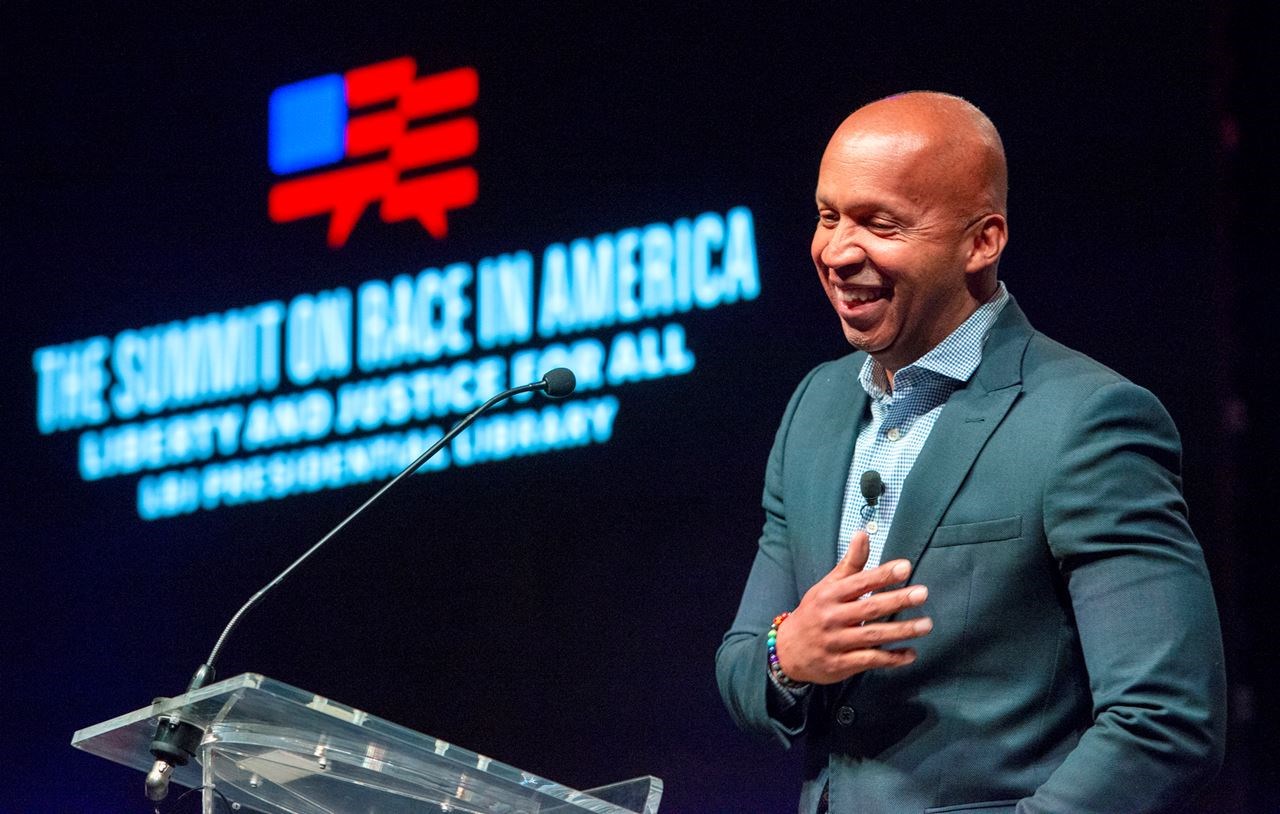 https://commons.wikimedia.orgJay Godwin [Public domain]Bryan Stevenson leads all types of people in all types of groups, from a legal team to an entire movement. A topic Bryan Stevenson has a very strong influence on is the death penalty. We have seen this from his work with prisoners on death row, but in testimony, he calls attention to the death penalty on a larger scale: "There remains considerable doubt about America's system of capital punishment. Although we have now executed 1,100 people in this country during the last 30 years there are fundamental problems with the fairness, reliability, and propriety of the death penalty in state and federal courts. In the last few years, we have uncovered a shocking rate of error in death penalty cases" (Equal Justice Initiative). In Stevenson's testimony, he calls all of us out as a country and makes us hold ourselves accountable. He brings everybody together with a strong sense of urgency. He is leading a movement to do away with the death penalty. Another large portion of Stevenson's work has to do with informing communities of our rough past and creating hope. This has made many view him as the leader of the modern civil rights movement. One of these people is Mary Kaye Schilling, and in her article America Is Racist. So What Do We Do Now? she introduces Bryan Stevenson as someone who is "becoming one of the most prominent faces of the modern civil rights movement" (Schilling). Stevenson's work for African-Americans has made him a leader outside the courthouse. His work is creating hope for African Americans who still struggle for their rights in America. Stevenson's leadership against the death penalty, and in the civil rights movement have made him a hero to not only me but to many.
The leadership and sacrifices of Bryan Stevenson make him a hero in the criminal justice system, and for African-Americans everywhere. His sacrifice of money, reputation and life are what make his work in and out of the courtroom brilliant. And his leadership and call for urgency make him a natural hero to look up to for many. Bryan Stevenson inspires all of us to be leaders for the right cause despite the costs, and prices we may have to make. He challenges us to look past someone's lows and to look at their potential. He gives us all hope that we ourselves are better than our worst mistakes and that we all have the potential to be a leader for our own causes. However, Bryan Stevenson challenges us all in his book Just Mercy when he writes, "I've come to believe that the true measure of our commitment to justice, fairness and equality cannot be measured by how we treat the rich, the respected and the privileged among us. The true measure of our character is how we treat the poor, the disfavored, the accused, the incarcerated and the condemned." Mr. Stevenson wants us to look at how we treat the unprivileged and then make a fair judgment of ourselves.




Works Consulted
QCapehart, Jonathan. "Bryan Stevenson wants us to confront our country's racial terrorism and then say, 'Never again'." Washingtonpost.com, 24 Apr. 2018. Student Resources In Context, https://link.galegroup.com/apps/doc/A536073200/SUIC?u=powa9245&sid=SUIC&xid=88b88f8d. Accessed 4 May 2019.
"Equal Justice Initiative." Equal Justice Initiative, 2 May 2019, eji.org/.
Evans, Kim Masters. "From Testimony of Bryan A. Stevenson, Equal Justice Initiative of Alabama, Executive Director and NYU School of Law, Professor of Clinical Law before the U.S. Senate Committee on the Judiciary, Subcommittee on the Constitution, Hearing on 'The Adequacy of Representation in Capital Cases,' April 8, 2008." Capital Punishment: Cruel and Unusual?, 2010 ed., Gale, 2010. Information Plus Reference Series. Student Resources In Context, https://link.galegroup.com/apps/doc/EJ2133900318/SUIC?u=powa9245&sid=SUIC&xid=8e3d88a1. Accessed 4 May 2019.
Schilling, Mary Kaye. "America Is Racist. So What Do We Do Now? Activist Lawyer Bryan Stevenson Has Some Answers; With hate crimes on the rise, the message from activist lawyer Bryan Stevenson couldn't be more urgent." Newsweek, 7 Dec. 2018. Student Resources In Context, https://link.galegroup.com/apps/doc/A563934752/SUIC?u=powa9245&sid=SUIC&xid=7921f71b. Accessed 4 May 2019.
Stevenson, Bryan. Just Mercy: Adapted for Young Adults: a True Story of the Fight for Justice. Delacorte Press, 2018.
Page created on 5/15/2019 5:15:36 AM
Last edited 11/30/2019 5:38:11 AM