by
Jennifer Beck

from

Los Angeles, California in United States

"La Tierra es la madre de toda la gente y toda la gente debería tener derechos iguales dentro de ella."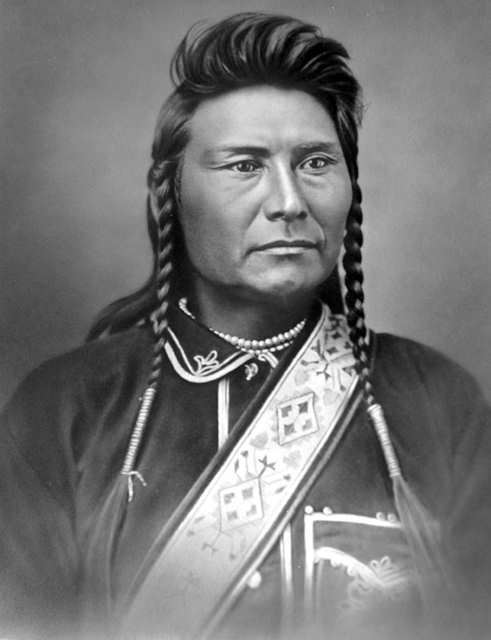 Chief JosephWikimedia CommonsEl Jefe Joseph era el líder de la banda Wallowa, proveniente de la tribu indígena Nez Perce, durante su desesperada y atrevida guerra con los Estados Unidos en 1877. Conocido como un orador notable, los intentos elocuentes del jefe de lograr paz entre los indios americanos y los colonos blancos, caerían en oídos sordos en los días de la locura de la quimera de oro conocido como el 'Gold Rush' y la rápida expansión al oeste. El Jefe Joseph nació en 1840 en el Valle de Wallowa localizado en lo que ahora es llamado el noreste de Oregón. Le dieron el nombre de Hin-mah-too-yah-lat-kekeht ('Trueno Rodante en las Montañas') pero fue bautizado 'Joseph', nombre que le habían dado los misionarios blancos a su padre (Joseph viejo) sobre su bautizo y conversión al cristianismo en 1838.

Los Nez Perce o 'Narices Perforadas' (nombrados por su costumbre de usar cascarones atravesados en sus narices) siempre habían mantenido buenas relaciones con los blancos desde su primer encuentro con los famosos exploradores Lewis y Clark en 1805. La tribu les brindó una bienvenida tan afectuosa que Meriwether Lewis luego los llamó "unos de los hombres mas afables que hemos visto."
En 1855, en un espíritu de coexistencia pacifica, Joseph viejo, junto a varios otros jefes de los Nez Perce, firmaron un trato con el gobierno de EE.UU. En él, los Nez Perce aceptaron dar una parte de sus tierras tribales a cambio de una garantía de que los blancos no invadieran el sagrado Valle Wallowa.
Pero cuando oro se encontró allí en 1860, el acuerdo se rompió. Los colonos blancos llegaron en tropel. En 1863, el gobierno de los EE.UU. ofreció un nuevo tratado, uno que le quitaría el control del valle a los Nez Perce y limitaría a toda la nación tribal a una reserva de 10,000 acres en Idaho. A pesar de que muchos de los jefes firmaron, el Viejo Jefe Joseph se negó rotundamente. Él rompió su Biblia y regresó a las formas tradicionales tribales, totalmente desilusionado con el hombre blanco.
Después de su muerte en 1871, la resistencia del Viejo Jefe Joseph con el gobierno de EE.UU. se convirtió en la batalla del Joven Jefe Joseph. Joseph siempre se acordará de las últimas palabras de su padre: "Este país contiene el cuerpo de tu padre. Nunca vendas los huesos de tu padre y madre."
De 1871 a 1876, Joseph mantuvo una frágil paz entre su tribu y la cada vez mayor población blanca. Pero en 1877, cuando dos colonos mataron a un joven Nez Perce, las cosas llegaron a un punto de ebullición. El gobierno de EE.UU. intervino antes que estallará la violencia y emitió un ultimátum al Jefe Joseph. Tenía que irse del Valle Wallowa voluntariamente o sería expulsado por las tropas del ejército. Convencidos de que la resistencia costaría vidas y resultaría inútil, Joseph condujo a su pueblo lejos de su tierra natal y hacia la reserva en Idaho.
Pero la caminata pacífica que Joseph había previsto no sería así. Durante el viaje, algunos jóvenes guerreros Nez Perce se separaron de la banda atacaron un asentamiento, matando a varios blancos. Las noticias difundieron rápido. Tropas fueron enviadas bajo el Comandante de Caballería David Perry, y el 17 de junio, sus hombres atacaron a la tribu en White Bird Canyon. Los Nez Perce demostraron ser formidables enemigos y tiradores deportivos excelentes. Al final, Perry se retiró, tras haber perdido 34 hombres. Los Nez Perce habían perdido ninguno.
El Jefe Joseph sabía que a pesar de que habían ganado la batalla, nunca podrían ganar la guerra en contra del gobierno estadounidense. De las 700 personas en su banda, solo 200 eran guerreros. El ejército de los EE.UU. tenía miles, y simplemente seguirían viniendo. El Jefe Joseph sabía que tenía que encontrar seguridad para su gente. Esa noche, la tribu salió hacia la frontera Canadiense, cerca de 1,500 millas de distancia.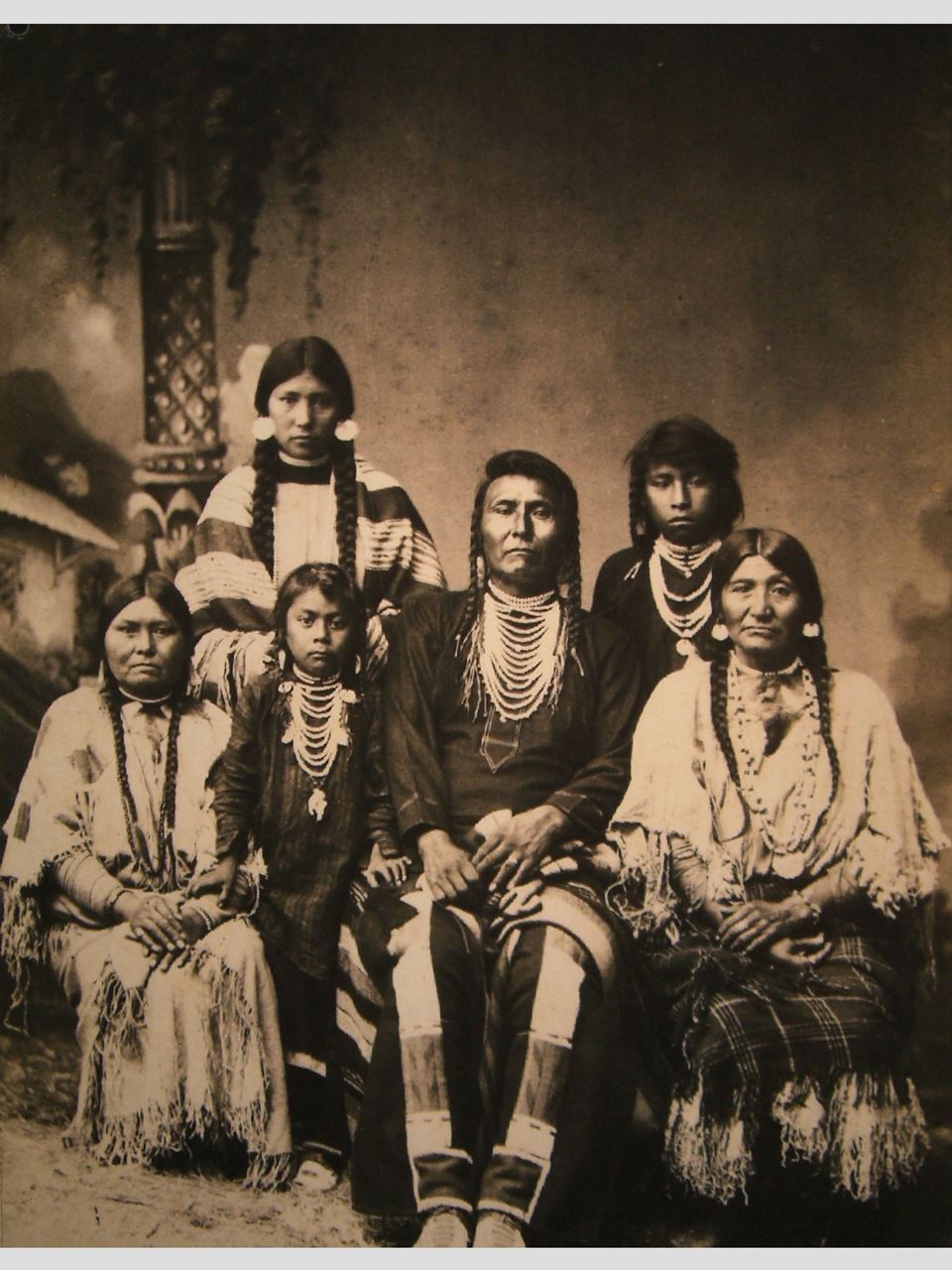 Chief Joseph with his familyF. M. Sargent [Public domain]Joseph tenía razón; las tropas de EE.UU. no se dieron por vencidas. Durante los próximos tres meses, los Nez Perce detuvieron a las tropas estadounidenses en una serie de batallas y escaramuzas que les ganaría atención de prensa nacional por su habilidad y valentía. En el 5 de octubre de 1877, Joseph y su banda fueron esquinados por las tropas de EE.UU. solo 40 millas de la frontera Canadiense. Trescientos pudieron escapar, pero ochenta y siete fueron matados. Joseph y los demás se rindieron y fueron exiliados al territorio de los Indios de Kansas.
Aun en derrota Joseph continuó luchando por su gente. Siendo un elocuente orador y escritor, él escribió cartas a funcionarios del gobierno hasta al de más arriba, el presidente Rutherford B. Hayes, pidiéndoles que permitieran a su gente que volvieran a su tierra natal. Finalmente, en 1880, a los 268 sobrevivientes Nez Perce se les permitió regresar al noroeste, pero a la Reserva Colville en Washington, no al Valle Wallowa.
En 1904, el Jefe Joseph murió en la Reserva Colville, según su médico, de un corazón roto. Pero el espíritu del gran jefe sigue viviendo a través de sus palabras y su mensaje intemporal. "Trata a todo hombre por igual," escribió Joseph. "Yo creo que muchos problemas se ahorrarían si abrimos nuestros corazones más."
Page created on 8/10/2014 6:49:22 PM
Last edited 9/24/2019 6:43:25 AM
Extra Info
Bibliografía
"Nez Perce." Encarta Encyclopedia online
"Chief Joseph." Encarta Encyclopedia online
PBS "Perspectives on the West." 2 May. 2001. .
Beal, Merrill D. Chief Joseph and the Nez Perce War. Seattle: University of Washington Press, 1963.
Gridley, M. Kopet. A Documentary Narrative of Chief Joseph's Last Years. Seattle and London: University of Washington Press, 1981.
Josephy, Alvin M., Jr. The Nex Perce Indians and the Opening of the West Boston, New York: Houghton Mifflin Company, 1997.
Joseph, Nez Perce Chief. Chief Joseph's Own Story. Fairfield, Washington: Ye Galleon Press, 1984.