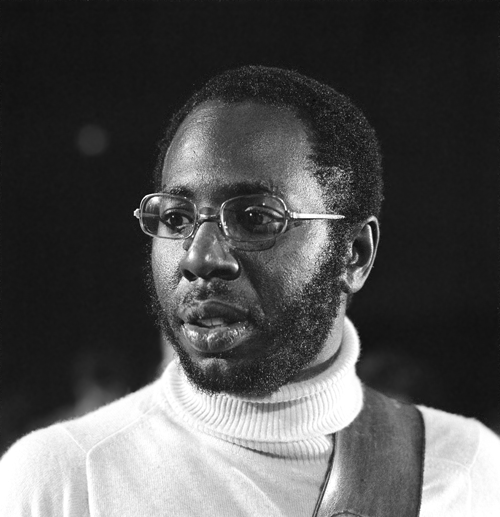 Curtis MayfieldAVRO, CC BY-SA 3.0 NL via Wikimedia Commons
Curtis Mayfield is my hero because he was a very humble man. He wrote from his heart and was able to communicate with people from all walks of life. Mayfield began his singing career with "The Impressions" and went on to have great success as a soloist. He was a great singer, songwriter, producer and humanitarian.

Mayfield came from a large family and he loved all of his brothers and sisters equally. Mayfield was from my old stomping grounds, Cabrini Green. He is my hero because he is one of the ones who has shown the world that people who live in housing projects are not limited people. Mayfield showed the world that we all have aspirations and goals. After seeing a taping of Mayfield shortly after the tragic accident that paralyzed him, he completely had my attention and heart. I just saw beauty emanating from his soul. He made me rethink how I looked at people. He made me rethink how I judge those closest to me. I absolutely love "People Get Ready" because he is talking to PEOPLE. He is not grandstanding; he is touching the hearts of men with each note. Curtis, you are one of the ones that made it from the streets, and one that I surely know who is walking with God.
Curtis Mayfield was a masterful songwriter and singer whose words of beauty emitted socially conscious commentaries on a tumultuous period in America's recent history. He was a legend in his own time and his influence on today's music is a testament to his enormous talent.
Born in Chicago on June 3, 1942, Curtis Mayfield enjoyed a childhood entrenched with music. He taught himself how to play the guitar and, inspired by his mother's love of poetry, started to develop his own songwriting skills. By the mere age of seven, he was singing in public. He was strongly influenced by a local gospel group, the Northern Jubilee Gospel Singers. Prior to his teenage years, he was leading his own soul and gospel group, The Alphatones. In 1957, he was approached by Jerry Butler, a member of The Northern Jubilee Singers, who convinced Curtis to join his soul group, The Roosters. A 16-year-old Curtis Mayfield wrote and composed music for the group. Only six months later, the group renamed itself The Impressions, and quickly had its first pop hit, "For Your Precious Love," which reached No. 11 on the pop charts.
While Curtis sporadically performed with The Impressions, he spent his time playing guitar in Jerry Butler's touring band, and provided Jerry with his first R&B hit, "He Will Break Your Heart." The beauty of Mayfield's music was threefold: soulful rhythms, beautifully-crafted melodies and meaningful lyrics. Mayfield knew that he was in a position to influence, enlighten and educate, and his most beloved pieces reflect this wisdom. Some songs elicited social responsibility, while other songs like "We're A Winner" (released in January 1968) quickly became a declaration of pride for African-Americans fighting for civil rights. His lyrics focused on many of the important political, social, and racial issues of the time. He was not just an entertainer or an artist. He was also a radical thinker, brave enough to speak his mind about freedom and civil rights.Despite some success, Mayfield was not content. He knew there was more opportunity awaiting him in the world of music, and so he decided to save some money from touring and working alongside Jerry Butler. With his hard-earned money in his pocket, he took The Impressions to New York to cut some demo tapes. His determination and talent paved the way for a recording contract with ABC Records that lasted until 1968 and produced more than 18 chart-making singles. The prolific legacy of The Impressions made them one of the most popular R&B acts of the 1960s.
During an appearance at Lincoln Center in New York City, Mayfield was asked to score and perform the soundtrack for the film Superfly, which proved to be one of the most successful black action films and soundtracks in history. This soundtrack would become his calling card. Superfly went on to sell over one million copies, receive four Grammy nominations and launch Mayfield to superstardom.Curtis Mayfield also wrote and produced songs for many record labels, and launched his own label, Custom Records. In early 1970, Curtis Mayfield started yet another chapter of his life, and began a solo career. His debut album, Curtis, was greeted with much praise from critics, and music fans embraced his firey lyrics and funky grooves. But the best was yet to come.
Mayfield's work has influenced later generations of musicians, and a remake of Superfly gave Mayfield another go-around on the charts. In 1989, Mayfield contributed to the soundtrack of the movie, I'm Gonna Git You Sucka, and The Return Of Superfly the following year. He also completed the album, Take It To The Streets, which featured the standout tracks, "Homeless" and "Do Be Down."
His work never ceased to address the plight of those who struggle everyday to survive. He did not shrink from singing honestly about poverty, unemployment and black-on-black violence. He was, in some ways, a voice for the voiceless.
In 1990, tragedy struck during an outdoor concert in Brooklyn. High winds dislodged a lighting rig, which collapsed on Mayfield and damaged his spine. He was paralyzed from the neck down. Though his health continued to deteriorate (he also had a leg amputated due to complications from diabetes), he continued to compose and play music. The year following his accident, Mayfield was inducted into the Rock and Roll Hall of Fame as a member of The Impressions, and shortly after as a solo artist. Very few artists have been inducted more than once, and such deserving recognition showcases his immense talent and influence in history.
Curtis Mayfield died at the North Fulton Regional Hospital in Roswell, Georgia, at the age of 57. His genius lives on in the works of current popular music artists such as Herbie Hancock, Deniece Williams, Robbie Neville, En Vogue, and many hip-hop and rap artists. His talents led him through a musical career that lasted almost 40 years. As a singer, songwriter, composer and producer, Mayfield is considered by many in the music industry to be a visionary and hero.
Page created on 8/11/2014 6:00:21 PM
Last edited 6/9/2021 5:42:07 PM