by
Maria from Fredericksburg
Try picturing that perfect hero. Someone who's overcome a major life setback and who's still a success story today. Someone who turned his tragedy into triumph to reach out to those in similar crises. For me, that someone is Christopher Reeve.
Christopher Reeve was born on September 25, 1952. His love for acting started at a very young age and is definitely still with him today. Growing up he "used to play in cardboard boxes with his brother and would pretend they were making a movie about pirates." He started doing school plays, and at the age of 15 he attended the Williamstown Theatre Festival Summer Program in Massachusetts. By 16, he had an agent. Moving forward in his movie career, he received his B.A. from Cornell University in 1974. Fresh out of college, Christopher made his first appearance to the world, as Superman. He received the part of a strong super hero, but his role as a hero didn't end there.

Christopher Reeve continued to act, with the leading role of Superman, in four more consecutive Superman movies. He also starred in movies such as Deathtrap, The Bostonians, Noises Off, and The Remains of the Day. He won many awards for his superb acting, taking home the BAFTA Award for most promising newcomer for his role as Superman. Christopher also went as high as winning the British Academy Award for Best Actor for his performance in Superman. In 1988 he won the Special OBIE Award for courageous work on behalf of Chilean artists.
In 1995, the unthinkable became a reality. It seemed like the perfect day for horseback riding, a clear blue sky with over 300 riders coming out for the day's event. It was during a Virginia equestrian competition when Christopher Reeve's life would turn upside down and never be the same again. Coming up on a jump, spectators said he looked determined and that a perfect landing was almost guaranteed. Instead, the horse kicked up and threw Christopher up and over, landing him on his back. He was instantly knocked unconscious. After being rushed to a nearby emergency room, word spread that there was no chance of survival. Family and friends prayed for him to just stay alive, when what happened next the doctors described as nothing short of a medical miracle. Christopher moved from a critical condition to a serious one and doctors could then tell what the physical effect of the accident was. Chris had multiple fractures of the first and second cervical vertebrae in his spinal column, and after researching where exactly that was, I found out it's close to the skull. His injury left him paralyzed from the neck down.
Because of Christopher Reeve's paralysis, he is confined to a mobile wheelchair. He was told he would never walk again. He moves his motorized wheelchair by breathing through a straw or tube, and he has a device that keeps him breathing, which is permanently inserted in his neck. However, the determination that he has to walk again is enormous. He knows he'll walk again and doesn't doubt his ability to do so for a second.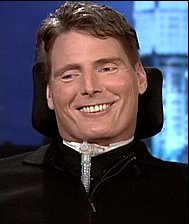 Today Christopher Reeve is nothing short of a hero. He speaks out to others in his same situation and gives hope to the hopeless. He's helped out with numerous charities such as the Actor's Fund of America, the Special Olympics, American Paralysis Association, Save The Children Foundation, American Cancer Society, and Save the Theaters. And he is one of the founding fathers of the Creative Coalition. Being able to overcome what most would have given up on, and being someone that anyone can look up to, truly makes you a hero. Today Reeve is still doing what he loves, and he doesn't let his paralysis stop him. He's still acting, directing and winning numerous awards for his work. Christopher Reeve is truly a Superman!
Page created on 7/31/2014 7:34:37 PM
Last edited 7/31/2014 7:34:37 PM
Extra Info
DVD
RELEASE DATE: NOVEMBER 6, 2007
Matthew and Alexandra Reeve will appear on "Good Morning America" November 6th to discuss this special DVD.
This intimate portrait focuses on Chris's remarkable recovery of movement and his constant fight to fully regain his mobility. Following Chris closely over many months of treatment and public campaigning for funds for stem cell research, this film was completed shortly before his death and shows his struggle to keep his hope alive. Sadly, Chris died before his most fervent wish could come to pass. What emerges through this film is a portrait of an intelligent, determined, candid and outspoken man who was able to maintain his sense of humor in the face of adversity. His inspiring personality will shine through as you follow his unpredictable, emotional journey.
Rating: Not Rated Genre: Documentary Run Time: 102 minutes DVD SKU#: (8) 295670417-2
A portion of the profits will be donated to the Christopher and Dana Reeve Foundation.