Carol Burnett
by
Hannah from Herrin, Ill.
"When you have a dream, you've got to grab it and never let go." —Carol Burnett
One characteristic I think a hero should have is the ability to help people, like by giving money, food, clothes or just being there for them. I also think heroes need to be kind to all people. They need to have a sense of humor so that when people are down, they can cheer them up. They cannot be conceited because then they wouldn't care for their fans or anything. Last but not least, they have to be down to earth because if they're not, they cannot really appreciate their fans.
Carol Burnett is my hero because she has done many things and is a great actress. She has also done many famous performances with many well known actors and actresses. She is a very noble, caring person.
Carol Burnett was born on April 26, 1933, in San Antonio, Texas, to Jodie and Louise Burnett. Her parents were alcoholics. She wanted to go to college, but she almost wasn't able to go to college because it was hard to get tuition. But then an anonymous donor put $50 in the mailbox so she could go. She attended college in Los Angeles, California, from 1951 to 1954. Her degree was going to be in journalism, but she changed it to theater arts.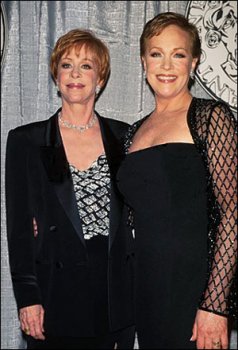 She was a star on campus, but since her family didn't have much money, her dream of going to New York and being on Broadway seemed like it was never going to happen. One day, she and Don Saroyan were doing a skit from "Annie Get your Gun" and a person watching them gave each of them a $1,000 grant. There was a catch to the loan—Carol had to do four things in return: never reveal his identity, she must move to New York City to try her luck, she must repay the loan in five years, and she must be honor bound to help other young people attain careers in entertainment. She got her first big break at the First Annual Rehearsal Club Revue. Then, the William Morris Agency signed Carol on for her comedic and singing talents.

She was on many shows like "The Lucy Show," "The Winchell-Mahoney Show," "Stanley," "The Tonight Show with Jack Paar," "Toast of the Town with Ed Sullivan," and her very own "The Carol Burnett Show." She also did Broadway. She was in "Once Upon a Mattress," and she did movies like "Annie," "Grace" and "The Marriage Fool." She received a lot of awards: 5 Emmys, 5 American Guild of Variety Artists Awards, 3 TV Guide Awards, 12 People Choice Awards, 8 Golden Globe Awards, Television Hall of Fame Induction, and more.
A hero is someone who is kind, loving, down to earth, not self conceited, also they need to help people. Carol Burnett is very kind to people and animals, she's down to earth she doesn't let fame get to her head. She's not self conceited because she helps her family, friends, and fans. She is very loving and that is why Carol Burnett is my hero.
Page created on 5/8/2006 12:00:00 AM
Last edited 1/4/2017 9:28:46 PM
The beliefs, viewpoints and opinions expressed in this hero submission on the website are those of the author and do not necessarily reflect the beliefs, viewpoints and opinions of The MY HERO Project and its staff.
Related Links