In a blink of an eye you can send an email halfway around the world; you can order a pizza, apply to colleges, and find a job, too—all with just a computer and an Internet connection. But what if you don't have access to a computer or have the skills to use it?
The technology that brings together an unimaginable amount of information, and builds bridges between continents, also creates a divide between the haves and have-nots. The "haves" enjoy huge economic, educational, and social advantages over those who do not have access to computers and the World Wide Web. Computers and computer skills are becoming more and more essential for anyone looking to get ahead in life. Those who don't have these skills, and don't have a way to learn them, just fall further behind. But The Community College Foundation (CCF) in California has a way to reverse the trend by bringing technology to underserved communities. It's called an eBus.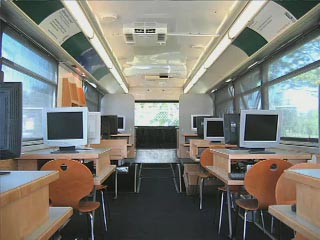 An eBus is actually part of a fleet of buses put together by The Community College Foundation, located in California, and supported by a number of corporations and organizations, among them Freddie Mac, Wells Fargo, Chase Bank, and Washington Mutual. The buses contain between 10 and 20 computers loaded with the latest software for doing everything from word-processing and Internet research to desktop publishing and photo editing. They mainly serve low-income communities, classrooms, and juvenile detention facilities. The buses' reach extends well beyond California. In fact, the buses travel nationally, bringing mobile computer labs to help people with everything from finding jobs, buying their first home, building their computer skills, and more.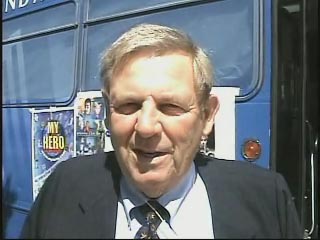 CCF president David Springett developed the concept for the eBus program in 1999, using a recreational vehicle to house a mobile computer lab. By August 2000, The Community College Foundation officially launched the program. Springett, a leading proponent of educational technology, wanted to find a way to bring computers and the Internet to people who don't have access to them, and show communities the tremendously positive impact that computers and computer skills can have in their lives. In a video interview with The MY HERO Project, he explains: "[we wanted to] bring to the communities the experience of what you could do on an individual level and on a community level by using technology and Internet capabilities in the eBus."
Aboard the eBus, senior citizens learn how to set up and use email, students receive homework help and build math and reading skills, others create resumes and find jobs, prospective first-time homebuyers learn how to manage their money-the list of possibilities and opportunities is truly endless. Bringing technology to residents of low-income communities is not the only goal of the eBus program; Springett hopes that the experience will spur the communities into taking action for themselves. It seems to be working. Many of the communities visited by the eBus have come back to CCF and asked for help in setting up their own computer labs.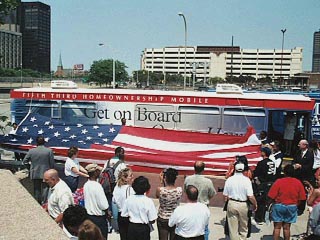 The buses not only expose the community to the power of technology, but they also offer young people a bridge to a better future. When technology is brought into the poorest schools, it often inspires them. On the eBus, students have the ability to do what other kids do on a daily basis, and they see that someone cares enough to bring the computers to them. The technology on the mobile lab also allows them to get the most out of their education, with interactive software for teaching math and reading skills, homework help, and ways to research and apply for college.
Youth in Los Angeles County's juvenile halls also know the power of the eBus. Those participating in the InsideOUT Writers program board the eBus and sit down to explore non-violent, and more effective, ways to express themselves. Single parents learn how to build a better financial foundation for themselves and their children when buses sponsored by Branch Banking and Trust Co. and similar institutions make a stop. Teachers and schoolchildren in Louisiana and Mississippi can also attest to the incredible power of mobile technology, when eBuses arrived during the aftermath of Hurricane Katrina to provide computer labs for the displaced schools.
While the advantages are numerous and the opportunities are endless, the expense to operate the eBus program is also enormous. Each bus costs roughly $250,000 each year to keep running and equipped, which is why The Community College Foundation has found corporate sponsorship an essential part of the program. Each bus, plastered with the company name and logo, has a theme or a mission, whether it's running a workshop to help people learn how to budget and apply for a mortgage online and/or teaching young people how to use the computer to word-process and express themselves through words. Sponsoring corporations see the eBus as a marketing tool that can also give back to the community.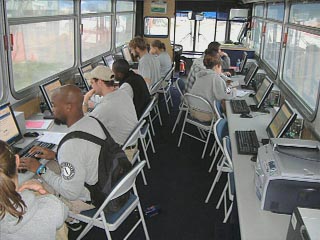 With the collaboration among sponsoring corporations, the CCF staff who keep the program running, and the people and communities who participate, The Community College Foundation eBus program shows how coming together brings opportunities for everyone and builds bridges for a better community and a better future for its members.
Page created on 8/4/2014 4:17:17 PM
Last edited 1/5/2017 8:39:05 PM
Related Links
The Community College Foundation
- "An innovative non-profit, The Community College Foundation is dedicated to serving education and community through outstanding practices, creative initiatives and entrepreneurial spirit."
InsideOUT Writers
- is a group of professional writers who volunteer their time to teach creative writing to incarcerated youth in Los Angeles County Central Juvenile Hall.