Christine de Pisan
by
Andrea Hopkins

from

www.DistinguishedWomen.com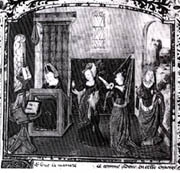 Christine de Pisan was born in Venice around 1364. Her father, Tomasso de Pizzano, a famous physician and astrologer, was invited to the court of King Charles V of France when Christine was five years old. She remained in France all her life. She received an excellent education. She spoke French and Italian, and Latin as well. In 1380, when she was about fifteen, Christine married Etienne du Castel, a court secretary. The marriage was exceptionally happy. Unfortunately, King Charles V died that same year, and Tomasso's favored status at the court, as well as much of his income, was reduced by the new king. Etienne's income was reduced at the same time, and the family found itself in more difficult circumstances. Soon Tomasso died after a prolonged illness and in 1390, Etienne, too, died suddenly. Christine was left a widow at the age of twenty-five with three small children, her mother and a niece to support. The small amount of money left to her by Etienne was the subject of dispute, and Christine was involved in a series of lawsuits in an attempt to recover it.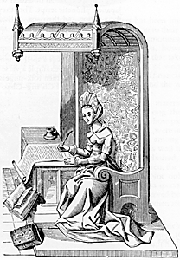 She decided to earn her income as a writer. Her poems, songs and ballads were well-received and soon she was able to support her family. Christine de Pisan became popular and her work was later supported by many lords and ladies of medieval Europe, including Berry, Brabant and Limburg,the Dukes of Burgundy, King Charles VI, and his wife Queen Isabella of Bavaria. Much of her work contains a great deal of autobiographical information, which was unusual for writers of that time. Some of her works are: The Changes of Fortune, a long poem containing examples from her life and of other famous people, The Epistles of Othea, a collection of ninety-nine allegorical tales, and The Road of Long Study. In 1404, she was commissioned by the duke of Burgundy, Philip the Bold, to write a biography of his deceased brother, King Charles V. She wrote a very flattering first-hand account of the king and his court in The Book of the Deeds and Good Manners of the Wise King Charles V.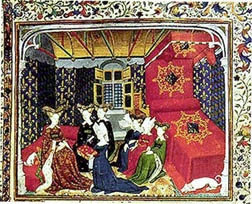 An autobiographical Vision of Christine was written in 1405. This volume was written partly to silence her critics in a somewhat heated literary debate on the subject of women. She followed this up with The Book of the City of Women in 1405, a collection of stories about heroines of the past, and The Treasure of the City of Ladies : Or the Book of the Three Virtues in 1406.
Christine de Pisan was very devoted to France and was horrified by the civil strife that erupted after the assassination of Louis of Orleans. In 1410, she wrote Lamentations on the Civil War, and then The Book of Feats of Arms and Chivalry, which was one of the first books to be translated later into English. She was devastated by the hostilities with England and the Hundred Years' War and, in 1418, she retired to live in a convent. Encouraged by the early successes of Joan of Arc, she dedicated her last known poem Hymn to Joan of Arc to Joan in 1429. Christine de Pisan died ca.1430.
Page created on 8/22/2005 2:41:25 PM
Last edited 1/6/2017 7:33:27 PM
The beliefs, viewpoints and opinions expressed in this hero submission on the website are those of the author and do not necessarily reflect the beliefs, viewpoints and opinions of The MY HERO Project and its staff.