Chris
by
Macy Popick

from

Swift Current, SK

My hero is my dad because he is the reason I am who I am. My dad and I have always been close and shared a lot of the same interests. He grew up in Frontier Saskatchewan on a ranch, where he lived until graduation. He met my mom when they were 17 and have been together ever since. He went to college for literally two weeks to be a conservation officer and decided he didn't like it. He was 21 when I was born, and even though I was the reason he had to sell his dirt bike and quad, he has always been there for me when I needed him.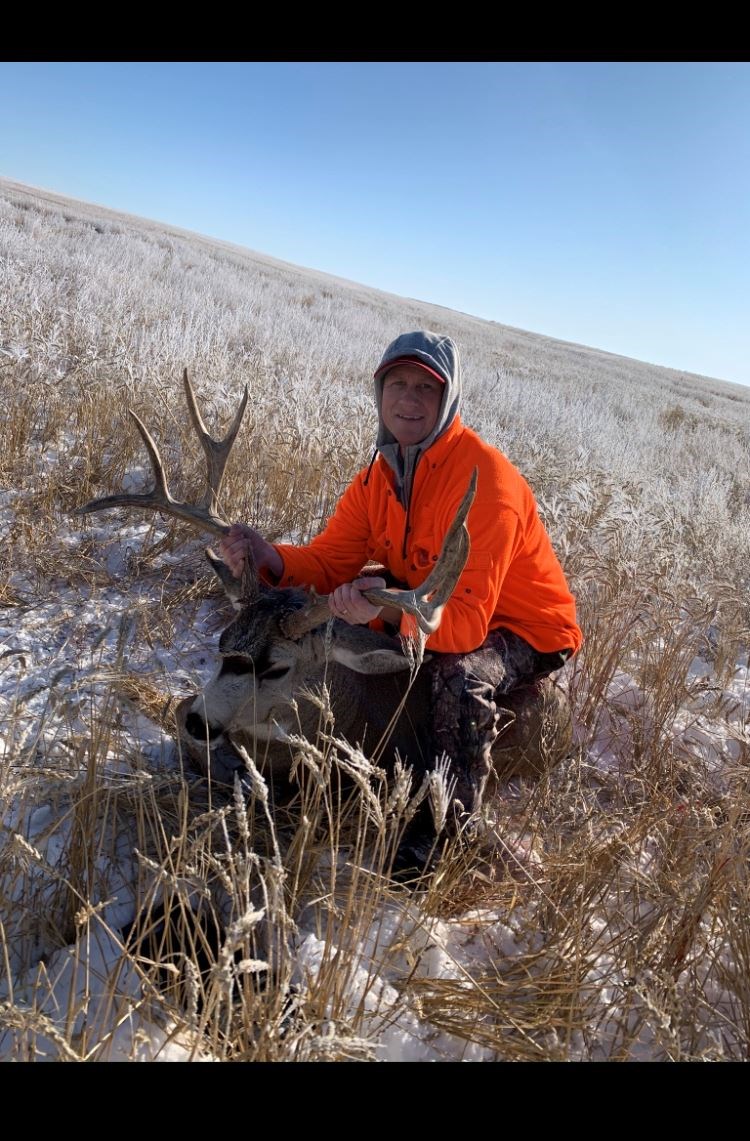 Cull Mule We GotPersonal Photo
Until I was about 7, my dad was a surveyor throughout all of Saskatchewan. He would be gone for weeks at a time and hated being away from me and my mom, so he decided to work under my grandpa to later take over the family business, Popick Homes Ltd. My grandpa was always a builder, and when they sold the ranch and moved to Swift, my dad decided to work under him to later take on being a contractor. His first job was at honeybee like pretty much everyone where he grew up.
When it comes to interests, I've gotten almost all of them from my dad. Some of my favorite memories include hunting, fishing, quadding and snowmobiling with my dad. My first elk was one of my favorite memories because we hiked over 8km through the Val Marie community pasture full of hills and valleys. We were following a small herd of 9 elk. We could see a herd with around 100 in the hills, but they were too far and there was no way to get to them without scaring them off. We got really tired and had to go back without anything because it was getting dark, and just as we saw the roof of the truck, we heard a cow elk bellow in front of us. I ended up taking the shot at around 380 yards, but the part I remember the most is my dad sitting behind me cheering me on and saying, "Atta girl, mace."
Most of the ways I am are from my dad and his ways of doing things. I also get my love and taste for trucks from him and his taste in vehicles. My dad has taught me how to handle myself in situations where I am under a lot of stress and pressure. He pushed me to try every sport there was because he wanted me to try my best and always be willing to see where life could take me. From that I learned how to be patient, resilient, brave and open to new opportunities. I owe a lot to my dad and would do anything to repay all he has done for me.
My dad has not only been my role model but he has been my friend and one of the only people I had throughout times in my life where everyone abandoned me. He has been patient with me and shared his successes and his failures with me to help me learn and grow as a person. I hope to someday be as successful and as kind of a person as my dad. He has put up with me through my toughest times when I shut people out and didn't want to be around people. My dad is and will forever be my greatest hero and one of my closest friends.
Page created on 6/18/2021 8:43:26 AM
Last edited 6/19/2021 5:05:00 AM
The beliefs, viewpoints and opinions expressed in this hero submission on the website are those of the author and do not necessarily reflect the beliefs, viewpoints and opinions of The MY HERO Project and its staff.