Clara Barton
by
Abbey Baxter Burks

from

McKinney, Texas

"An institution that is not selfish must originate in the recognition of some evil that is adding to the sum of human suffering, or diminishing the sum of happiness."

Clara Barton was born on Christmas day, 1821, in North Oxford, Massachusetts. Her dad's name was Captain Stephen Barton. Barton was in the military. Clara's favorite thing about her dad was when he told her about his war stories. Clara's mom's name was Sarah Barton. Clara had two sisters and two brothers. Their names were Dorothy, Sally, David and Stephen. Clara's real name was Clarissa, but her family called her Tot or Baby. Eventually, they settled on Clara as the nickname. Her favorite brother was David. David taught Clara how to ride a horse. Clara was scared of snakes, thunderstorms and strangers. Clara was so shy, her mom sent her away to school and her teacher sent her right back home.
Clara Barton


Unknown Via Wikimedia [public domain]
Barton became a teacher when she was seventeen and taught in North Oxford. Then in 1859, Barton rode a train to New York to enroll in college. After her mom died, she moved to Washington D.C. and started learning about the government, becoming one of the first women to work in the U.S. government patent office. She lost her job in the patent office because the men didn't like working with a woman.
In 1860, Abraham Lincoln was elected President and the Civil War started. Barton wanted to help the soldiers so she volunteered. First, Barton got people to donate supplies. Then she finally got permission to help soldiers in the battlefield. In her first battle, one of the soldiers saw her coming with bandages and supplies and said, "It was like heaven had sent an angel." The newspaper called her "The angel of the battlefield."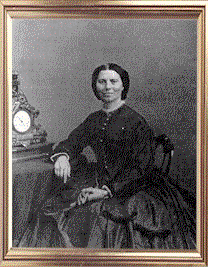 Matthew Brady Via Wikimedia [public domain]
Barton was almost shot during the war. After the war ended in 1865, she received many letters from families looking for lost soldiers. Barton helped find over 22,000 missing men. Next Barton became a public speaker, but she got tired so her doctor told her to take a vacation. She went to Geneva, Switzerland and met Doctor Appia. He told Barton about a nurse named Jean-Henn Dunant who had helped soldiers in wars in Europe. Doctor Appia told Barton about the Treaty of Geneva that created the Red Cross as a symbol for the volunteers to wear during battles. Barton had not heard of the Treaty of Geneva because the U.S. had not signed it. A war started in Europe while Barton was there and she became the first American to wear the red cross.
Barton returned and tried to get the President to sign the Treaty of Geneva, but President Hayes refused. In 1881, Barton and some of her friends formed the American National Red Cross Association. In 1882, President Arthur signed the Treaty of Geneva and the American Red Cross was created. Clara Barton was the leader of the Red Cross until 1904. She died at the age of 90 on April 13, 1912. She is my hero because she spent most of her time helping others, and now, if there is a disaster, the Red Cross helps the people just like Clara Barton did a long time ago.
Page created on 5/5/2003 10:33:46 AM
Last edited 5/13/2020 3:58:38 AM
The beliefs, viewpoints and opinions expressed in this hero submission on the website are those of the author and do not necessarily reflect the beliefs, viewpoints and opinions of The MY HERO Project and its staff.