"People discuss my art and pretend to understand as if it were necessary to understand, when it's simply necessary to love." -- Claude Monet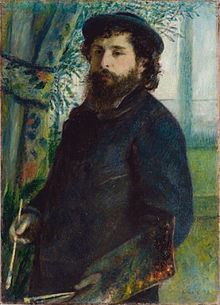 Claude Monetwikipedia
Claude Monet was a famous artist. He painted many works of art that are in famous museums today. He lived at a time when there were wars and hardships. Claude Monet has inspired millions of artists. He lived from 1840 until 1926.
Claude Monet is my hero because I like his art. There are so many artists out there, but Claude Monet's pictures of the water lilies and bridges use colors exquisitely. To be able to become the artist that he was with all the problems he faced took a lot of ambition and talent. He has inspired me to draw and try art, and because of that, Claude Monet is one of my heroes.
Claude Monet was born on November 14, 1840 in Paris. When he was five years old he and his family moved to Le Havre. When Monet was 17, his mother died. The year after, Monet met an artist named Eugene Boudin. Boudin convinced Claude Monet to do his painting outdoors and this led to the first outdoor landscape of Claude's painting career. Monet went to the Swiss Academy, continuing to devote his life to his art. Monet met a woman named Gaudibert who admired his art. She was one of the first to recognize his artistic abilities.
In 1867, while Monet was at an art event in Sainte-Adresse, his first son was born. Monet was 27, and he had to be away much of the time to promote his art. He also suffered from depression. There was a time in 1868 when Monet "tried to commit suicide." But I admire the fact that he was able to overcome his depression and keep on with his art. All through his life he had to work hard. People did not buy his art at the start. He had to move his family many times, but he still painted.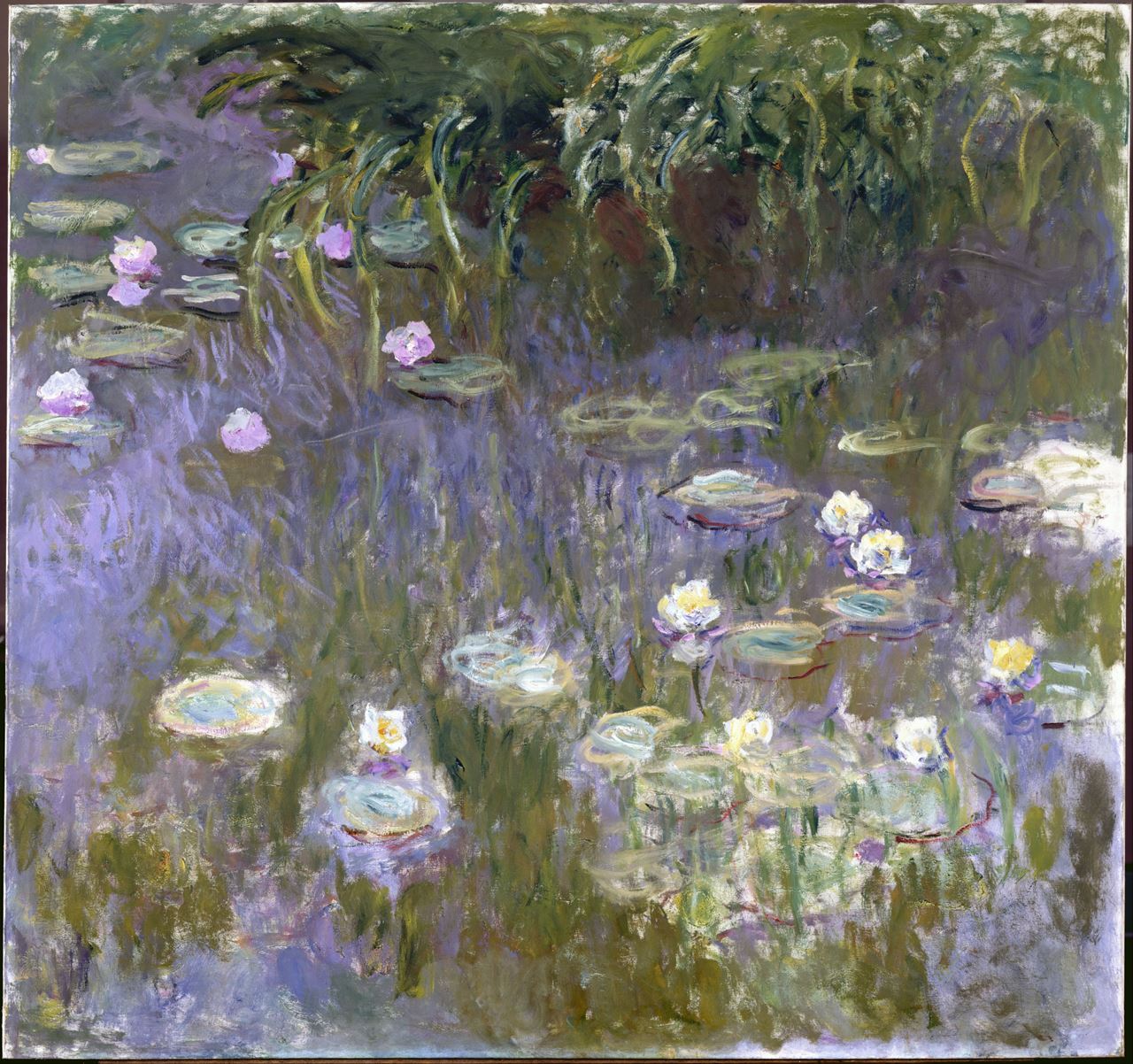 Claude Monet - Water LiliesClaude Monet [Public domain]
In 1870, Monet married Camille-Léonie Doncieux, the woman who gave birth to his first son. Monet's father died in 1871. Monet's second son named Michael was born, but tragedy struck in 1879 when Monet's wife died. After the death of his wife, he moved the family to Poissy. Not many people bought his work and Monet remained poor. So, in 1883 Monet moved the family again to a house he rented at Giverny. He died in 1926 at the age of 86.
At Giverny he started going to more exhibitions and his work became more popular. He earned more money and was able to buy the house. He fixed up the house to include gardens and a Japanese bridge. His yard became the subject for some of his most famous paintings. His popularity and fame grew. By 1907 he had painted many well-known paintings, but by then he had "his first problem with his eyesight." He started to go blind. He still painted, though his eyes got worse. He wouldn't stop painting until he was nearly blind. He lived at Giverny a total of 43 years during which time his second wife and his older son died.
When I was young my mom bought me a set about the artist, Monet, who was one of her favorites. The set had a book; it was a biography with pictures. There was a giant pop-up house you could make duplicating his house and gardens. You could look inside the house to see where he had paintings. You could also watch a video movie about him. I liked his art. My mom bought me a poster of his Water Lilies, which I have on my wall over my bed. I love the colors and the fact that when you look at it, you have to stand at a distance to really understand what he was painting. Up close it may look only like blotches of paint, but as you move back you can enjoy the scene.
When I read the biography I appreciated his life even more, knowing he overcame so many obstacles. A hero to me is a person who inspires people. Monet had inner strength, was hardworking, and imaginative. He also brought new ideas to the art world. He helped invent what we call "Impressionism." A hero can be brave, and Monet was willing to dedicate his whole life to art. He wasn't selfish because he thought of his family and worked to make a living for them and a good home. Because of all of this, Monet is my hero and a hero in the art world.
Page created on 11/4/2011 6:15:53 PM
Last edited 11/13/2019 8:13:11 AM