Stories: Coach Carl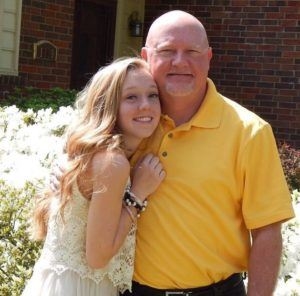 Coach Carl and his daughter (Carly) google.com
Carl Swearingen, was born in Memphis, Tennessee alongside his twin brother (which I didn't know about until after knowing Carl for a few years). I was told that he was always the quiet brother but was secretly funny and showed his personality in his own way. I learned all these facts about his personality when I met him later in life as my coach. I remember my first practice with him, the beginning of my meeting my hero.
To begin, I was in sixth grade and recently gave up soccer, a sport I had played competitively for the previous 6 years of my life. I had gone through difficult teams and coaching situations, so I was weary of trying something new and trying a new sport. I honestly wanted to quit sports as a whole, on the inside, but I felt something when I picked up my first lacrosse stick. Coach Carl came right up to me at practice and taught me the basics. He always had a positive attitude towards the game and welcomed the idea of mistakes because he said they helped us grow as players. I fell in love with the sport and had an overwhelming feeling of happiness every time I took the field because of everything he taught me.
Coach Carl started the Collierville Lacrosse girls' program in order to give his daughter, Carly, and her friends another sport to play. He built the program up from the ground and spent his own time and money to build up his first team to compete. The first year he spent emphasizing the basics and reading endless books to learn different skills to teach the team. Lacrosse at the time was not very popular, so he spent the time constructing a round-robin tournament and brought in out-of-state teams to give his girls more competition. He spent the next few years recruiting and building his ideal team. I became a team member in his third year of coaching. We ended up being his first team with a winning record. We actually got the winningest record in our region for middle school, but we never felt entitled to anything.
My team was something special and it was as if we were all meant to be together and that Coach Carl knew that. Coach Carl had us out practicing every day in the hot summer and on the rainy days, working continuously on the basics. He built my team around accountability and competitiveness. He instilled in us the importance of showcasing yourself and your teammates. He pushed us to go out of our comfort zones to try new and fun drills that he had watched videos about, and he spent the time to invite us over to his house to watch game film and have team movie nights. Coach Carl always chose the movies based on team moral and building confidence as the underdog, like Rudy and Hoosiers. He emphasized the importance of being a team and having each other's backs. This showed through our play as a team. We were always together and loved going out to the practice field to learn. I've never been on a team so eager to learn. We would even stay past the time allotted for practice just to play. We all just wanted to get better to win, to each other and most importantly for him. When we were not playing 100%, we wouldn't turn on each other. We would rather feel ashamed that we were disappointing him after all the hours he had put into helping us. I don't know about you but being part of a team and respecting someone so much is definitely a surreal feeling. It makes you work 110x harder just to succeed.
Now that you know the type of coach he was, allow me to go into the type of person he was and how he became my hero. First, his coaching style. He always put me in a position to succeed, whether in a game or practice. He would always give me the extra confidence boost and I trusted in him to not allow me to fail. I know he had my back no matter what and that really stuck with me, not only as a player but as a person. He taught me that you have to take some leaps of faith in life but you have to have the foundation set beforehand. Coach Carl helped me to realize that there is no need for breaking people down when you can build them up and give them confidence. He taught me that the best friendships are built through trust and being a middle school aged girl, this really stuck with me. I now thank him for teaching me the lesson of being loyal and being the strong supporter, no matter my situation in life, because you never know what someone else is going through. Secondly, he taught us how to be a team. He treated us all the same. Never once did he play favorites. He pushed every one of us to be the best person we could be and emphasized the importance of doing our part and our job. This allowed us to establish a role on the team and grow confident in completing that role. This has taught me that in life I may not be good at everything but once I find something I'm good at and passionate about, I should dive into it. I thank him for teaching me that it is okay to mess up and fail at something, but the things I am good at I need to continue to take part in and learn how to get even better at it. Thirdly, Coach Carl taught me how to be humble in my abilities. Even winning the big games versus Hutchison and St. George's, he would never truly let us celebrate or talk of our achievements. He would tell us to remember the feeling we had in that moment then to work towards that feeling again after every game. He didn't want our heads to swell with confidence, rather he wanted us to continue to fight to the top for what we worked for and that we deserved nothing. This not only is important in sports, but in life. You don't deserve anything. You have to work for it and will work for it. He opened up my competitive mindset to a whole new level and every time I take the field or take a test I always remember that winning feeling and strive for excellence.
Lastly, he taught me how to be a good, God loving person. Coach Carl had gone through adversity after losing his wife to cancer and then losing his mom a year later. He had to take care of 3 young children and play both parental roles. He never once spoke of his hardships, but he would always talk about the positives and would never dwell on the past. He trusted that his life spanned out the way it did for a reason and he didn't look back after hardships. This is the realest thing about life. You can't control what life brings you, but you can control how you react to different situations. Once he passed away, I thought my whole world had fallen out from under me. My one mentor just gone. Shortly after his death I succumbed to a season-ending ACL injury that led to surgery and a 6 month recovery. I was upset and hated the world for taking everything I loved away from me in just a few short months. But then I sat down and began to think, Coach Carl never would've wanted me to give up. He would rather want me to take this new path as person. This opened up my life to so many new opportunities with God and with other people; I completely changed my whole view on life as a whole.
As I grow up, I continue to think of all the countless lessons he taught me in my short 4 years with him as my coach. I can't imagine how my life and personality would be if it wasn't for him. I wrote this story to honor such a great man that made such an impact on me and my family but also on the entire CMS and CHS lacrosse community. I owe a lot of my achievements in life to him. He saw something in me as a student-athlete and allowed me to flourish as a person in so many different areas in life. I hope one day I can make the same impression on someone that he made on me because he completely changed my life for the better.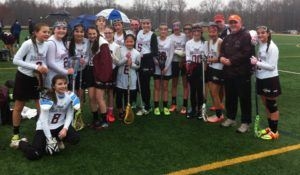 Coach Carl and my middle school maroon team after beating CHS JV squad google.com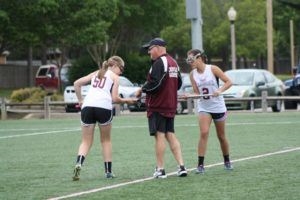 Coach Carl assisting players on Maroon and White Daygoogle.com
Page created on 4/30/2018 6:14:58 PM
Last edited 9/8/2018 5:53:49 PM