Le pedimos a todos los adultos de todos los países del mundo:
Paz en nuestros corazones.
Estas poéticas y poderosas palabras fueron extractadas de un discurso relatado en la Conferencia 'Hague Appeal' por la Paz por
Farliz Calle
, una de las líderes del
Movimiento Juvenil de la Paz
, el cual ha sido nominado para el
Premio Nobel de la Paz
Tuve la oportunidad de conocer en persona estos niños en el estreno del documental de CNN, SOLDADES DE PAZ: CRUZADA DE LOS NIÑOS, en el cual
Kathy Eldon
era la directora-ejecutivo. La película documenta el valiente trabajo de los 2.7 millones partidarios del Mandato de Niños por la Paz y los Derechos apoyado en una Colombia devastada por la guerra.
Watching the five teenage leaders of the movement speak after the movies' recent premiere, I was struck with how young and sweet they looked. Like most kids, they were thrilled to have gone to Disneyland. Yet the reason they were in Los Angeles to share their stories with our kids....to inspire our kids....was to help stop the violence that not only permeates Colombia, but our own backyards as well.
MOVIMIENTO JUVENIL DE LA PAZ
Décadas de traficación de drogas y guerrillas han hecho a Colombia uno de los países más violentos del mundo. Las elecciones usualmente son dirigidos a muchos diferentes facciones armadas, incluyendo el militar. En la cara de amenazas de muerte, estos valientes niños pidieron por un "Día de tranquilidad", y todos los grupos armados cumplieron.
El 25 de octubre de 1996, 2.7 millones de niños colombianos, entre las edades de 7 a 18, votaron abrumadoramente por el derecho a la vida, el derecho a la paz y el derecho a la familia. Esta elección especial vio nacer el Mandato de Niños por la Paz y los Derechos. Un año después 10 millones de adultos votaron por la paz.
¿Qué hace que los niños arriesguen su vida cada día por la paz? Estos cinco activistas/nominados al Premio Nobel comenzaron su búsqueda de paz después de experimentar angustia y pérdida personal.
Juan Elías Uribe, 17, no tenía idea del efecto real de la violencia hasta que su padre, un doctor local quien hablaba en contra de los asesinatos rampantes, fue asesinado. Juan ahora se ha unido a las filas de 1.5 millones desplazados de Colombia, intentando empezar una vida nueva.
Por un tiempo después del asesinato de su padre, Juan pensó en retirarse del proceso de paz. Pero fue su padre quien inculcó estas creencias de paz en Juan, y ahora nadie puede parar su búsqueda por la paz. Él cree: "Si cosechas a tu hijo de paz, tendrás un adulto que no será violento."
Mayerly Sánchez, 15, perdió a su mejor amigo Milton a una pandilla colombiana. Mayerly siente una fuerte conexión a su amigo asesinado, y su espíritu inspira sus talleres. Estos niños intentan encontrar soluciones a los problemas que los adultos comienzan. Ella afirma: "La paz comienza en nuestros hogares. No podemos difundir la paz en nuestra sociedad si no la tenemos en nuestras casas."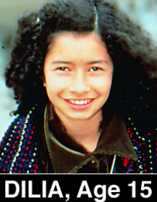 Dilia Lorenzo, 15, quería mejorar la situación para los niños y para la ola de violencia. "¿Qué de bueno tiene tener miedo? Tenemos una opción. Ya es suficiente y no podemos aceptar esto más. Demandamos cambio." Dilia usa su programa de radio en la escuela como herramienta de la paz. Ella quisiera enseñarle al resto del mundo el hermoso rostro de Colombia, el que existe más aya de la violencia.
Wilfrido Zambrano, 17, viene de Apartado, el pueblo colombiano más violento, donde cuerpos ensucian las calles. Él ha tenido que moverse a una locación secreta porque ha recibido amenazas de muerte. Wilfrido, criado en violencia, ha elegido el camino de la paz. Un terapeuta de juego, él usa títeres de calcetín para enseñar a los niños como poner dolores y rencores detrás de ellos e ir hacia delante para alcanzar sus objetivos.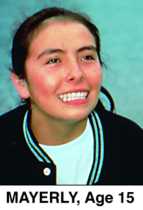 Farliz Calle, también creció presenciando secuestros y asesinatos en las calles de Apartado. Llegó el momento que se enfado de todos los asesinatos, que ella comenzó a pensar que podía ella hacer en su escuela, iglesia, su vecindad. Ella está estudiando para ser psicóloga en la Universidad de los Andes, para ayudar a la gente innecesariamente afectada por el conflicto armado. "Nosotros queremos enseñar que en una crisis aguda, los niños tienen que hacer parte de la solución. La gente dice que los niños son el futuro de un país, pero no somos el futuro, somos el presente. Tenemos que construir juntos."
En la conferencia de paz en La Hague, Farliz tuvo la fortuna de conocer a su héroe, Rigoberta Menchú, la ganadora guatemalteca del Premio Nobel de la Paz / activista por los derechos humanos, quien trabajaba especialmente en nombre de la gente indígena.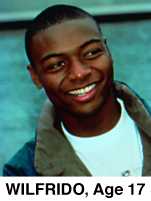 Farliz habló de la nobleza y simplicidad que ella inspira, "Muchas veces en Colombia yo sentía que quería tirar la toalla, pero me di cuenta que no era justo para la lucha de repente, que es necesario seguir trabajando." Rigoberta respondió, "Yo se que trabajando por los derechos humanos toma mucho valor y no puedes hacerlo solo."
Farliz terminó su discurso con las siguientes palabras: "No podemos cambiar todo el mundo solos, pero si yo puedo enseñarle a la gente que si pones tu mano en la mía y poco a poquito unimos más manos-tal vez podemos construir un nuevo mundo."
Hay muchas organizaciones incluyendo, entre otras, UNICEF, La Cruz Roja, Salva los Niños (Save the Children), Visión Mundial (World Vision), la Iglesia Católica y REDEPAZ que han apoyado el Movimiento Juvenil de la Paz. Pero la visita en 1996 de Graca Machel (la actual esposa de Nelson Mandela), cuando colectó material para su estudio de las Naciones Unidas sobre el impacto de conflicto armado en niños, parece haber sido un importante punto de inflexión para muchos. Ella fue la chispa que encendió la llama para la paz que brilla más cada día.
SOLDADOS DE PAZ: CRUZADO DE LOS NIÑOS es dirigido, escrito y producido por la cineasta independiente Kyra Thompson y la producción ejecutiva de Kathy Eldon, presidente de "Creative Visions". Lydia Smith es productora mayor y Amy Eldon es co-productora. Para Producciones CNN, Pat Mitchell cumple como productor ejecutivo, Vivian Schiller como productora mayor y Jacoba Atlas.
Page created on 8/15/2014 12:06:56 AM
Last edited 12/14/2016 1:09:33 AM