by
Claire from Peterborough, Ontario, Canada
Nadia Comaneci is known as one of the evolutionists of the sport of gymnastics, but to me she is more than that. The traits that she has demonstrated throughout her life, such as courage and bravery, are what make her my hero. Nadia Comaneci was born on November 12th, 1961 in Romania. From an early age, she showed obvious passion, ability and talent for the sport of gymnastics. As a child, Nadia practiced very hard at a gymnastics school, commuting back and forth to see her parents. Though this seems like a childhood most would not want, Nadia had a goal in mind: to make it to the Olympics.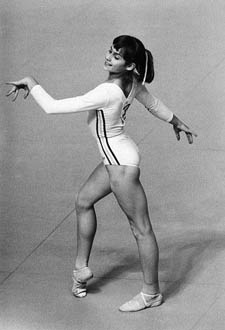 Finally this dream came true at the 1976 Olympics held in Montreal, Canada. At the young age of fourteen, she went into the biggest competition of her lifetime, though at that time she didn't know what an impact she would have on the world of gymnastics. During the team portion of the competition, Nadia Comaneci stunned the world and the judges with her routine on the uneven bars. The score came up as a 1.00 out of a perfect 10.00, but she really scored a perfect score. The scoreboards couldn't hold that many numbers because people thought it was impossible. Over the course of the Olympics, Nadia scored six other perfect tens on the uneven bars and the balance beam. At the end of the event Nadia Comaneci went home with the all-around gold medal around her neck, as well as gold medals on the uneven bars and balance beam, a silver medal in the team competition and a bronze medal on floor. Comaneci had done the impossible and she was still very young. In fact, not only was Nadia Comaneci the first gymnast to score a perfect score at the Olympics, but she still holds the record for youngest person ever to win the Olympic Gold Medal in gymnastics.
Once most gymnasts win the Olympics and reach their goal and life dream, they retire from the sport, but not Nadia. Nadia still loved the sport and had even more drive to go bigger and better. Another big competition of Nadia's was the European Championships, which she won three years in a row. In 1980 Comaneci returned to the Olympics hosted in Moscow, Russia. Now at the age of 18, the sport of gymnastics had changed, and Nadia had some fierce competition. In spite of this, Nadia Comaneci came back very strong and went home with a gold medal on the balance beam and the floor exercise, and a silver medal in the All-around and Team Competitions.
Though it seems Nadia Comaneci's life was full of greatness and happiness, she also had a lot of struggles that she had to overcome to get where she is today. To even get to the Olympics, Nadia Comaneci had to practice long hard hours. At the young age of six she trained six days a week for four hours a day. That is 24 hours a week, at an age when most girls are playing with Barbies. During the period after the 1976 Olympics, and the 1978 World Championships, Nadia Comaneci had a very tough time with not only her gymnastics career, but her personal life. The Romanian Gymnastics Federation made Comaneci switch to a new gymnastics club in a new city. On top of having to leave her family, she was also dealing with the stress of her parents' divorce. Over time at her new gymnastics center she grew very unhappy and became very out of shape. After a bad competition at the Worlds, the Romanian Gymnastics Federation permitted Nadia to return to her old gymnastics club. After a long and amazing gymnastics career, accomplishing more than any other gymnast, Nadia Comaneci retired from the sport of gymnastics in 1981. After Comaneci's gymnastics career was over, she went on to pursue many more great things.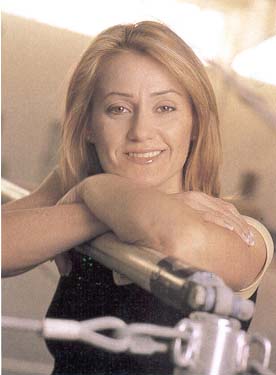 After settling down with her husband, she started charity work. Comaneci is currently on the board of directors for Special Olympics, and has done a lot of work with disabled children through sports. Comaneci also set up her own clinic called the Nadia Comaneci Children's Clinic, in Bucharest Romania, that provides low-cost or free medical care for children, as well as social support. Comaneci is still very much involved in the sport of gymnastics. She is the Honourary President of the Romanian Gymnastics Committee. She and her husband also own and run a gymnastics center, have several gymnastics equipment shops and lines, and edit a gymnastics magazine.
Nadia Comaneci is my hero because she set out for her dream and accomplished it. She showed me that the impossible is, in fact, possible, and to always work hard at gymnastics, as well as in life. To many in the world, a perfect ten is just a number, but to a gymnast, it is everything about the sport. Nadia Comaneci was also a fighter, and never gave up even when she had a hard time. She showed me that when life gets tough, you just keep going and never give up. Nadia Comaneci's work with the Clinic in Bucharest is also something that I really look up to. One day I would like to achieve a career as rewarding as Nadia Comaneci's. Whenever I am at gymnastics and having a bad practice, or not trying, I think of Nadia Comaneci and her perfect 10.00 and it pushes me to do more. Because of her achievements, it makes me feel that I can take one more turn, and make one more correction, so that I, too, will end up at the top of the podium with a smile on my face.
Page created on 8/7/2008 10:22:24 AM
Last edited 1/6/2017 11:59:08 PM
Related Links
Nadia Comaneci
- MY HERO story and art by Learning Circle students from Romania
Bibliography
No author named. "Nadia Comaneci." [Online] Available http://en.wikipedia.org/wiki/Nadia_Comaneci.
Rochio, Christopher . "Nadia Comaneci." [Online] Available http://www.nadiacomaneci.com/index.htm.