Dylan Thomas was one of the best-known poets of the twentieth century. Thomas was born in 1914 in Swansea, a small industrial city on the southern coast of Wales. Thomas's father, a school teacher, gave him the name "Dylan" after the name of a sea god in Celtic mythology, little knowing that the poet's eventual fame would help make this name such a popular one today. Thomas's father also gave the poet an early awareness of the native Welsh traditions, as well as the classics of English literature.
As a boy, Thomas was athletic and impressionable, and spent much of his time outdoors. He loved visiting the beautiful seaside near Swansea and staying during summer vacations at a relative's farm, a scene that inspired one of Thomas's most famous poems, "Fern Hill." The imagery of the Welsh countryside and coasts reappears throughout Thomas's poetry.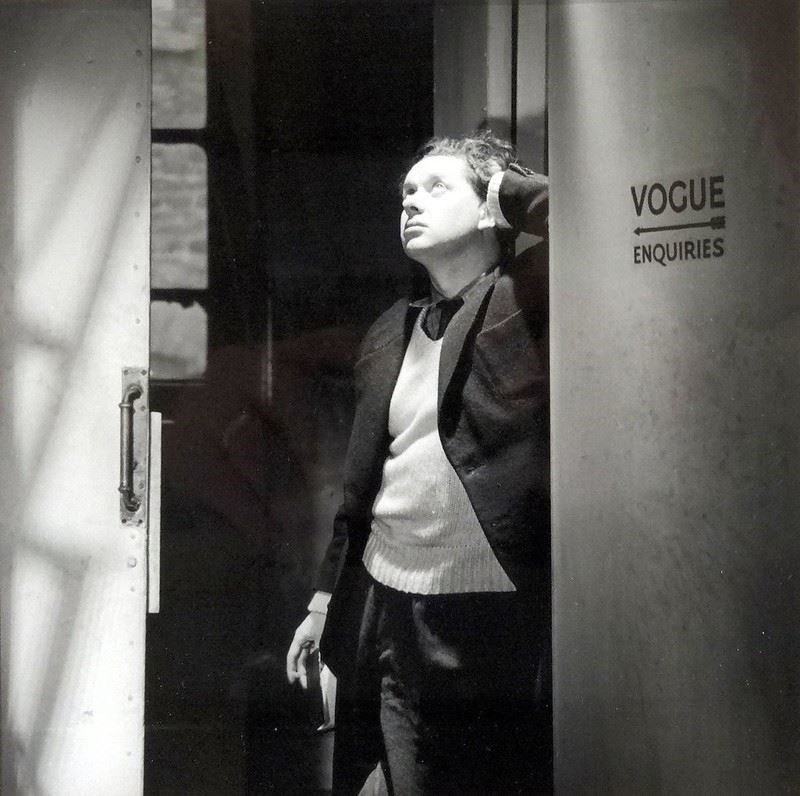 Dylan ThomasJim Forest [CC BY-NC-ND 2.0] via Flickr
Thomas was a very precocious poet. His earliest recorded poem, a humorous piece entitled, "The Song of the Mischievous Dog," was composed when Thomas was just eleven years old. As a teenager, Thomas kept on writing, and once claimed that he had "innumerable exercise books full of poems." Leaving high school at sixteen, Thomas went to work as a reporter for a local newspaper, the South Wales Evening Post. Unhappy with this occupation, Thomas moved to London, where he won a poetry contest and became recognized as a poet. But Thomas's early poems in his notebooks were not empty exercises: in later years, Thomas kept returning to these poems, collecting and reworking many of them for inclusion in later publications.
Thomas's first book of poems was published in 1934 when Thomas was twenty years old. Thomas went on to publish three more books of poetry, as well as a final collection of his poems near the end of his life. It turned out that Thomas was gifted in other kinds of writing too: he wrote short stories, some of which are collected in A Portrait of the Artist as a Young Dog; a radio play, Under Milk Wood; and various scripts, lectures, and talks. Among these prose writings is Thomas's story, A Child's Christmas in Wales, a beloved childhood remembrance of the holiday season.
Thus, Thomas began his literary career in London but was to return to Wales, where he spent most of his life. Here Thomas, who had married Caitlin MacNamara in 1937, had three children. His home in Wales was now the small seaside village of Laugharne (pronounced "larn") on the river Towy (pronounced "toe-ee"). Thomas's home, called the Boat House, was located right on the estuary of the Towy, and if you visit Wales you can see this same house preserved as it was, including the small potting shed that Thomas used for writing his poems. There you can look out the same window with its beautiful view of the water and the sea birds.
As Thomas became more and more popular, he was invited to come to the United States to give readings and talks. Those who attended these recitations recall the intense voice that Thomas used for reading his own poems, as well as reading poems by others. Some of these readings were recorded and, if you listen to them, you will hear the song-like quality of Thomas's voice, which some called the voice of a "wild Welsh bard" (bard is an old word for poet). However, several years of the reading tours began to take their toll. After a heavy bout of drinking, Thomas died in New York in 1953. He was only thirty-nine years old. His body was returned to Laugharne to be buried.
Although his life was short, Thomas made a deep impression on those who knew him or who read his poems, or who heard them read by the poet. Although he was born just as the modern age of literary culture was beginning, Thomas wrote poetry which often used traditional forms of rhythm, rhyme, and meter, and this seemed to represent a welcome return to an earlier and happier form of literature. Thomas was also one of the modern writers who helped return English poetry to its roots in its own language. Rather than choosing long words derived from foreign languages, Thomas preferred to impress readers with strong, short words from native English. But what Dylan Thomas will be remembered for most of all are his many poems which insist that life will carry on from generation to generation, all with the same vigor as before.
Thomas wrote one of his more famous poems, "Do Not Go Gentle into That Good Night" for his dying father:
Do Not Go Gentle into That Good Night


Do not go gentle into that good night,
Old age should burn and rave at close of day; Rage, rage against the dying of the light.

Though wise men at their end know dark is right, Because their words had forked no lightning they Do not go gentle into that good night.

Good men, the last wave by, crying how bright Their frail deeds might have danced in a green bay, Rage, rage against the dying of the light.

Wild men who caught and sang the sun in flight, And learn, too late, they grieved it on its way, Do not go gentle into that good night.

Grave men, near death, who see with blinding sight Blind eyes could blaze like meteors and be gay, Rage, rage against the dying of the light.

And you, my father, there on the sad height, Curse, bless, me now with your fierce tears, I pray. Do not go gentle into that good night. Rage, rage against the dying of the light.
Page created on 7/16/2004 1:19:33 PM
Last edited 1/4/2021 3:21:16 PM