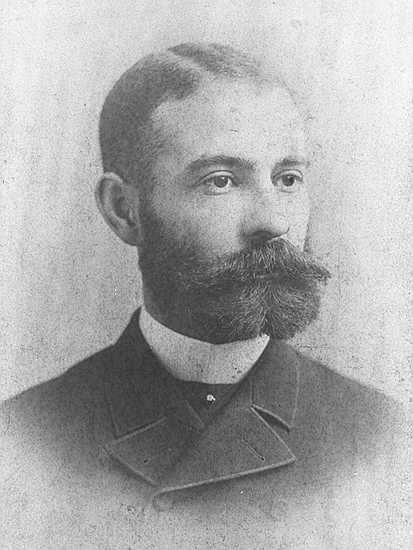 Daniel Hale Williams, c. 1900 Wikimedia Commons (Pre-1923 photograph; public domain. )For the Greater Good
"A hero is someone who has given his or her life to something bigger than oneself" (Joseph Campbell). In the words of Campbell, a renowned literature professor, a hero is someone who sacrifices self-gain and benefit in order to accomplish a task greater than just themselves. From the ancient heroic tales of courageous men and women fighting for freedom to the rising prominence of technology and philanthropic pursuits in our modern age, society's outlook on heroes has evolved. In our modern era, we also often find ourselves categorizing those as heroes based on their wealth, status, and physical appearance. However, the few traits that can always be found in a hero throughout their evolution are determination, selflessness, and drive to provide for the greater good. From meticulously and painstakingly finding a cure for a deadly disease to simply helping an old lady carry a bag of rice across the street, these acts of heroism, whether small or large, create positivity in our convoluted society. Heroes also serve as role models, inspiring us through our everyday struggles. True heroes display the crucial traits of altruism, determination, and a drive to contribute to society. The few true heroes in our society emphasize the modernist ideals of determination and selfless use of ones talent.
One person who demonstrates the paramount characteristics of selfless contribution and determination for the betterment of society is Daniel Hale Williams.Williams was a pioneering surgeon who later became the first surgeon to successfully perform an open heart surgery. He was born on January 18, 1856, in Hollidaysburg, Pennsylvania to Sarah Price Williams and Daniel Williams. When Williams was ten-years-old, he was sent to Baltimore to apprentice as a shoemaker, but later ran away to join his family in Rockford, Illinois. He then moved to Janesville, Wisconsin, where Williams was fascinated by the work of a local physician and made the decision to study medicine. He entered the Chicago Medical College of Northwestern University in 1880 and received his M.D. in 1883. Soon after graduating, Williams opened a doctor's office in Chicago. In the 1890s, African Americans could not gain hospital admissions so as a result, Williams founded Provident Hospital, the first interracial hospital in America, where black doctors could be trained and given jobs. In 1893, Williams performed the first successful open heart surgery. This boosted his fame and he later successfully performed numerous previously unattempted surgeries. He continued to work and publish medical journals until his death on August 4, 1931. Throughout his life, Williams channeled his innovation into benefitting the world. Despite being restricted by stereotypes and expectations set upon him by the color of his skin, Williams' passion and contribution to the field of medicine earned him respect and recognition from his peers. He illustrates determination and commitment, as shown through his self-sacrificing behavior and ceaseless drive to contribute to the world. Furthermore, instead of egotistically exploiting his intellect and innovative abilities, Williams strived to improve the medical field to the greatest of his ability. Daniel Hale Williams embodies the characteristics of a true hero and continues to serve as an inspiration in our developing society through his relentless determination to pursue his passion and his altruistic use of his innovative capabilities.
Williams derived his committing approach towards his career from his steadfast determination to contribute to the medical field, which allowed him to overcome stereotypes and achieve the unexpected. Williams was enthralled by medicine from a young age and it became a lifelong passion. Williams strived to benefit the medical field even when this meant no reward or pay:
After Dan Williams graduated in medicine, he never had another single interest in life. He saved his money and put it into Provident Hospital along with others. He had great determination and great confidence in himself. He had the natural dexterity to make a surgeon, and he would operate all day long on all kinds of cases without exception, pay or no pay (Bousfield, M.O. published statement. 1945).
Once Williams received his medical degree, he was committed to being a doctor for his entire life. Because he was confident and determined in his ability of being a doctor, never partook in any other profession or interest. He contributed his own money and time into his profession without expecting any pay in return. Because Williams constantly did good with no reward, he embodies true heroic determination and commitment. Furthermore, at the time, a doctor was a extremely rare profession for an African American, as many African Americans were denied jobs in hospitals. Williams' actions in order to combat this preconceived prejudice illustrate his commitment to contribute to medicine: "Although black doctors could not gain admission to hospitals or receive hospital appointments, Williams starting working on establishing an interracial hospital" (Gale Biography). At a time where African Americans having a medical profession was extremely uncommon, Williams defied the odds and was determined not only become a surgeon, but gave other aspiring African American doctors a chance to work in a hospital. Because he opened an interracial hospital, not only could African Americans have a chance to work in medicine, people that couldn't get care or treatment before could now receive it. Thus, Williams embodies the characteristics of a hero because of his drive to help others follow their passions as well as save lives. Williams overcame the stereotypes and expectations set upon him and was determined to pursue his passion. Williams was committed to being a doctor his entire life and while doing so opened many doors and opportunities for others. He gave other aspiring African American doctors a chance to work in the medical field. He also contributed his money and time to his long-life career and because he didn't expect reward in return, he thus embodies true determination and commitment.
William's innovative capabilities helped him to open doors as well as set standards in medicine. Throughout his life, Williams performed unprecedented successful surgeries. Each surgery's wide-reaching affects emphasizes his altruistic use of his innovative abilities:
This case was operated upon in July, I902, From that time until October, I903, I had been unable to find a case of successful spleen suture in literature… It requires method, technique, and a proper adjustment of the omentum in the completion of the operation to have a successful result… Had not this case been early operated upon, it is fair to presume that the patient would have died. He recovered (Williams, Daniel Hale).
Williams' work in the field of medicine had unequivocal effects on not only academia, but on the wellbeing of mankind. Williams performed surgeries, including this surgery Williams titled as "Penetrating Wounds of the Chest, Perforating the Diaphragm, and Involving the Abdominal Viscera Case of Successful Spleen Suture for Traumatic Hæmorrhage", that were especially technically difficult and had not been performed successfully previously. When Williams performed this and other surgeries successfully, he set a precedent so that future lives could be saved, showing unadulterated ingenuity and brilliance. Furthermore, Williams inclination to trailblaze can be showcased by his measures to improve the conditions of a suffering hospital:
Before Dr. D. H. Williams came to the hospital, in 1894, there was no real surgical department… In those days the field of operation was sprayed with a weak solution of carbolic acid and the ligatures in the case of an amputation were left long enough to hang out of the lower end of the wound to rot off. We heard much of "laudable pus," and there was much of it. Shortly after the arrival of Dr. Williams, a sterilizer was provided in this way. It can be said that surgical development began with the arrival of Dr. Williams, in all forms especially abdominal. That is where I got my start and inspiration (Dr. Warfield. letter. 1941).
Because there was a weak surgical foundation in Freedmen's hospital, Williams made an effort to build a surgical branch. He did so by utilizing new techniques to sterilize work spaces and as a result, infection was less common with patients. Because Williams initiated surgical development in order to help the wounded and also set the bar when it came to hygiene and procedural standards, disease spread among patients was prevented, contamination on surgical apparatus was reduced, and patients' lives were saved. Therefore, he shows undeniable and heroic innovation.
Williams was a trailblazer in the medical field. He improved surgical foundations, saving lives. His abilities as an innovator helped him to improve the lives of both those working in the hospital and the patients. From the countless number of unparallelled surgeries Williams performed, lives of those of his time and those of the future's were saved because of the procedures he took to ensure that the patient lived. Because of his high standards in medicine and the lives saved as a result of that, Williams' role as a hero has been cemented in our society. With his ceaseless drive and philanthropic use of his brilliance, Daniel Hale Williams achieved groundbreaking accomplishments in which he used to contribute to the health and needs of society. Additionally, he inspired others to follow their passion even in the face of adversity. Williams is a hero because of his determination to contribute to society and his everlasting innovation in the field of medicine. Williams created medicinal standards and educated hospital employees on correct sterilization procedures. He laid the foundation for better surgical work in struggling institutions. He also established training schools, brought in nurses, and initiated a horse ambulance system to ensure those who needed help received it as efficiently and safely as possible (Dr. Warfield. 1941). Williams defied stereotypes, proving that it is hard work and intellect that ultimately lead to success, not ethnicity. He led aspiring African American doctors, surgeons, and nurses through the doorways of medicine by establishing the first interracial hospital, Provident Hospital. Because of this, a countless number of people who previously couldn't receive treatment could now get the help they needed. In addition, the interracially staffed hospital gave opportunities to those who were denied jobs at other institutions. Furthermore, throughout his career, Williams' performed many successful unattempted surgeries. Williams' meticulous procedures provided the precedent for future doctors and surgeons making him a lifesaver. All the while, Williams' passion for medicine drove him to constantly be contributing to medicine and worked with no reward.
Heroes share the ideology of selflessly using their unique abilities and talents to create a better place for all. They have a drive to follow their passion and determination to contribute to anyone anyway to the height of their capabilities. Daniel Hale Williams overcame adversity and contributed to society however he could even if that resulted in no reward for himself. This selfless use of his capabilities and his determination to follow his passion are what separates heroes from average people. My family is made of generations of doctors and scientists, and as a result I too strive to work in the medical field in the future. The basis of our family's morals is to work hard to benefit other people's lives regardless of self-gain. This ideology is what pushes me to work hard in hopes of one day creating an impact similar to that of Daniel Hale Williams. The experiences that one encounters constructs their moral map, leading which way to go. Whether it be seeing my great uncle fight a decade long battle with ALS or talking to my grandma who is suffering of cancer, the people I've met and the experiences I've come across creates a drive. The drive to make a change in the world creates a hunger for creating a positive ripple in the structure of our society. Knowing that Williams lived in a time much harder than ours today, it shows me that if I'm determined and passionate, even a task that may seem impossible can become possible. Daniel Hale Williams committed his entire life to helping the world using his hunger to create change and his unique intelligence. Williams strived to give his life to something bigger than himself, making him an inspiration in our developing society. His use of ingenuity to benefit others and his determination to overcome obstacles and create change make him an inspiring figure worthy of the title, hero.
Works Cited
Cobb, W. Montague. "Daniel Hale Williams, 1858-1931." Journal of the National Medical Association, Sept. 1953, pp. 379–385., www.ncbi.nlm.nih.gov/pmc/articles/PMC2617252/?page=6.
"Daniel Hale Williams." Contemporary Black Biography, vol. 2, Gale, 1992. Biography In Context, https://link.galegroup.com/apps/doc/K1606000260/BIC?u=powa9245&sid=BIC&xid=1fa2e39c. Accessed 19 Dec. 2018.
"Daniel Hale Williams." Encyclopedia of World Biography, 2nd ed., vol. 16, Gale, 2004, pp. 302-303. Gale Virtual Reference Library, https://link.galegroup.com/apps/doc/CX3404706892/GVRL?u=powa9245&sid=GVRL&xid=acf8fbc3. Accessed 7 Jan. 2019.
Luft, Eric V. D. "Daniel Hale Williams." Great Lives from History: African Americans, July 2010, p. 23. EBSCOhost, search.ebscohost.com/login.aspx?direct=true&db=b6h&AN=55596708&site=brc-live.
Ruffin , Herbert G. "Williams, Daniel Hale (1856-1931)." Boley, Oklahoma (1903- ) | The Black Past: Remembered and Reclaimed, blackpast.org/aah/williams-daniel-hale-1856-1931.
Williams, Daniel Hale. "VII. Penetrating Wounds of the Chest, Perforating the Diaphragm, and Involving the Abdominal Viscera Case of Successful Spleen Suture for Traumatic Hæmorrhage." VII. Penetrating Wounds of the Chest, Perforating the Diaphragm, and Involving the Abdominal Viscera Case of Successful Spleen Suture for Traumatic Hæmorrhage, www.ncbi.nlm.nih.gov/pubmed/17861545.g