David Wisman
by
David Wisman

from

Freetown in Sierra Leone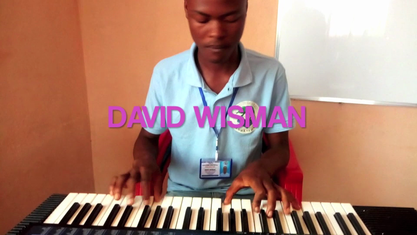 David WismanMendy Kanu​I am the son of Mohamed Wisman and the late Kumba Wisman. I am a boy and I live in Wellington Freetown Sierra Leone. I was born on the 30th of June 2002 in a rural part of Sierra Leone called Bo. I am 17 years old. I started primary school with my parents when I was 4 years old; I continued to live with them until junior secondary school where I lost my mother at the age of 12.
​My mother was my strong support by then in terms of my education and all, because my father did not have a job at that time. Due to frustration my father left me with her younger sister (my aunty) and went to a place where none of his relatives could find him. So all the while my aunty who was a teacher at one nursery school in our community has been struggling to pay my school fees and to take care of me also. When I went to senior high school, my aunty also lost her husband whom was so supportive during his time on earth. Due to the death of my uncle and due to money issues, I did not attend school that year.
While waiting for a year, I fortunately joined my church choir group and started attending practices. I was in the choir but my main aim was to play the piano/keyboard, so one day my music director asked me, "Wisman, why did you join the choir school?" and I told him that I want to play the piano/keyboard. He said, "That's great," and he linked me up with the current pianist at my church then, and that was how I started playing an instrument. I went through many constraints during these stages. My big challenge: I was without a keyboard so I have to borrow from a friend of mine.
However, I had to walk about a mile to my tutor's house for rehearsal during weekends. But with all that I never gave up because my aim was to become a creative and confident pianist. I endured the practice for a year and I was approved by my tutor to start playing for my church during service. I started playing for my church at the age of 15, and they awarded me as the youngest pianist at my church.
At early 16, a friend of mine told me about a free computer institution that also offers a music course for children under 18 years, and I told him am highly interested. So he also linked me up with the current secretary of C.F.O.T, who is Mr. Alim Alimamy Kanu. I spoke with him and gave me a form to fill out. I filled out the form and enrolled in computer science, where I learnt a lot of computer skills from my tutors Mr. Mohamed Lamin Koroma, Mr. Abdulai Bangura, and also the C.E.O. and founder of C.F.O.T/SL, Mr. Mendy Kanu. I graduated on the 5th of May 2019. But on the form, there was a question that asked, "Which skills do you know best?" So I wrote there keyboarding, and later everybody knows that am a pianist. Now I have sat for my West Africa Senior Secondary School Examination (WASSCE) and am still on my practice because it's a privilege for me. There is a free Wi-Fi at C.F.O.T. So I use the opportunity to go in and search for more tutorials to advance my music skills.
Page created on 10/17/2019 2:42:31 PM
Last edited 10/18/2019 12:16:14 AM
The beliefs, viewpoints and opinions expressed in this hero submission on the website are those of the author and do not necessarily reflect the beliefs, viewpoints and opinions of The MY HERO Project and its staff.