Desmond Doss
by
Ethan Schumlick

- grade 6 - from

Cochrane Alberta Canada

My Hero: Desmond Doss

By Ethan-S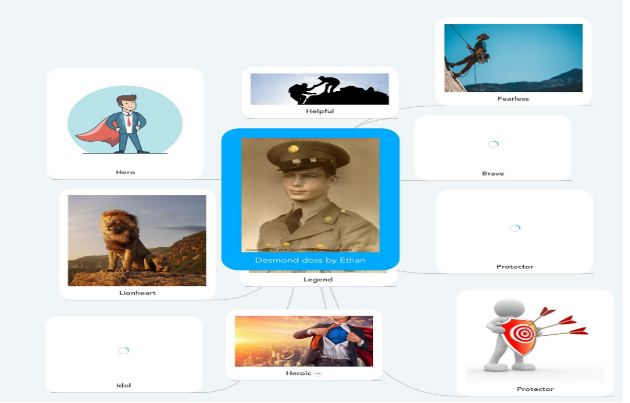 great things about Desmond doss-Myself``I don't know how I'm going to live with myself if I don't stay true to what I believe.´´
-Desmond Doss
I chose Desmond Doss because he was a hero in the 2nd world war and he saved many soldiers in his war effort. My book is a biography; my book is 199 pages long This book covers Desmond Doss's 4 years in the US army from the span of 1942 to 1946, The book I'm reading was written on January 1st, 1967 The author's name is Booten Herdon and he served in the US army thru 1943-1945.
Desmond Doss was born and raised in Lynchburg Virginia United states his parents' names are William Thomas Doss(dad) and Bertha Edward Doss(mom)
Desmond Doss went to Park Avenue Seventh-day Adventist Church School.
When he wasn't at school he would pray and play with his brother. A story from when he was a child is that when he was play fighting with his brother, he accidentally hit him with a brick. When he was growing up, his dad influenced his Christian faith. His dream was to be an army medic. Desmond Doss wanted to be an army medic growing up his army career was foreshadowed by him seeing a United States army poster.
A big challenge for Desmond Doss was getting into the army with his Christian dad who did not believe in war, which made it hard to convince his dad. A big challenge in joining the army was that he did not want to harm anyone; something that described his success was when he hit his brother with a brick, he never wanted to harm any more people. A few of his qualities were his honor, bravery and pure heart. One of his weaknesses was that whenever he was getting shot at, he wouldn't pick up a rifle but that isn't a bad thing either. A funny thing about Desmond was that he was very funny and would make jokes regularly. Desmond Doss had received the purple heart and the bronze star for valour.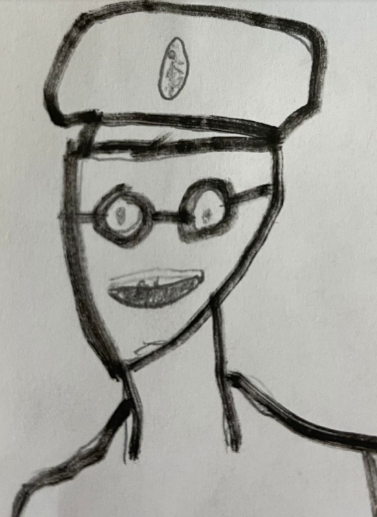 This is a portrait photo of Desmond-Myself


One thing that surprised me about Desmond Doss is that when he hit his brother with the brick he knocked his brother out and it was also crazy that he saved over 75 men at Hacksaw Ridge.
I don't really have any questions that I would ask Desmond Doss either then what is it like knowing that you saved so many people's lives? I would want to be his kid knowing he was a hero but I wouldn't cause he died in 2006. An important fact about Desmond Doss is that he was promoted to corporal. One thing that Desmond Doss inspires me to do is never give up and always be brave. I wouldn't say anyone wouldn't want to learn about Desmond Doss but if you don't like history, you may not like a book on a historic person. I am happy to do this person as my hero because writing and learning more about him is a great thing to do. I would consider Desmond Doss my hero but not a role model just because I don't want to go to war when I'm older.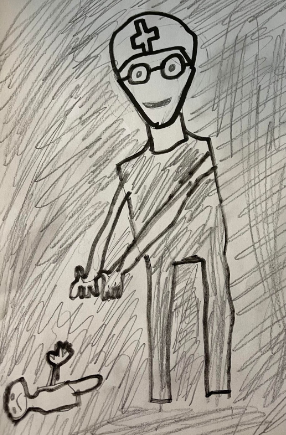 This is Desmond doss saving somebody-Myself
Page created on 5/2/2022 4:45:08 PM
Last edited 5/4/2022 9:04:24 AM
The beliefs, viewpoints and opinions expressed in this hero submission on the website are those of the author and do not necessarily reflect the beliefs, viewpoints and opinions of The MY HERO Project and its staff.
Related Links
websites
- https://desmonddoss.com/ https://www.desmonddoss.org/bio/faq.php https://www.desmonddossfoundation.org/resources/ https://www.lva.virginia.gov/public/dvb/bio.php?b=Doss_Desmond_Thomas https://www.bartleby.com/topics/desmond-doss