Doris "Granny D" Haddock
by
Clifford from Evergreen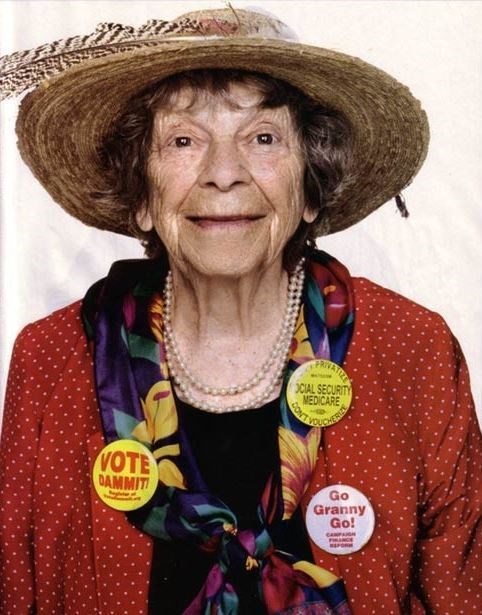 Courtesy of Open Democracy NH. Used with permission.
When one thinks of a person walking across the United States, one thinks of an athlete or someone full of youth and stamina. When one thinks of rallies, an 80-year-old does not seem like the kind of person to be involved with or arrested at one. When one thinks of a government official, one does not think of an 80-year-old woman either. Doris Haddock, affectionately known as "Granny D," is all of these things. And she is much more: she's a hero.
Granny D has been a patriotic activist for most of her adult life. Born in 1910, she was not involved in politics until after she married her husband, James Haddock. In the 1960s she campaigned against hydrogen bomb testing in Alaska because of the damage it would cause to an Inuit fishing village (Doris). This particular campaign was a success. Why does this act make her heroic? I think it is because she stood up for people who needed help and she didn't back down, even though at the time it might have put her in jail.
In the 1990s, Granny D became more involved in campaign finance reform. This mostly has to do with soft money (donations from large corporations to influence legislators) and the political issues surrounding the acceptance of this type of money by a government official or office (Doris). She began walking in January of 1999, at the age of 88. Her journey began in California and ended in Washington, D.C. (Granny D). Along the way, she spent a few days in the hospital due to severe dehydration. She ended her journey by skiing (Doris). At her age, one would think that she should be enjoying retirement; instead, she walked 3,200 miles. Arriving in D.C., she rallied for the next two years for some sort of reform. Twice she was jailed for demonstrations (Doris). Why is she a hero? She spent one year of her life walking for a cause, and two years after that demonstrating for the same cause. This takes so much dedication and spirit that it is impossible not to look up to. She is someone so incredibly patriotic, and it's unexpected for someone of her age.
My Hero suggested viewing: Granny D' Still Going Strong (WMUR-TV).
One would think Granny D's career ended there; it did not. In 2004, she ran for a US Senate seat in New Hampshire. She refused any "soft money"; instead, she campaigned by going door to door and talking to people one on one. She was an advocate of women's voting rights and encouraged women and youth to get out and vote. Although she lost the 2004 Senate chair, she was the oldest person to run for a seat (On the Road Again!), she remained an active patriotic activist and continued to be involved in politics in Washington, D.C. (Granny).
Granny D is a hero that one would not normally think of. Everything she has done has shocked me simply because I would not imagine a person of her age still having such a love and passion for her country that she would almost die for it (such as being hospitalized for dehydration). Sacrificing most of her adult life for her country makes her a hero in my eyes, and I hope in yours as well.
Page created on 7/27/2007 12:00:00 AM
Last edited 1/26/2020 4:56:55 PM
The beliefs, viewpoints and opinions expressed in this hero submission on the website are those of the author and do not necessarily reflect the beliefs, viewpoints and opinions of The MY HERO Project and its staff.
Related Links
Official Website | Open Democracy NH
- The Coalition for Open Democracy is a nonpartisan 501(c)(3) organization founded in 2009 by a group of campaign finance reform activists, including the legendary Doris "Granny D" Haddock. Its mission is "political equality for all through an open, accountable, trusted government free from the corruption of big money politics."
Bill Moyers | 15 Years Later, Granny D's Walk for Democracy Continues
- Part of a series of op-eds featuring differing viewpoints on democracy, and campaign finance reform
Official Website | NH Rebellion
- NH Rebellion is part of Open Democracy, the NH nonpartisan nonprofit founded by legendary reformer Doris "Granny D" Haddock. Inspired by Granny D they organize mass participation walks to end big money in politics.
Bibliography
Fout, Janet . "Granny D, Doris Haddock: On the Road Again!." [Online] Available http://www.ohvec.org/newsletters/woc_2003_12/article_03.html.
Encyclopedia, Wikipedia. "Granny D." [Online] Available http://en.wikipedia.org/wiki/Granny_D. 17 July 2007.
friends, volunteers. "Doris "Granny D" Haddock." [Online] Available http://www.grannyd.com.