"To live a visual life is an enormous undertaking, practically unattainable... But I have only touched it, just touched it." -Dorothea Lange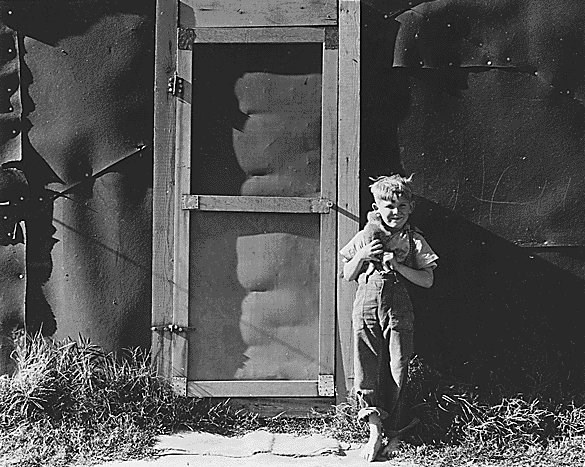 Contra Costa County, California. Little boy from "back East" in front of tar paper house...Dorothea Lange [Public domain]
Looking at this photograph, it is nearly impossible to ignore the weathered door of the building, its rough, flimsy exterior, the tangled weeds and grass rising up from the ground around it. Where could one find beauty in such a scene? The answer is apparent in the grin of the young boy, smiling from ear to ear as he holds a small kitten. The beauty of this picture does not come from its bleak background, but from the joy and contentment of its subject. In the suffering and hard times of the Great Depression, one woman set out to tell the truth, to enter the world of the poor and illustrate their lives with clarity and respect, to discover the world from a different point of view. Dorothea Lange, a distinguished American documentary photographer, not only utilized her photography to document and to attempt to alleviate the devastating poverty and hardship of the Great Depression; she also wielded her art as a weapon of social activism, clearly and faithfully portraying the indomitable spirit and dignity of those ensnared in the very depths of destitution.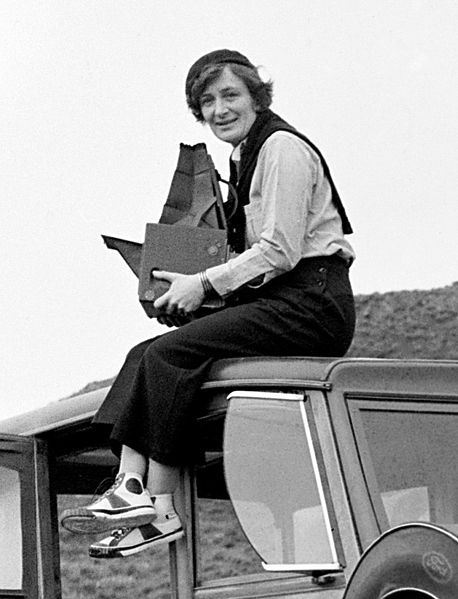 Dorothea Lange, 1936 pictureWikimedia Commons [Public domain]
Dorothea Lange was born Dorothea Margaretta Nutzhorn on May 26, 1895 in Hoboken, New Jersey; after her father left the family, she took her mother's maiden name. As a child, a bout of poliomyelitis left her with a permanent limp. Near the date of her high school graduation, she set her mind on becoming a photographer; she studied with Arnold Genthe and Clarence White and finally opened her own portrait studio in San Francisco in 1916. While in San Francisco, Dorothea married the painter Maynard Dixon in 1920; however, they later divorced, and she then married Paul Schuster Taylor. During the Great Depression, Lange traveled the South, Midwest, and Southwest, taking photographs of the poor for the Farm Security Administration, and later, after World War II began, she chronicled life in the United States' Japanese internment camps. In 1965, Dorothea finally succumbed to cancer in San Francisco.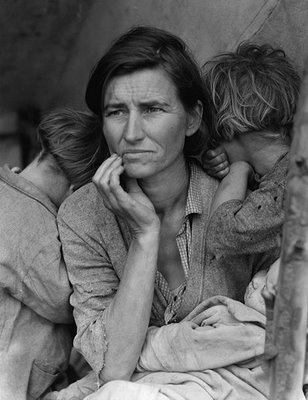 Migrant MotherDorothea Lange [Public domain]Lange's self-sacrifice and compassion for others are two of her most predominant heroic traits. She left her comfortable life as a portrait photographer in San Francisco to travel and take pictures of the poor when she could have played things safe and ignored the suffering around her. "…She left the comfort of her portrait studio and began to make photographs of the social conditions she observed, including soup kitchens and bread lines." Despite the money her wealthy customers promised to provide, she "could not reconcile studio work for those who could afford professional portraits with the poverty she saw around her" ["Lange, Dorothea (1895-1965)"]. Lange sacrificed her career as a portrait photographer and her financial security to help those worse off than herself, and her contributions made a huge difference. Lange's photographs accurately portrayed the lives of the poor and inspired people to donate to the poor during the Great Depression. She always tried to demonstrate the spirit and dignity of her subjects; her photographs showed them as innocent victims of government incompetence, rather than the cause of their own woes. Also, her art helped rally for direct aid for people hit by hard times. "After The San Francisco News published photographs of starving pea pickers, existing on stolen vegetables because a cold spell had destroyed their crop…, there was a deluge of public donations." And after seeing the hardships the migrant farm workers experienced, the federal government funded the creation of two refugee camps in California (Baird).
However, Dorothea's compassion for others was not her only admirable trait. Throughout her career, Lange always stayed true to her art — she refused to censor reality, even in her government photographs. Her subjects were everyday people, working hard to survive; she tried to reveal their true nature instead of posing shots or over-idealizing people in her photographs. "Despite her New Deal loyalism, she could not or would not restrain the critical edge in her photography. She never relaxed her vigilance against conventionalizing, clichéd imagery." Also, to clarify the context in which each of her photographs was taken, Lange kept highly detailed captions. She once said, "Every photograph…belongs in some place, has a place in history — can be fortified by words… I'm just trying to find as many ways as I can think of to enrich visible images so they mean more…" (Gordon). Lange wanted to make sure people could understand the people and places behind the photograph, and the context of each situation; she was adamant that her art remain accurate, clear, and honest. In some instances, Lange's artistic integrity got her into hot water with the government; the U.S. Army even impounded her critical photographs of World War II Japanese internment camps (Gordon).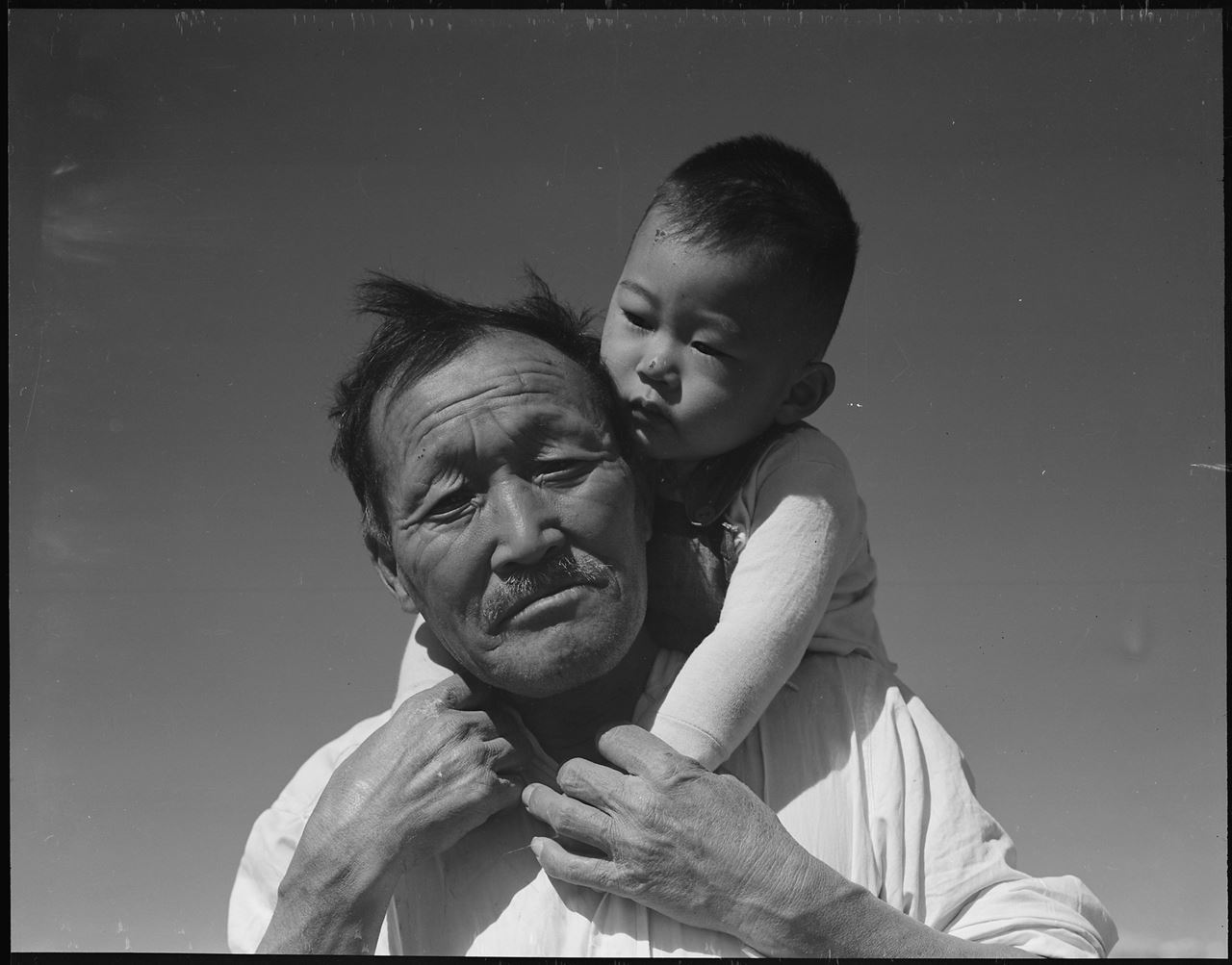 Manzanar Relocation Center, Manzanar, CaliforniaDorothea Lange [Public domain]
Dorothea Lange is an inspiration both because of her artistic integrity and her simple commitment to treating every human being with respect, whether that person was a wealthy customer at her portrait studio or a homeless vagrant standing in a bread line. She discovered dignity and honor in the lives of the poor, and tried to convey this accurately to the world through her art. "These [Lange's] images…serve as a striking reminder of how subversive it can be simply to view people with respect. Lange chose attractive subjects…'but she also found the attractiveness in everyone,' through courtesy, not flattery. And, when her subjects were uneducated, exhausted, hungry farm workers, 'her respect for them became a political statement'" (Baird). Lange found beauty in everyday actions and objects, even the lives of people in the very depths of poverty; she used her photography not to incite pity for the destitute in the hearts of other Americans, but to bring forth clearly and faithfully the dignity and grace inherent in all people. Also, Lange always tried to improve her art, never hesitating in her quest to portray the truths of the world; she was always searching for new angles from which she could explore the world around her. "Like many artists before and since, she [Lange] grasped…that what we see is shaped by what we expect to see. There is a skill and discipline involved in trying to exclude those expectations and to see, always, afresh. That probing vision embedded in Lange's photography constantly produced images — especially portraits — that subvert expectations" (Gordon). Lange tried to show her subjects from new, fresh angles and points of view, to explore the world in a new and different way; she refused to accept preconceived, cliché notions and attitudes toward the subjects of her photography. Because of her immense respect for others despite their social status, her fierce commitment to helping the poor, and her inspirational pursuit of achieving artistic enlightenment, Lange truly deserves the title of hero.
Page created on 3/2/2015 1:36:15 PM
Last edited 7/6/2022 7:03:51 PM