Dorothy Vaughan
by
Brittny Barcenas

from

Los Angeles, California in United States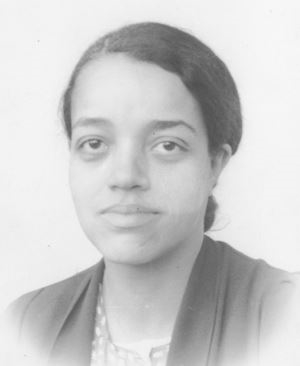 Dorothy Vaughanhttps://commons.m.wikimedia.org/wiki/File:Dorothy_Johnson_Vaughan.jpgDorothy Vaughan was born on September 20th, 1910 in Kansas City, Missouri. When she was young, her family moved to West Virginia. She graduated at the top of her class in 1925 from Beechurst High School and immediately attended Wilberforce University in Ohio. She graduated from Wilberforce in 1929 with a B.A. in mathematics and wed soon after. Even with a husband and six kids, Dorothy did not slow down, and figured out how to be a homemaker and still prosper in her professional career. During Jim Crow, Vaughan was a mathematics teacher at Robert Russa Moton High before going onto work at NACA, now formally known as NASA.
Dorothy got her start at the Langley Memorial Aeronautical Laboratory and was ready to take on what she thought would be a "temporary war job." She was hired two years after President Roosevelt signed an executive order that was set to prohibit racial discrimination for those working in industries for the defense of the country. As the work demand grew, more African American women were hired to help complete the workload. Despite the executive order being signed, Dorothy was placed in a wing at Langley that segregated the colored women from the white ones, since Jim Crow laws were still enforced. The group, better known as the West Computers, was originally led by two white women until 1949 when Dorothy Vaughan was promoted. This promotion made her the first black supervisor at NACA and one of the few female ones. Not only did Dorothy use her new supervisor role to lead the West Computers, she was able to help out many women at NACA and even collaborated with a few of her white counterparts on major projects.
Dorothy thrived in this role from 1943 to 1958, when NACA became NASA and racially segregated sections like the West Computers were abolished. At NASA, Dorothy and many others who were once part of the West Computers went on to work in the new Analysis and Computation Division: a division that was racially integrated and where the women could work alongside the men. In her time there, Dorothy contributed to the Scout Launch Vehicle Program, which helped create and manage one of the most successful and reliable launch vehicles. She also specialized and taught FORTRAN, which was a numeric and scientific programming language. In addition, she and many other black women mathematicians were among those who helped win the Space Race. Dorothy Vaughan retired from NASA in 1971.
As an individual who is sometimes forgotten, Dorothy Vaughan should be recognized for her incredible accomplishments. It is important to note everything she accomplished even when she was treated as though she wasn't doing the same work as others. She assisted the African American women in the West Computers and made sure that everybody knew what they could do and what they could contribute. She made sure not to let being an African American woman working at NASA define what others thought she could or couldn't accomplish, which helped pave the way for others to follow.
In 2017 the film Hidden Figures, starring Taraji P. Henson, Octavia Spencer as Dorothy Vaughan, and Janelle Monáe was released, based off of the book Hidden Figures: The Untold True Story of Four African-American Women who Helped Launch Our Nation Into Space by Margot Lee Shetterly. The film and book highlighted Dorothy and her counterparts and everything they contributed and accomplished.
Page created on 8/13/2020 4:32:31 AM
Last edited 4/27/2021 10:56:43 PM
The beliefs, viewpoints and opinions expressed in this hero submission on the website are those of the author and do not necessarily reflect the beliefs, viewpoints and opinions of The MY HERO Project and its staff.