Dr. Martin Luther King Jr.
by
Reid Damm

from

Cochrane, Alberta, Canada

"Injustice anywhere is a threat to justice everywhere." - Dr Martin Luther king Jr.

"Darkness cannot drive out darkness; only light can do that. Hate cannot drive out hate; only love can do that."- Dr Martin Luther King Jr.

"I have a dream that my four little children will one day live in a nation where they will not be judged by the color of their skin, but by the content of their character. I have a dream today!"- Dr Martin Luther King Jr.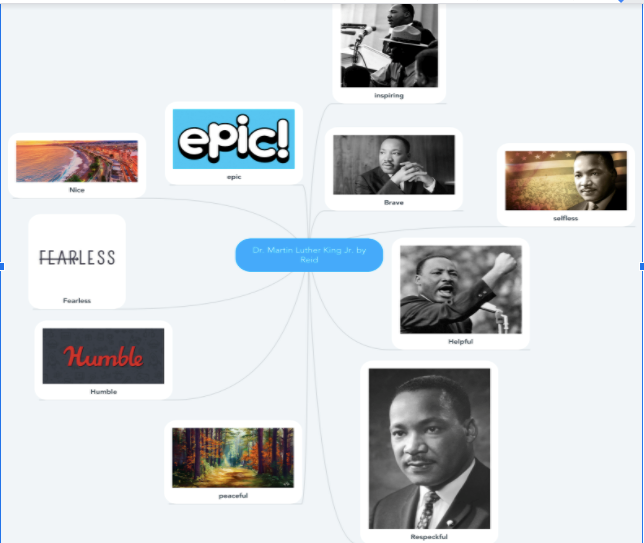 Martin Docter Luther King JRMade By ReidI chose Martin Dr. Luther King Jr. as my hero because he stood up for civil rights and never gave up. The book I read, DK Life Stories Martin Luther King Jr., is a biography book. It is 102 pages long. This book was published in in New York in 2019. The book covers the time from Dr. Martin Luther King Jr.'s early life until his death. This book was written by Laurie Calkhoven. She remembers walking into a library for the first time and being totally amazed and awed -- shelf after shelf of books, all waiting to be read. Mrs. Azzolini, her fifth grade teacher in Elizabeth, New Jersey encouraged her writing and now she writes professionally full time.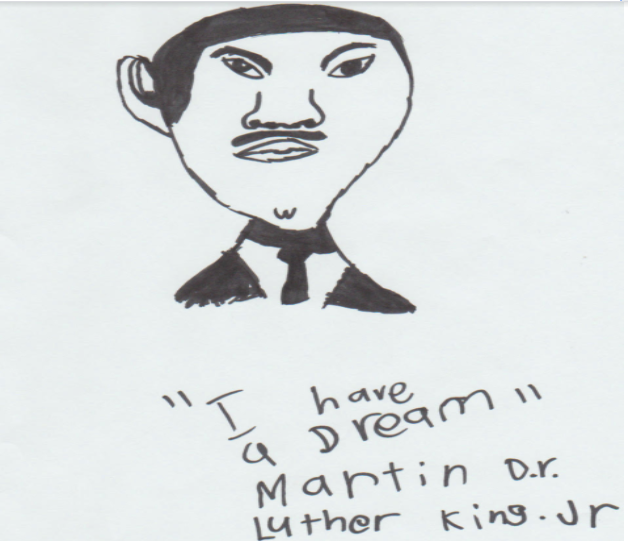 Martin Docter Luther King JRDone by ReidMartin was born into a family of ministers. Martin's dad was known as "Daddy King," which was his nickname in Martin's family. Martin was born on January 15, 1929. Martin died on April 4, 1968. Martin was born in and grew up on a farm in south Georgia. One time when Martin was only eight years old, his mother and he went to a store and were shopping and a white woman walked by Martin and said that he stepped on her foot, but he had not. Martin could do nothing about it. Across the street from Martin's house, there was a nice house that was owned by a white family. Martin and his older brother A.D. were friends with the two white boys who lived there. One day, after all four boys went to different schools, Martin wanted to play with them, but they said they couldn't because they were Negroes. Martin and A.D. were both confused and also very sad. When Martin and A. D. told their mother, she wasn't surprised. Martin as a kid had many people try to make him feel down because he was black. Martin went to Boston University in 1951 and stayed there for four years. He graduated from Boston University 1955 and later became a Baptist minister at a Baptist church. Martin as a kid wanted to be a baptist minister just like his father.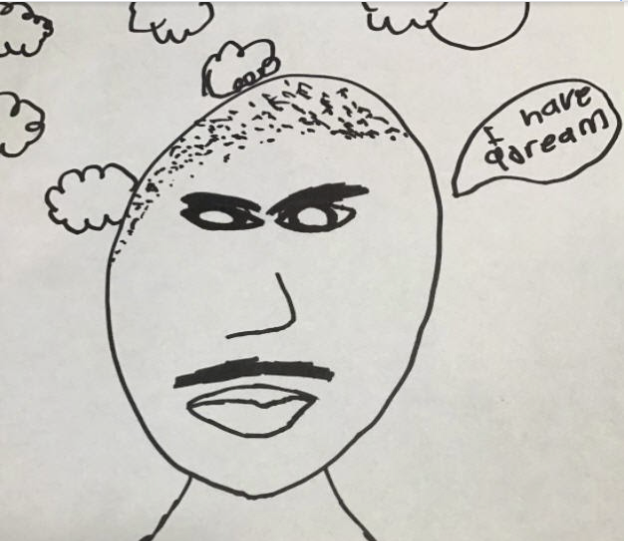 Martin Docter Luther King JrDone by ReidDr. Martin Luther King Jr. had to face so many obstacles trying to stop racism. He was threatened many times from white supremacists and KKK members. Martin was arrested over 20 times for peacefully protesting. No matter how much hatred Martin suffered, he never gave up. Dr. King led the 1955 Montgomery bus boycott. He later became the first president of the Southern Christian Leadership Conference (SCLC). He helped organize some of the nonviolent protests in Birmingham, Alabama. Dr. King also helped to organize the 1963 March on Washington, where he delivered his famous "I Have a Dream" speech on the steps of the Lincoln Memorial. Martin was very smart and brave and never gave up. He was a good leader, and a very good person with a good purpose.
Before I read this book, I didn't know that Dr. Martin Luther King Jr. got the Nobel Peace Prize. If I met Dr. Martin Luther King Jr., I would ask him these questions:
How did you not give up on your dream when so many others tried to stop you? How were you able to be so brave after your house got fire bombed and you were arrested over 20 times? You suffered so much racism and you still are peaceful!
I would not want to be Dr. Martin Luther King Jr.'s son because I have a dad already. I would recommend this book that I read for this project to others. I am happy that I read and wrote about Dr. Martin Luther King Jr. I think he is a true hero!
Page created on 5/28/2021 4:19:12 PM
Last edited 5/29/2021 6:26:18 AM
The beliefs, viewpoints and opinions expressed in this hero submission on the website are those of the author and do not necessarily reflect the beliefs, viewpoints and opinions of The MY HERO Project and its staff.