How difficult it is, out of all the people in the world, for someone to lay a finger on a single soul and be able to say, "This person is my hero." It is a true search of one's self to find a person who is totally and completely admirable. Even if someone loves seemingly everything about a person, a small personality trait can change one's whole opinion.
I have decided that my hero must be a person able to overcome obstacles, to pass life's tests with flying colors. My hero must be someone who worked hard for what was right, not what was popular or easy. A hero to me must have enough confidence in herself to believe that she could make a difference, and enough strength and willpower to change the world. Most importantly, my hero must have loved all people, regardless of race, gender, social status or age, and must have tried her hardest to serve those less fortunate than herself.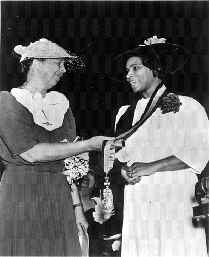 Anna Eleanor Roosevelt was born on Oct. 11, 1884, in New York City to Anna Hall and Elliott Roosevelt. She was not blessed with a happy family life; her conceited mother often referred to Eleanor as "Granny" because of her appearance, and her father, whom she adored, was an alcoholic and was not often home. Eleanor's mother died in 1892, and she went to live with her grandmother. Her father died two years later, and when she was 15 years old, Eleanor was sent to Allenswood, a boarding school for girls in England. Before attending Allenswood, Eleanor had been terribly shy and self-conscious. However, the headmistress, Marie Souvestre, recognized Eleanor's superior intellect and pushed her to work her hardest and to become a leader within the school.
In 1902, Eleanor returned to New York for her debut into society, but disliked its strict rules and rituals. She tried to escape by working with the poor at a settlement house, where she got her first taste of community service and began to understand the realities of discrimination and poor working conditions in factories. She also saw the horrible conditions that poverty-stricken immigrants were forced to live in. Three years later, Eleanor married Franklin Roosevelt (her distant cousin). As Franklin climbed the political ladder, Eleanor became his helper and was able to learn and understand politics and social issues. This would prove to help her later in life.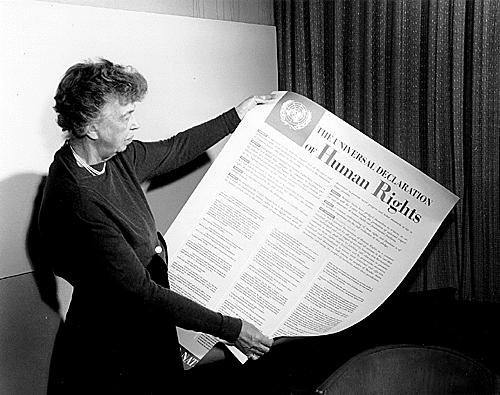 The former Democratic presidential candidate named Adlai Stevenson once said that Eleanor Roosevelt would "rather light a candle than curse the darkness." This is exactly why she is my hero. Not only did Eleanor devote her life to gaining rights for others, she did so when it was a very unpopular thing to do. She was often criticized for the active role she played in her world, but she never faltered. Eleanor endured a poor childhood during which she received very little love or attention, and went on to love and fight for people less fortunate than herself. These qualities not only earned her the nickname "The First Lady of the World," but also make her a true hero in my eyes.
In 1912, Eleanor joined the Red Cross and often visited wounded W. W. I veterans in American hospitals--something that she would continue to do throughout her life. In 1920, she joined the League of Women Voters, an association for the promotion of women's involvement in politics. There, she began public speaking. In 1922, Eleanor joined the Women's Trade Union League and the Women's Division of the Democratic State Committee. With the help of other activists she met in these associations, Eleanor founded a school for poor girls named Todhunter, where she taught government and history. While Eleanor was doing all of these things, her husband Franklin contracted polio, and she took time to become (as many say) his "eyes and his ears." She made speeches, especially on the topics of civil rights and feminism, on behalf of her husband and observed those of his rivals. Despite all she did, Eleanor kept devoting much of her time to Franklin until his death. She was continuously by his side and convinced him to stay in politics when his disease started to take its mental toll, and her speeches made on his behalf maintained his presence on the political scene when he was too sick to be there himself.
Eleanor did not stop being involved in civil rights when Franklin became president in 1932. She became the first First Lady to hold a press conference (she went on to hold more than 300), and she allowed only female reporters to attend, thus pressuring newspapers to hire female reporters. Later in the 1930s, she headed a housing project for West Virginian coal miners, and in 1934, helped instigate the National Youth Administration, which acquired employment rights for young workers. Throughout Franklin's first presidential term, Eleanor spoke at meetings and conferences about the role of women in politics and her strong disagreement of segregation in the South. She took her passion for this topic very far; she resigned from the Daughters of the American Revolution (a feminist league) when it banned Marian Anderson, an African-American singer, from performing during its conference in Washington, D.C. The previous year, Eleanor also violated a segregation law when she refused to sit in the white section of auditorium at the Southern Conference for Human Welfare in Birmingham, Alabama.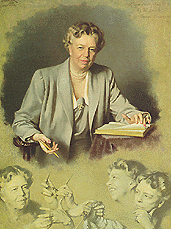 In 1945, Eleanor became a United States delegate for the United Nations. She was not an expert on international law as were her colleagues at the UN, but she represented the common person. The Commission on Human Rights (a branch of the UN) even elected Eleanor its chairperson. Her enthusiasm and general knowledge of what people needed to have out of life made up for her lack of international experience. Eleanor's dream, derived from her great knowledge and understanding of what human beings needed to flourish, was to form a document in which the basic rights of all humans would be clearly stated. This dream came true when she helped to draft the Universal Declaration of Human Rights. Eleanor considered this her greatest accomplishment of her life. Her dedication to the declaration made it a document that has been universally accepted as a "standard of achievement for all nations." After drafting the declaration, Eleanor resigned from the UN in 1948, only to join again four years later. She continued to be active in the UN and the human rights scene until her death on Nov. 7, 1962.
Page created on 9/27/2007 2:14:06 PM
Last edited 1/5/2017 11:43:40 PM