Where are the women artists in history? This is a fundamental question asked by art historians when studying art history in a feministic approach. Nowadays, girls and women can use their art to express their ideas and thoughts and pursue a career in artistry. We see female artists thrive in the visual art industry, becoming inspirations for young girls who dream about an artistic career, but when we try to think about successful artists in history, female artists' names rarely come to our mind. When and how did women start to practice art and establish their reputations as artists? Emily Mary Osborn's story might give some hints on the answer. Osborn was born on February 11, 1828. As a woman who lived in the Victorian era, she successfully established her own art studio through her tenacious efforts.
In Victorian-era Britain, women's place was considered to be at home. Women's roles were mostly associated with domesticity and motherhood; seldom women had access to formal art education to become artists. Osborn was trained in fine arts by taking evening classes and persuading her teacher for private lessons, and then she worked and studied in the same teacher's gallery. Later on, her works were exhibited in the Royal Academy and sales enabled her to establish her own studio. But her identity as a woman created obstacles: she was never recognized as a member of the Royal Academy and was not allowed to study in the top art school. Having experienced barriers in her own career, Osborn frequently expresses her concerns on women's education and employment. Her famous work Nameless and Friendless has illustrated the difficulty for a female artist to sell her work in a male-dominated art world.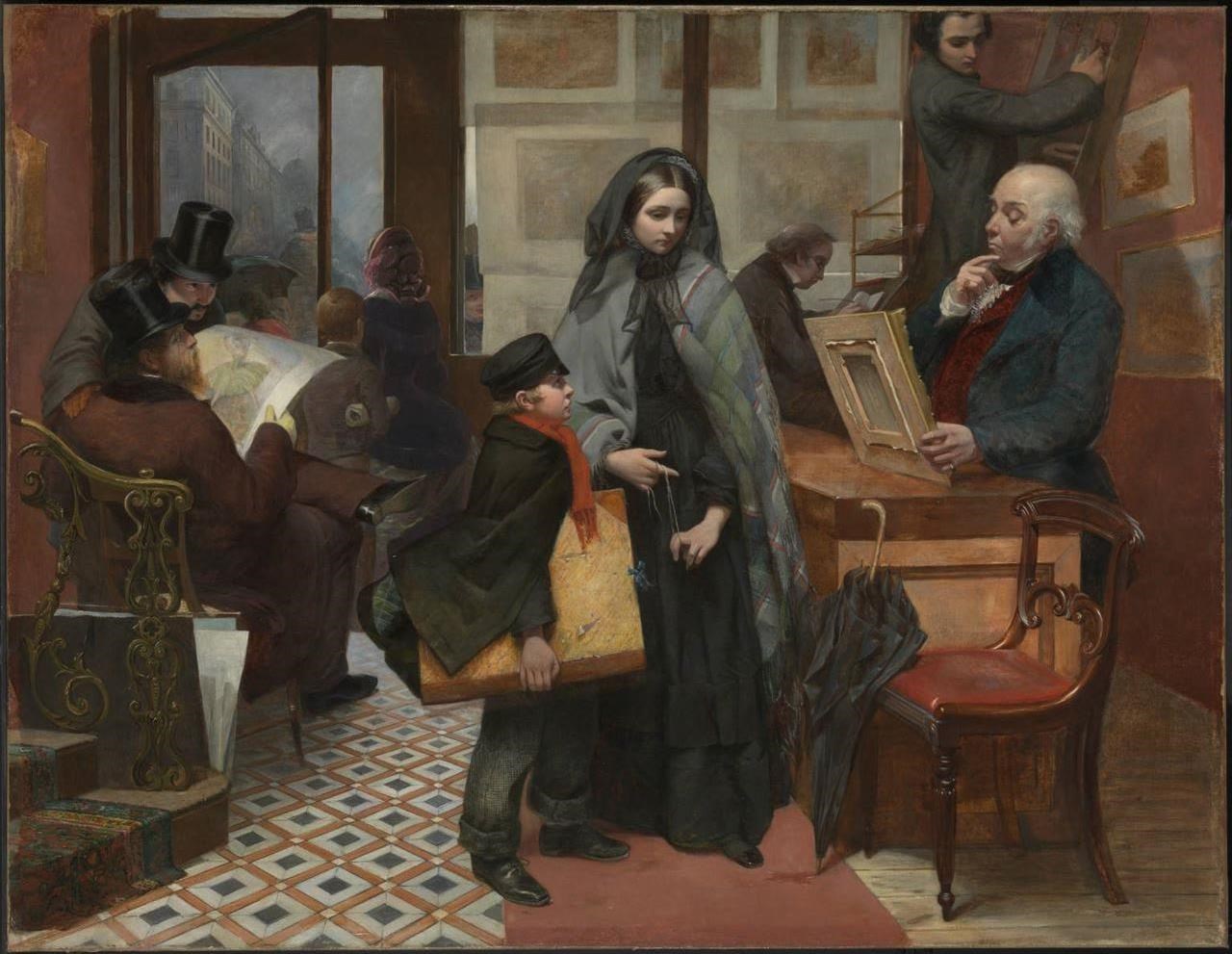 Nameless and Friendless, "The rich man's wealth is his strong city: the destruction of the poor is their poverty" (Proverbs: 10:15), by Emily Mary Osborn, 1857Tate Britain, London. Creative Commons CC-BY-NC-ND (3.0 Unported)The oil painting shows a young woman in a mourning dress offering her painting to the art dealer. The young boy, presumably her younger brother, stands next to her and looks up to the art dealer awaiting for a response. They are probably orphans suffering from a loss of family and trying to earn a living through artistry. While the art dealer inspecting the painting with an unpalatable expression, the artist's hand nervously toys with a string; her head drops downward and her body directs away from the counter, as if she is ready to leave. Many resources have interpreted that their facial expressions and body gestures have suggested a fail to sell the work. Behind the siblings, a woman with a little boy is leaving the store through the door, hinting at a similar scene which has happened again and again to female artists at the time.
The title of this painting, "Nameless and Friendless," states clearly what Osborn wanted the audience to know--unmarried female artists were struggling to earn a living without a prestigious family and proper connections. Osborn adds a biblical verse after the title: "The rich man's wealth is his strong city: the destruction of the poor is their poverty" (Proverbs 10:15). Rather than a religious meaning, Osborn implies the danger of restricting opportunities for women by quoting the Scripture--without sufficient resources to seek education and work, women who didn't have family support would suffer more from the disadvantage. Clearly aware of this plight women were facing at the time, Osborn actively participated in promoting more opportunities for women, especially female artists. Osborn joined and signed a petition to the Royal Academy of Arts to accept female artists and to the Declaration In Favor of Women's Suffrage. She was also a member of the Society of Female Artists, an organization that helps female artists to sell and exhibit their works. Osborn's friend Barbara Bodichon held a series of campaigns for women's rights, and likely Osborn was a part of it as well.
Their efforts to gain rights for female artists gradually opened up the door of the fine art for more women. By the time of the 1860s, some women received admissions to study in the Royal Academy of Arts, and more changes followed. Emily Mary Osborn's art and activism in the Victorian era can be viewed as a representation of many female artists and activists at the time who bravely voiced out and contributed to make female artists' works visible. It was through their efforts, female artists started to enter in the public eye and to achieve success.
Page created on 2/8/2021 4:35:03 PM
Last edited 2/9/2021 8:08:32 AM