How can I showcase individual reactions and decisions that affect the path of becoming a hero in one's journey through a narrative?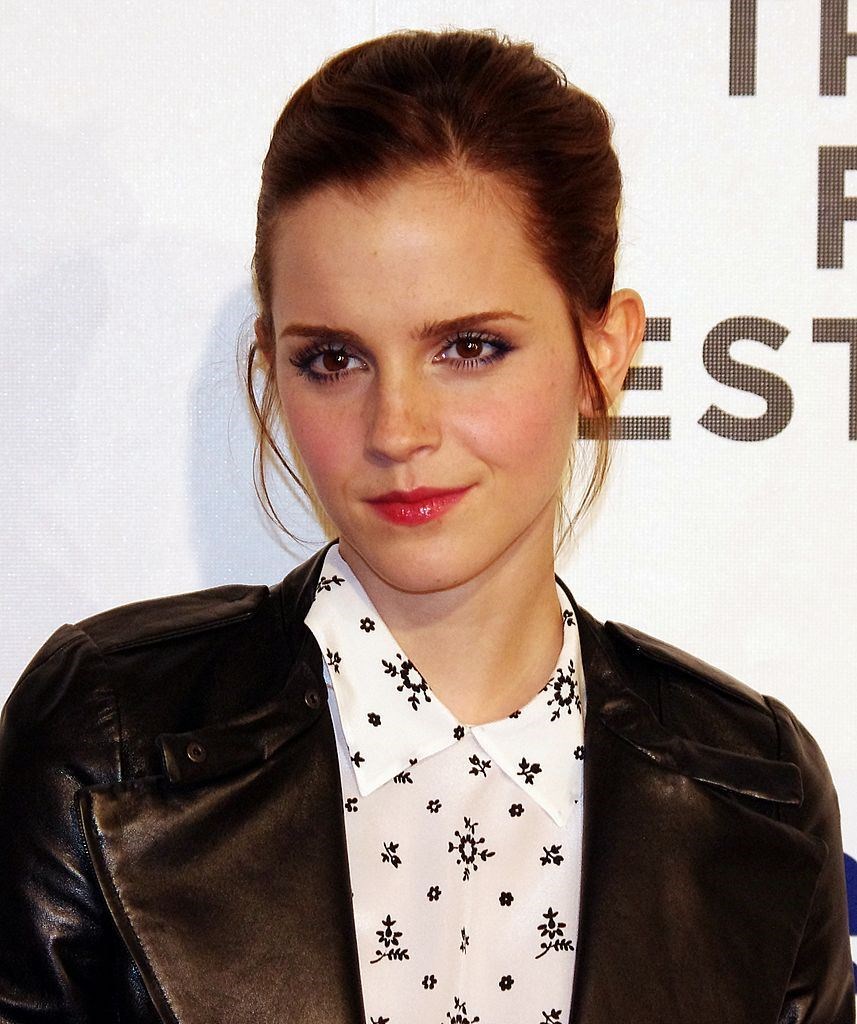 Emma WatsonYou may know Emma Watson simply as "Hermione Granger," but she is so much more than that. Sure, there are phenomenal actors and actresses who are extremely successful, but how many actors do you know that not only acted, but simultaneously stood up for gender equality and feminism, trans people, and so many more topics that are relevant and need to be heard in today's society? Someone who did all of this mainly by pure determination and motivation, and has therefore become a hero not only for me, but for thousands of people across the globe.
Emma was born on April 15, 1990, in Paris, France. She was, however, raised in London, England, due to her parent's divorce when she was five. She had never acted professionally till she was ten, only starring in school plays, until she decided to audition for the role of "Hermione Granger" for Harry Potter and the Philosopher's Stone. The casting agents found Emma through her Oxford drama teacher, and after auditioning eight times, she landed the role she would portray for the next 10 years.
Harry Potter and the Philosopher's Stone was a huge success, being the highest-grossing film of 2001. Watson went on to being nominated for 5 awards for her performance, and ended up winning the Young Artist Award for Leading Young Actress. She then went on to filming the next four movies, winning a variety of awards for her outstanding performances. However, the fifth Harry Potter movie, Harry Potter and the Order of the Phoenix, was a huge financial success. After earning more than £10 million for her work that month, Emma admitted that she would never have to work for money again. So, when the time came to sign on to continue filming for the last three movies, she was quite hesitant. This is one dilemma in her life, as it would affect the next four years of her life, and she found her education extremely important (which would suffer considering she would commit to four more years of filming and acting). However, she ended up resisting the "temptation" to quit, and signed on for the next four years of filming. While filming the three movies, she also went on to acting in a few other things too. In 2007 she starred in Ballet Shoes, and the following year she voiced the character Princess Pea in The Tale of Despereaux.
Not only did she manage to film other movies in this time, but while starring in the Harry Potter series, she managed to receive top marks in her grades, despite taking a gap year in school to film the seventh Harry Potter movie. She ended up going to Brown University and graduated in 2014 with an English degree. In the same year, she was appointed a UN Women Goodwill Ambassador.
All her life she was and will be mainly known as "Hermione." She was mocked and bullied in college because of her role in Harry Potter, which was especially hard because she was trying her best to fit in. She attended a college in the US because she wanted to be normal, and really wanted anonymity. This counted as an idea of fear and almost humiliation, because after you work so hard (ten years) for something and then get ridiculed for it, it makes you feel that there was no point to it in the first place.
After filming Harry Potter, she went on to act in The Perks of Being a Wallflower, The Bling Ring, This is the End, Noah, Colonia, and Regression. She then announced in 2016 that she would be taking a year long gap from acting, in order to spend the time on "personal development" and her work on women's rights. She also spent the year doing a lot of reading, and educating herself on a variety of topics that she found important. How many actors do you know who believe in what they think is right so much that they actually give up a year of acting in order to focus on it? There are definitely a large variety of actors that speak out about topics like gender equality, but very few care about the topic so much that they would take a year off to focus on it, and travel to many different places around the world to stand up for it. This shows that she really is going above and beyond by taking her feminism work so seriously that she actually took a year of her acting work to focus on it.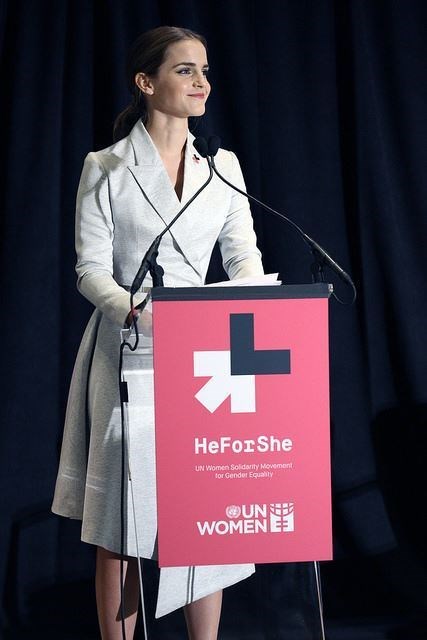 Emma Watson at UN Women's HeForShe Campaign eventUN Women/Simon Luethi [CC BY-NC-ND 2.0] via Flickr.comNow, at home in quarantine, Emma has been sharing some tips about how to "step up for your community during these tough times," and borrowed these tips from Michelle Obama. She supports the black lives matter movement, advocates for gender equality, asks her fans to donate to charity instead of sending her gifts, uses her social media platform to spread awareness about all these topics, and so much more.
Something that happened quite recently was #blackouttuesday. This is a movement against racism and police brutality, when famous celebrities post a black square on their instagram as part of this movement. Naturally, Emma did too, but she received a lot of criticism from fans saying that she took too long to talk about the black lives matter movement. You would think that most people would be extremely defensive in their actions, and would say that there was nothing wrong with what she did, which is true. However, instead she wrote "There is so much racism, both in our past and present, that is not acknowledged or accounted for. White supremacy is one of the systems of dominance, of exploitation and oppression, that is tightly stitched into society. As a white person, I have benefited from this." She also said that she thinks that she does need to spend more time trying to put an end to the racism people face. This would be an example of learning from past actions & experiences, and also simply shows that she is extremely humble and had the courage to publicly apologize to over 50 million followers. Since she did nothing wrong (in my opinion), I think that she really values the fact that she can always learn from past mistakes, and become better in the future.
As someone who thinks that reading is so important that she reads a book a week, she shared five books that she found incredibly inspiring when becoming a leader. These are called The Shadow of the Wind, A Thousand Splendid Suns, I am Malala, Mom, & Me & Me, and Just Kids. She has also described herself as "self partnered," which shows that she thinks of herself as her own inspiration in a way. However, Emma has inspired thousands of people herself. As an activist, she has inspired many young people to stand up for their rights, and has actually was the person to inspire Malala Yousafzai to become a feminist. As I have mentioned numerous times above, there are so many reasons why she is such an outstanding inspiration for people, even "ordinary actors." She is an example of someone who doesn't just work for money, and uses her fame to inspire others to do so many things.
In conclusion, there are many things that I think make Emma Watson a hero. One is that many actors tend to become so engrossed in their fame when they start acting from a young age, that it, in a way, "messes them up." While Emma still started acting at the age of 10, she managed to not only stay on "track" with her life but also went above and beyond by doing things like graduating from an ivy league school, becoming an activist, and still managing to be an extraordinarily kind person. If you consider an "ordinary actor," their life span mainly consists of acting, and working for money. Some turn out to become very self-engrossed, and very selfish in "real life." This was definitely not the case with Emma. Instead, she went on to continue acting, even though she admitted that she doesn't have to do it for money, and she actually donates to many different charities. She graduated, which some actors don't do, and she went on to be known for more than just acting. She made the effort to stand up for what she thinks is right, went completely out of the "standards of an actor," and became such an amazing feminist that she is the reason that Malala Yousafzai identifies as a feminist herself. Emma has definitely changed her life around because of her feminism work, and has already done so much to help try to stop the gender equality problem affecting so many people.
Finally, Emma Watson has already affected my thinking about so many topics, just by me writing this essay. Looking back at the admirable things that she has done, I am so much more encouraged to stand up for feminism and women's rights. She has also inspired me to work hard, because when you work hard, and only when you work hard, will you go on to do outstanding things in your life that can help change some of the biggest problems affecting the globe. She is someone who is trying to change so many problems in the world, and if she can work this hard to stand up for what she thinks is right, then why can't I?