Endal
by
Allen G. Parton
Having served for 18 years with the Royal Navy as a weapons engineering officer , married with two children and with good career prospects! It was while serving in the Royal Navy during the Gulf war in 1991, that I was involved in a road accident.The serious head injury I sustained led me to be in hospital/rehab for the following five years. The sum of my condition was that I couldn't recall getting married, the birth of my children, my memory only lasts four days and I'd had lost forever 50% of my life history. I am in a wheelchair, have difficulty reading and writing. Until I met Endal I couldn't talk. I didn't have the emotions love hate, happiness or sadness. None of the memories lost have returned.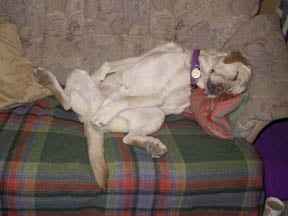 I was in the darkest soulless place a person can be without hope. Endal, a year old yellow labrador, bounced into that dark place and said to me with his shining eyes "hold on to me and I'll drag you out of here" and to this very day he has never stopped dragging. He has taught me to love, laugh and cry again. He bought happiness in to my sadness, love where there was none and a zest for life that has changed me. He does not see the disability his love is unconditional and if you could capture the healing power of his love you would cure the world of all it's evils.
If I fall unconscious out of my wheelchair, Endal will put pull me into the recovery position, cover me with a blanket and set off the emergency telephone. If nothing happens he will then open the window and bark for help to the neighbours. If that does not work he will open the door and go and get help. (Filmed by Meridian TV and BBC 1 He understands signing which I have to use because I forget the name of items i.e. touching my head means hat, touching hand means gloves and rubbing the side of my face means electric razor etc. If I forget to shut the fridge door he comes behind me and closes it If I go to cross a road without looking he stops me and if it is not safe to cross he will keep me waiting He can operate the cashpoint machine for me, he puts the card in, takes the card,money and receipt out for me! He was not trained to do this and was the original "Cash point dog". When we go into the pub he will take my wallet and jump up to the bar and bark until he is served. He buys the ticket on the bus and collects the ticket from the machine. He was not trained to do this! He takes items off the supermarket shelf, puts them in my basket and at the checkout puts them on the belt. He then takes my wallet up to pay for me. He can help undress me He operates traffic lights, switches, lift buttons and open/shuts doors. He opens the washing machine and unloads it. Then he passes up to me items to be pegged out
To date he has had sixty four film crews from around the world spending a minimum of two days each with him. He has won many titles:
Dog of the Millennium Dog of the Year Winner of the Golden Boneo 2000 Year of Promise "life saver award"
He has appeared in major Dog Calenders, in three publications, on GMTV, Blue Peter, That's Esther, Q & A, BBC Crufts, Discovery Channel, National, Geographic, BBC 1, BBC 2, Channel 5 Mail, Sun, Telegraph, Independent, Mirror, Guardian, Sunday People, and News of the World.
Page created on 7/16/2001 12:51:09 PM
Last edited 4/20/2019 7:43:07 PM
The beliefs, viewpoints and opinions expressed in this hero submission on the website are those of the author and do not necessarily reflect the beliefs, viewpoints and opinions of The MY HERO Project and its staff.