Young Oxnard Woman's Quest Earns the 2011 Dan Eldon Activist Award
by
Vida Newspaper
A documentary that chronicles the actions of a young Oxnard woman who organized efforts to save her community from a serious environmental threat, is the winner of the 2011 Dan Eldon Activist Award. The award is presented each year at the MY HERO International Short Film Festival to honor a short film that best embodies the spirit of positive global activism.

The film, Erica Fernandez: The Tool of Protest, tells the story of a brave teenager who learned about plans for a liquefied
natural gas (LNG) pipeline, which was slated to run through her community. She and her family had recently emigrated from Mexico, where air pollution had made her asthma worsen. She knew the LNG would bring an estimated 280 tons of air pollution to the agricultural area of Oxnard each year and she wanted to stop it in its tracks.

Fernandez worked with local nonprofit organizations to mobilize the youth and Latino voices in her community. She and her group attended public meetings and protests. They marched through neighborhoods and attracted the attention of the media. After an impassioned speech by Fernandez, the California State Lands Commission voted 12-0 against the pipeline and urged the governor to do the same. Her group successfully blocked the pipeline and their action also led to the creation of Senate Bill 412, which entitles communities to have a say in coastal construction proposals.

The Dan Eldon Activist Award is offered in honor of photojournalist Daniel Eldon, who was killed in 1993 by an angry mob while covering a conflict in Somalia. Eldon's mother Kathy Eldon and his sister Amy Eldon Turtletaub sponsor the award. Kathy Eldon founded the Creative Visions Foundation (www.daneldon.org), which supports activists who use media and the arts to call attention to critical humanitarian issues and as vehicles for social change.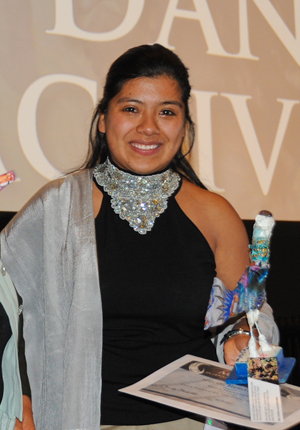 For the past 7 years, the MY HERO International Short Film Festival has been a showcase for films that feature heroes like Fernandez. The festival is open to filmmakers of all ages and skill levels and draws participants from countries that include Jordan, Senegal, Australia, the United Kingdom, Mexico, Montenegro and the United States.

The MY HERO International Short Film Festival is part of the award winning MY HERO Project (www.myhero.com). MY HERO's free, globally accessible web site hosts the world's largest collection of hero stories and is used by students, teachers, kids and adults in more than 180 countries.

Fernandez was named one of Glamour Magazine's Top 10 College Women of 2011. She and the Institute for Advancing
Unity produced Erica Fernandez: The Tool of Protest, in conjunction with The Working Group, a non-profit media company. To view this, and other winning films for the 2011 MY HERO International Film Festival, visit myhero.com/films.

To learn about the Dan Eldon Activist Award and past winners go to www.myhero.com/eldon. For more information on The Institute For Advancing Unity, visit www.championsofunity.org/.
Page created on 1/20/2012 12:00:00 AM
Last edited 7/7/2017 11:09:38 PM