In the wide, brisk mountains of Rockland, Maine, my hero was brought into this world. Little did her parents know that their first precious daughter, Edna St. Vincent Millay, was destined to become one of America's most renowned poets. Aside from her success in literature, Millay was also an outspoken feminist, a talented pianist, and a woman known for her good heart and, above all, her kindness.
On February 22, 1892, Edna St. Vincent Millay brought happiness as the first child to her parents, Henry and Cora Millay. Her unusual middle name was chosen because, when her mother's young brother, a sailor, was seriously injured during a storm at sea, he was nursed back to health at St. Vincent's Hospital. To show her appreciation, Cora Millay named her daughter after the institution. Within a couple of years, two more girls were born. The Millay family was complete. As the years dragged on, Edna's parents started to have difficulties when Cora had a passion for music and literature and wanted to educate her children to love it also. Henry preferred poker and gambling. This addiction would soon destroy their marriage. They got a divorce when Edna was eight years old. For three years after the divorce, Cora and her daughters boarded with relatives, moving from one small town to another. In 1903, the family finally settled in a small rented house in Camden, Maine. Cora supported them without the help of Edna's father by working many hours as a practical nurse. Edna took on the responsiblity to care for her two younger sisters, and her optimism and individualism really shone during this time. She would make up songs with her sisters about doing the dishes, cleaning the house, and made fun out of anything the girls had to do. Cora Millay firmly believed that her girls were exceptional and capable of doing great things if they worked hard enough. It never bothered Cora to learn that the girls had let the dishes pile up, preferring to sing around the piano after dinner or act out plays together before going to bed. Edna later described her childhood as extraordinarily happy and said, "It never rained in those days."
Edna found her greatest inspiration in nature. She grew up on a beautiful stretch of seacoast replete with orchards, meadows, and berry patches. She loved to climb the steep slope and look down on Penobscot Bay. She and her friends would canoe, swim and hike. Even in her dying days, Edna's love for nature never faded.
Always a very bright child, Edna recorded her first poem when she was just five years old:
One bird on a tree,
One bird come to me.
One bird on the ground,
One bird hopping round.
One bird in his nest,
One bird took a rest.
A few years later, "One Bird" became the first entry in a little brown notebook labeled "Poetical Works of E. Vincent Millay." Her mother was always an inspiration to her and introduced her to music, books, and plays. When she was just seven years old, Edna was reading great literature on her own for pleasure. When she was nine years old, she had already read most of Shakespeare's plays and poems. She began reading Latin poetry in elementary school. Although not bringing in a large amount of money, Edna's mother always seemed to find the cash to mail in Edna's poems and other forms of writing to magazines, which in most cases would get published. In 1905, when she was just 13 years old, she joined the St. Nicholas League, an organization for aspiring writers under the age of 18. It published a section of subscribers' creative writing. In 1906, "Forest Trees" was published by St. Nicholas.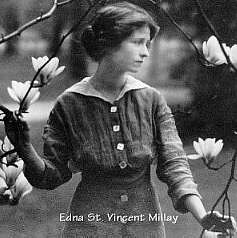 The turning point for Edna came in 1912 when "Renascence" was published and met with critical acclaim. A year later, she was urged by a new friend to apply for a college scholarship. In 1913 Edna was taking courses at Barnard College to help prepare for Vassar College's entrance exams the following fall. Edna chose Vassar College because of its cultural diversity and she wanted to, as she told her mother, "expand her horizon." She lived in New York City and met new people everyday. She was invited to countless teas, lunches, and literary parties. At college students were given a long, detailed list of regulations to follow. Designed for students far less mature and independent than she, these rules offended Millay, and soon she sent a seething letter:
"I hate this pink-and-gray college. If there had been a college in Alice in Wonderland it would be like this college. They treat us like an orphans. They impose on us in hundreds of ways and then bring ice cream -- and I hate ice cream. They trust us with everything but men and they let us see it, so it's worse than not trusting at all. This place is a hellhole!"
As it turned out, later that year as Edna started to adjust to her new atmosphere, she wrote to her mother telling her how much she loved Vassar College.
College gave Millay a new awareness of social issues. According to President MacCracken (president educator), the years between 1890-1915 were "the period of the crusader" at Vassar. Both a suffrage club and socialist club were formed during Millay's sophomore year. Millay became a strong proponent of equal rights for women. She also came to care deeply about social justice, the plight of the poor, and the prospect of war in Europe. Although her awareness of feminism and other social issues deepened during her Vassar years, Millay's main concerns were her classes, her many school activities, and her poetry.
While at an audition in 1917, Millay met Floyd Dell. He explained, "As a poet she seemed no mere mortal, but a goddess; and I love her." Although very much in love, Millay refused to marry him: he wanted the conventional marriage, with children and a fairly predictable home life, and Edna refused to live like that and behave as "domestic as a plate." This disagreement caused problems and the couple soon parted. Millay decided to set her concentration strictly on her work and soon joined the Provincetown Players and, in 1919, directed her own play, "Aria Da Capa." For a living, she resorted to work for magazines and began a series of prose sketches and stories. In 1923 she married Eugen Boissevain, a self-proclaimed feminist, and remained with him until death.
Edna's success grew over the years and she published many books, wrote more articles, traveled to Europe, and never lost the shine of her smile no matter her surroundings. In 1943 she received a gold medal from the Poetry Society of America. In 1950 she died of a heart attack in an isolated house up in the mountains of Maine. She left behind many poems that were later published and the memory of her life was revived with each publication.
Edna is my hero because of her countless acts of individuality and love for all things around her. Her pure heart and upbeat soul never tired, but craved challenge. Interested in writing myself, I wish that one day I will be as successful and admired by others as my hero: Edna St. Vincent Millay.
Page created on 3/26/2009 8:41:36 AM
Last edited 1/6/2017 7:34:43 PM