Pam Koner started a nonprofit group that helps families who want to aid less-fortunate families.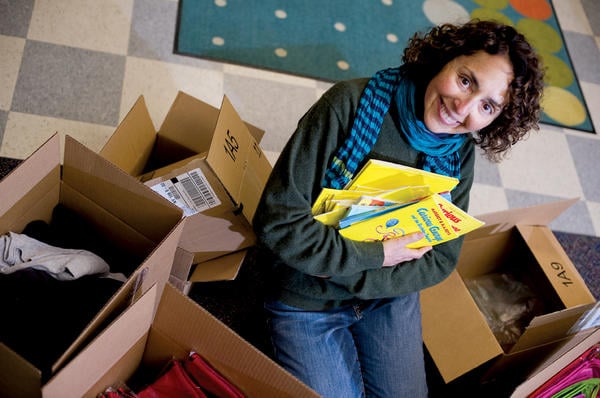 HASTINGSONHUDSON, N.Y.

How can you describe someone who has changed the lives of thousands of people from the basement of her home?

It's difficult to say no to Pam Koner, say those who work with her: Her enthusiasm and drive are contagious.

Ms. Koner started her charity, Family-to-Family, in 2002 when she saw a newspaper article about Pembroke, Ill., which noted that 51 percent of families with children there were living below the poverty line.

She was shocked to read that the town had little in the way of infrastructure: no supermarket, no pharmacy, no bank. Many families lived in houses with dirt floors.

She immediately sprang into action and found families here in Hastings-on-Hudson, a small commuter village just 19 miles north of New York City, who wanted to help families in Pembroke. Soon food – canned vegetables, fruit, spaghetti sauce, tuna – was on its way.

Today Family-to-Family provides food to approximately 2,200 children and their families in 20 places around the United States. Some 400 volunteer families participate in 32 states. Many sign up at www.family-to-family.org.

Though the families who receive help from Family-to-Family are eligible for federal food stamps, the stamps are often spent before the last week of the month, forcing families to skip meals and go hungry, Koner says. This is when the food boxes are most needed: They can make the difference between eating and going without.

People are drawn to the program because it demands time and effort, Koner says, a deeper commitment than just a financial donation. "One common thing participating people have said is, 'I've been looking for something to do with my family that is not about writing a check," she says.

To date, Family-to-Family has supplied more than 1.2 million meals. Each month members across the US pack boxes filled with seven days' worth of nonperishable food items along with a letter to their sponsored family. The box is shipped to a volunteer in the receiving community, who then takes it to the family in need.

Lori Ratner of Stamford, Conn., has been a sponsor since 2004, when she read an article about Koner and Family-to-Family.

"For the past eight years, we have sponsored a wonderful family in Kermit, W.Va.," Ms. Ratner says. "These parents raised five children, and when a relative was unable to care for her two little girls, the family took the girls in [too] and has been raising them-.

"Although they themselves were not in a very comfortable [financial] position, they still opened their home and hearts to these kids. I cannot begin to express how grateful I am to Family-to-Family. We have learned that what we may take for granted, something as simple as a jar of peanut butter, may help a family from going hungry."

Koner's work has gained the attention and appreciation of local leaders.

"Pam is so inspirational," says Paul Feiner, the town supervisor of nearby Greenburgh, N.Y. "I was a county legislator [and am] a big admirer of her work. She does a lot of good for people around the country.... She is so special and works very hard. She has such leadership qualities and is an example for all."

Adds Peter Swiderski, the mayor of Hastings-on-Hudson: "I have a huge affection for Pam, both for her and her ambition to do good. She never settled for one project. It has always evolved. She executes it all successfully.

"She has the ability to mobilize and manage efforts, punching way beyond her class. No one can believe one person has had such an effect. She's quite extraordinary."

Koner also conducts a giving program for elementary school children called Kids Can! The students and their families collect food items and take them to the school.

"With Kids Can! the idea was to localize our giving so schools could take on local food pantries, each grade for a month at a time," Koner says. "The beauty of this is that the school has a relationship with the pantry. They can supply what is needed, not what they think might be needed. There is wonderful interplay between the school and the students."

Koner is always thinking about new ways to give. Recently she began a shoe drive, collecting thousands of pairs of shoes for children in the poorest areas of the US.

"When I started this, I was floored by the generosity of people in this country," she says. "Many of the original participants are just middle Americans."

Even in the midst of the current economic downturn, with many people out of work, Family-to-Family has lost few donors.

"So many people have sacrificed things and budgeted us into their own budgets," Koner says. "People have lost jobs and had to scale back, and some have said they might have to stop supporting their families, but usually they have found a way to continue."

In another new program, Giving Works!, kids in Hastings-on-Hudson and other communities pack up gently used books and send them to a school or youth center in a less-advantaged town. Kids in that community then package the books in individual backpacks, which have also been donated, and take them to other kids. Koner says this teaches children who have only known going without how to give something themselves.

"Giving Works! enables poor children to be givers. It's profound, the dignity it creates. This is empowering and can be life changing," she says. "Food programs are donor dependent. If a donor stops, then we have to replace that donor." Books are easier to find than donors, she says.

Schools also take part in The Travelling Journal, which provides a way for students to communicate with their less-fortunate peers. The children write and draw in a shared journal that goes back and forth between the schools.

Family-to-Family's annual drives begin in February with the Children's PJ Drive, a Valentine's Day activity that collects pajamas and blankets for kids. A July Backpack and School Supplies Drive helps families struggling to pay for back-to-school items. A Thanksgiving Turkey Drive purchases turkeys for needy families. And a Holiday Toy Drive gives donated toys and wrapping paper to parents in need, who choose gifts for their kids and wrap them themselves.

Employees at stores such as A&P and Wal-Mart devote their free time so that the sponsored families will receive what they need.

Despite all this activity, Koner wants to do more. Her phone constantly rings, and the call is rarely about her day job running after-school programs for elementary school children.

Koner had trained as a dancer and later became a fashion stylist. But she eventually found her niche in providing after-school programs for Hastings-on-Hudson.

In the future, she would like to promote financial literacy, which she sees as a key to families pulling themselves out of poverty – or preventing them from falling into it.

"Simply put, you teach people how to work and live with money and stay away from bad decisions," she says. "It's about when and how to say no to what we want and focus on what we need. Savings should be a part of your budget."

Koner is well aware she can't solve all the problems of poverty herself. But it's enough for her to see individual families thrive. "We've had small success stories; for instance, a family was able to afford Internet access to continue a course of study because they knew there would be food at the end of the month," she says.

Her motives, she says, are simple. "I just see hungry children. It's a basic human right to have food and be fed."

Koner tells the story of a local 7-year-old girl who complained about her meal. The mother told her she should be grateful and remember that there are kids who have nothing to eat.

The little girl replied, "There are no hungry kids, Mom. Pam feeds them all."

Page created on 10/2/2012 12:00:00 AM
Last edited 10/2/2012 12:00:00 AM
Related Links
Family-to-Family
- Share your bounty
Universal Giving
- Helps people give to and volunteer for top-performing charitable organizations worldwide. Projects are vetted by UniversalGiving; 100 percent of each donation goes directly to the listed cause
World Food Program USA (WFP)
- A US-based nonprofit organization dedicated to building support for the UN's World Food Program and other hunger relief efforts. Project: Help feed four families in the Horn of Africa
The Salus Foundation
- Creates and supports programs to improve the education and health of disadvantaged children and families. Project: Educate and feed a child for one year
Operation USA
- Helps communities alleviate the effects of disasters, disease, and poverty worldwide. Project: Help with New Orleans recovery projects for children and families