by
Skyler Gallarzan

from

Los Angeles, California in United States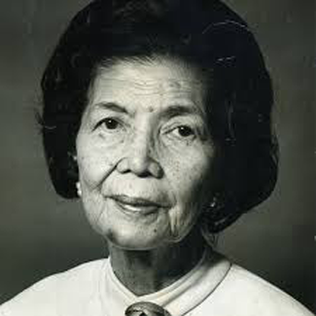 Fe Del Mundohttps://en.wikipedia.org/wiki/Fe_del_Mundo
In commemoration of Filipino American History Month, which takes place each October, we celebrate notable Filipino American heroes that have left an impact on our community.
Fe Del Mundo was a Filipina pediatrician who is referred to as the first woman to attend Harvard Medical School in 1936, paving the path for women in the medical field.
Born in 1911, Del Mundo was inspired to become a doctor at a young age. Of her seven siblings, three passed away, the most impactful of which was that of her 11-year-old older sister. Del Mundo was then driven to pursue a career in medical care for children.
She actively began the pursuit of her dream in 1926, beginning her studies at the UP College of Medicine in Manila (now The University of the Philippines), where she graduated and received her medical degree in 1933. At UP, Del Mundo graduated as the valedictorian of her class and, in the same year, passed the medical board exam, placing 3rd amongst her peers.
After her accomplishments at UP, the Philippines president, Manuel Quezon, awarded her achievements with a scholarship that allowed her to continue her training in any school in the United States, within a medical field of her choosing. She went on to attend Harvard Medical school, where she is said to be the very first woman admitted to Harvard to complete her post-graduate studies.
In 1941, Del Mundo returned home to the Philippines to begin her real journey in the medical field. In Manila, she organized a hospice in the midst of World War II, where she cared for over 400 children. She was then given the name "The Angel of Santo Tomas," commemorating her work at the internment camp hospice at The University of Santo Tomas. In 1943, Del Mundo was pursued by the mayor of Manila, Leon Guinto, for her to direct a government-led children's hospital called North General Hospital (later named Jose R. Reyes Medical Center).
Del Mundo worked at a number of facilities, such as The University of Santo Tomas, and Far Eastern University, where she was the head of the pediatrics department for more than two decades. During this time, she established a private practice to continue to aid in pediatrics. She also established the Institute of Maternal Child and Health, a teaching institution for doctors and nurses.
One of Del Mundo's most notable accomplishments was her establishment of the Children's Medical Center in 1957, where in an effort to break the bureaucratic constraints of directing a government-run hospital, she sold her home and much of her personal belongings to finance the Medical Center and bring medical aid to citizens living in rural areas of the Philippines. Her actions brought health care to those who had never been able to access it before, and bring treatment to many lower-class citizens in the country.
Her legacy carried throughout her entire lifetime, during which she continued to care for children, educate several mothers on childcare, study infectious diseases, research, and write in a number of medical journals. She was the first woman to be named one of the "National Scientists of the Philippines," in 1980. She continued to work until she was 99 years old, wheelchair bound, until her passing in 2011.
On November 27th, 2018, Google honored her life and her dedication to childcare and service to others with a Google Doodle presented on what would have been her 107th birthday.
Page created on 10/16/2020 8:44:30 AM
Last edited 6/12/2021 2:43:18 AM