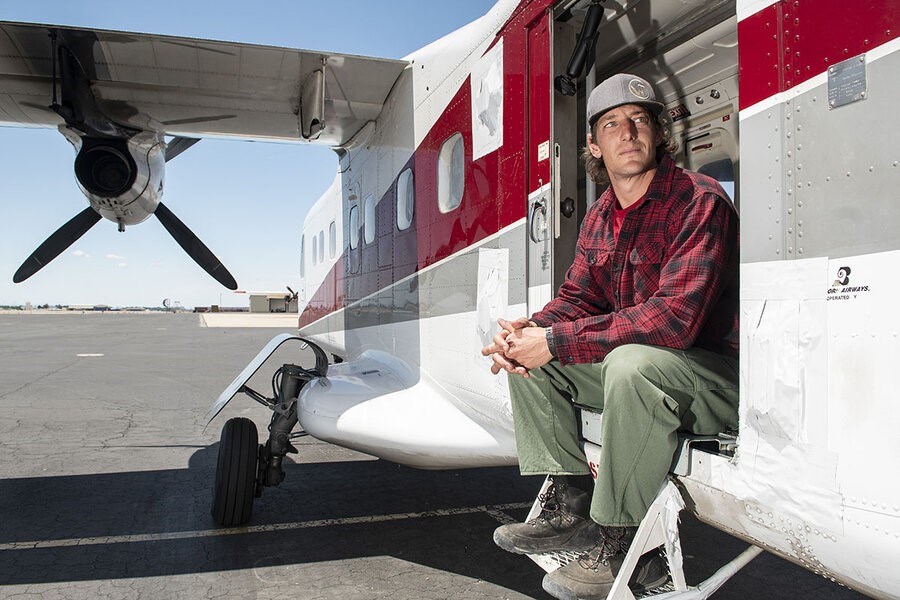 Smokejumper Jake Fischer sits on a Dornier 228 airplane at the smokejumper base, June 5, 2023, in Boise, Idaho. Alfredo Sosa, Staff
July 19, 2023
Joe Brinkley was at a crossroads in life. He loved fighting fires in the wild – the camaraderie, the intense work, the long days in remote forests. But he had quit and started working at a tire store in Boise for better pay and steady work. He didn't like it much, but he wasn't sure he could afford to go back to firefighting to join two of his brothers.
Then, the worst. A wildland crew faced a blaze sparked by lightning near Glenwood Springs, Colorado. A passing cold front sent the flames roaring through South Canyon, overtaking and killing 14 of the firefighters on July 6, 1994. Levi Brinkley, Joe's triplet brother, was among them. Joe Brinkley was stirred by the firefighters and townspeople who descended on his parents' home in Oregon to help mourn the loss.
"That's when everything changed for me. I decided this is what I truly need to do with my life," Mr. Brinkley recalls. His brother's sacrifice helped show the way: "I probably wouldn't have had enough courage to make that decision" otherwise, he adds.
Thousands of paid and volunteer firefighters will leave their homes this summer to combat the wildfires erupting with growing ferocity in a drier, hotter climate. That rough army is often knit by a web of family ties: father and son, mother and daughter, brothers, sisters, cousins. It is a network formed of tradition, pride, and shared family values.
"It's about DNA. It gets in your blood," says Steve Hirsch, a lawyer and volunteer firefighter in northwest Kansas. His father started a local fire district in 1963 to help fight prairie fires. "Been around this my entire life," says Mr. Hirsch. "Had brothers involved and Father and all sorts of nieces and nephews and all that. So I don't know anything any different." Firefighting, he says, runs through families.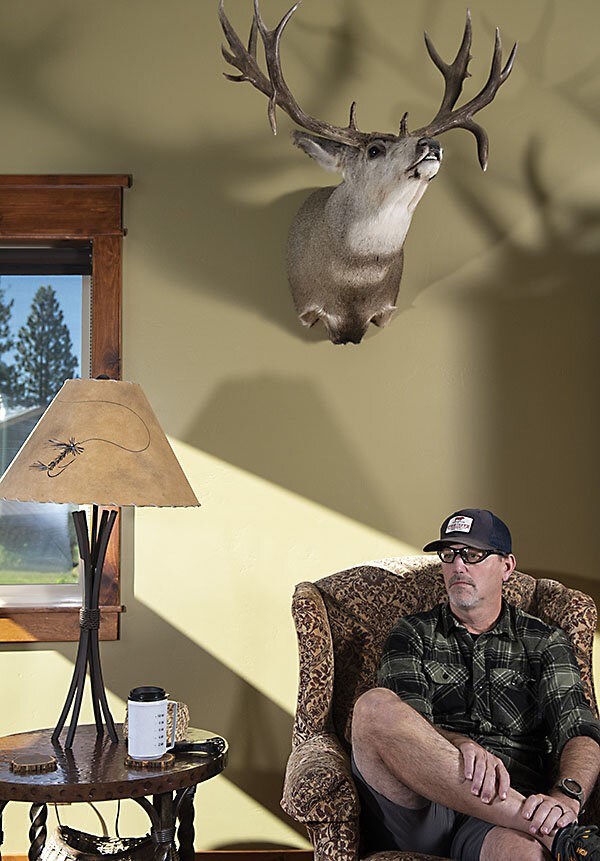 Alfredo Sosa/StaffFormer base manager and smokejumper Joe Brinkley sits in his home, June 6, 2023, in McCall, Idaho.
For Joe Brinkley, it started during a summer job in a laminate factory. Four Brinkley brothers, all from a ranching family in eastern Oregon, were working there in 1990 when a wildfire spread near town. "They asked people at the mill if you guys want to put a crew together and work this fire. We all said, 'OK, whatever,'" recalls Mr. Brinkley. "We got to be out in the woods and see deer or elk or wildlife. And three out of the four of us decided that, yeah, that's what we want to do."
After Levi's death, Mr. Brinkley spent three decades as a firefighter before retiring 18 months ago as a smokejumper and base manager in McCall. He still is on the list to help with fires when needed. His older brother Josh works for the Forest Service at Sawtooth National Forest in Idaho.
"It was the right decision," Mr. Brinkley says. He met his wife, Alexis, who works for the Forest Service, on a Hotshot fire line in 1996. "We are still walking and talking and escaped with very minor injuries," says Mr. Brinkley. By "very minor" he means six shattered teeth, a broken spine, six fused vertebrae, a separated rib cage, four broken ribs, and emergency resuscitation when a tree fell on him.
He has no regrets: "Being able to spend time in the woods is where I want to be," he says.
Federal firefighting crews are the main bulwark at the largest of fires. An estimated 11,300 men and women will be shuffled in and out of fire lines this summer by a federal control center in Boise. Thousands more in local fire departments – often staffed entirely by volunteers in rural areas – will join the fight. They are regularly the first on a scene when lightning, a campfire, or a downed power line ignites dry, brown vegetation.
The National Interagency Fire Center counted 68,988 wildfires in the United States last year.
In interviews, firefighters say they are drawn to the rugged challenge, feed on the adrenaline, and revel in hard work with trusted companions. They like the public service of their work. Many saw their parents do the same. That family imprinting is a pipeline for the firefighting corps.
"Everybody said I was brainwashed," says Damian Withen. His father was a sociology professor at the University of Virginia's College at Wise for 18 years, but every summer the family returned to McCall so he could work as a contract smokejumper, parachuting onto fire lines in wilderness areas throughout the country. Damian played at the base, wore a miniature smokejumper's suit, and practiced parachuting runs with a buddy in a doghouse-turned-imaginary-airplane.
"Do not jump off the roof," his parents warned sternly.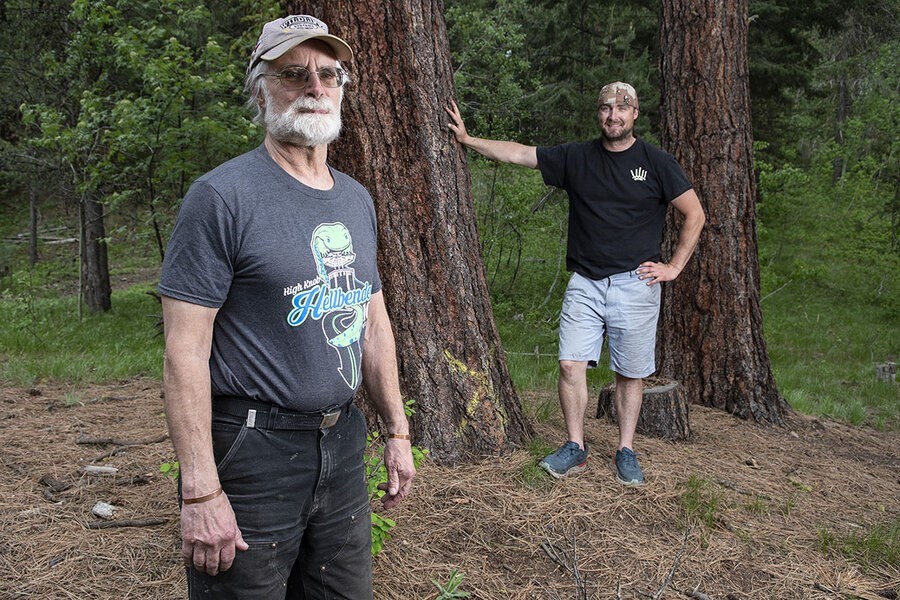 Alfredo Sosa/StaffFormer smokejumper Patrick Withen and his son Damian stand near their homes, which are across from each other in McCall. Damian followed in his father's footsteps and became a smokejumper in 2013, eventually moving to McCall.
His father, Patrick Withen, fought fires in summers over nearly five decades. He got into smokejumping while working on a ground crew in Montana. One time, they hiked all day up a rugged mountain, only to find smokejumpers had gotten there hours earlier, had contained the fire, and were sitting having coffee. "It just seemed to be the way to do it," Dr. Withen says.
Damian joined a fire crew just out of high school in 2006, worked on ground crews in Idaho and Montana, and became a smokejumper in 2013, eventually moving to McCall.
"I thought it was a good thing that he wanted to be a smokejumper," says Dr. Withen, who now lives with his wife, Diana, across from their son at the edge of woods in McCall. "It's not about the money, but it's a great, rewarding career."
The allure of this work has cracks, though. Federal firefighters may work two-to-three-week contractual assignments at wages that ranged widely in the past but finally were recently leveled up to at least $15 an hour. Contract work can go on for years before one is hired in a permanent position at a base salary starting around $35,000. A Biden administration bonus following the pandemic is set to expire unless Congress acts by Sept. 30. Firefighters say their ranks are being drained due to low pay and long stretches away from their families.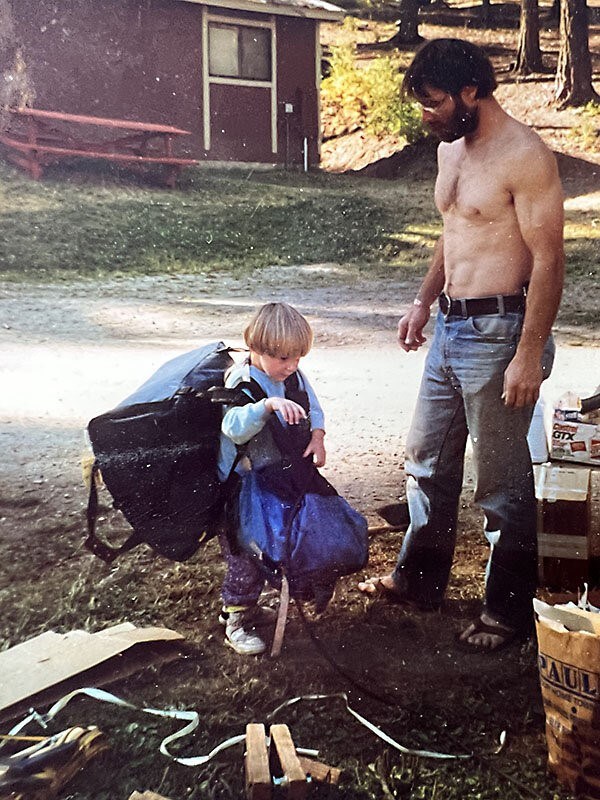 Courtesy of Within familyDamian Withen grew up watching his father rush off to fight wildland fires. The young boy, seen here with his father circa 1991, used to pretend to be a smokejumper, too.
Paul Acosta tries to bolster the firefighting tradition. He teaches firefighting to middle and high school students in Brush, Colorado, a town of 5,300. When his students graduate, they are qualified to sign on to a wildland firefighting team.
Mr. Acosta has been with the Brush Volunteer Fire Department for 30 years. Especially in the open West, firefighters spend more time fighting wildland fires than answering calls in town. In Mr. Acosta's area, wildfires may roar across the grassland prairies in towering waves of flame, threatening crops, farmhouses, livestock, and people.
"We are losing volunteer firefighters very quickly," says Mr. Acosta, a vice chair of the National Volunteer Fire Council. "A lot of people just don't have the time." Or the option. "When I started, you would drop everything you were doing to go on a fire call," with the principal of his school taking over his classes, he says. Now, many people work far from small towns like his, and employers are not so accommodating.
And there is the danger. Federal agencies report that 25 wildland firefighters died last year. Most did not succumb to smoke or flames, but to associated risks: vehicle accidents on smoky back roads, helicopter crashes, heart attacks in the heat, trees falling unexpectedly on ground crews. But the chief fear of firefighters is a "burnover," when winds and flames dramatically reverse direction, engulfing firefighters.
As the smoke and dust rose from the collapsed World Trade Center towers Sept. 11, 2001, April Partridge grabbed her firefighter gear in southern New Mexico and declared that she was headed to New York to help with the grim search of debris. Her son Bryan Wilken was 8. He sat in the doorway and refused to let her go.
"I told my mom, 'You're not going because I don't want to lose my mom,'" Mr. Wilken recalls.
It was, he says, one of the few times he won the argument. But it was eerily prescient of the way firefighting would play out in the lives of the mother and son. Ms. Partridge loved the work and helped at fire departments as she moved around the country for the Defense Department. As he got older, Mr. Wilken joined the local department where they lived in Apache, southwest Oklahoma, before moving to Michigan.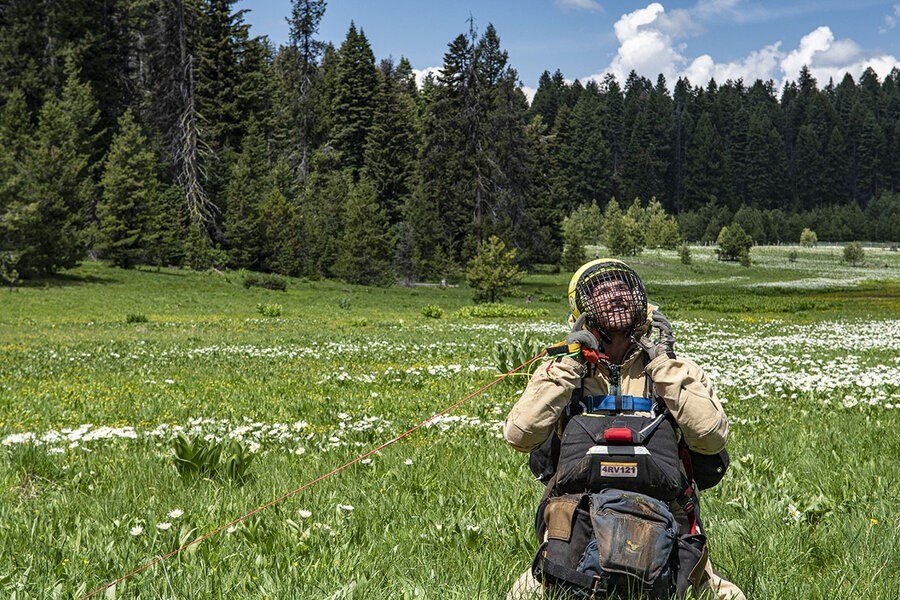 Alfredo Sosa/StaffA smokejumper takes off his gear after landing a practice jump. A flag marks the target landing spot, and the jumps are rated for accuracy and the softness of the landing.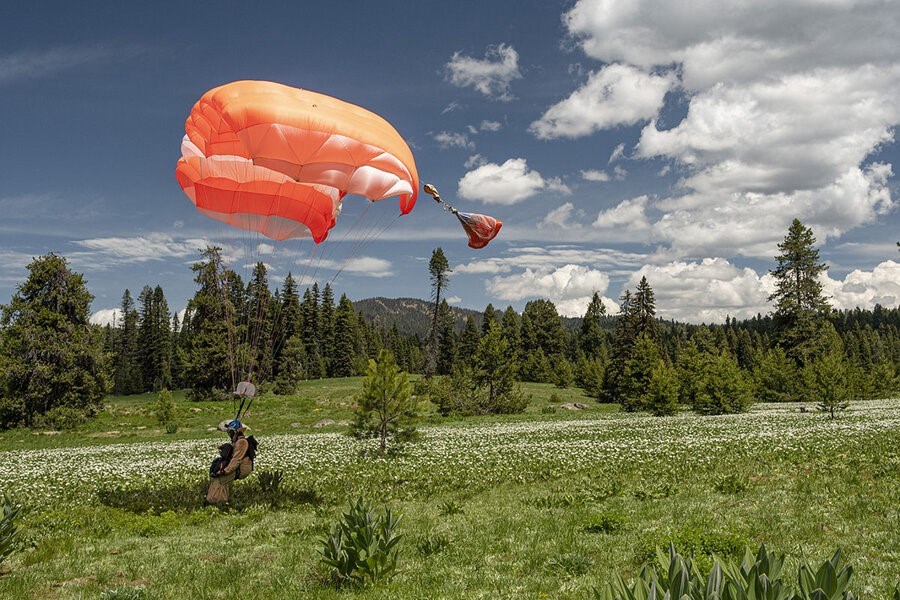 Alfredo Sosa/StaffSmokejumpers perform practice jumps from 3,000 feet onto a target spot in a meadow several miles from their home base, June 7, 2023, in McCall.
In 2021, Mr. Wilken returned to Apache, which the family considered home. His mother, then living in North Carolina, followed him. They both joined the local Edgewater Park Volunteer Fire Department. "She wanted to get on a truck and fight fires next to her son," Mr. Wilken says. "That's always been one of my dreams, for me and my mom to be on the same volunteer department."
A few weeks after she joined, a field of dry 6-foot-tall prairie grass south of Apache erupted in flames on March 20, 2022. It began racing toward a cluster of homes.
"It was a fast, aggressive fire. It was running across the tops of the grass. ... I would think it was moving 30 to 40 feet a second," Mr. Wilken recalls. It "was definitely something I've not seen before."
He drove in his pickup truck toward the closest houses, urging people to flee to safety. His mother raced to the fire station and jumped aboard a brush truck with the fire chief to confront the flames.
But the fire was not to be tamed.
Mr. Wilken was still in the housing development when his radio erupted. "Firefighter down!" He raced to the other side of the fire. A close friend in the department met his truck and refused to let him get out. "Your mom is gone. You do not need to see this," the friend told him. She had been caught by a burnover when she was outside the truck.
The fire lasted two more days.
The funeral for Ms. Partridge was huge – the procession of first responders stretched 3 miles, and the Highway Patrol closed down Interstate 44 for the somber occasion. Children from a local day care waited at the cemetery wearing plastic fire hats.
More than two months later, the small Edgewater Park Volunteer Fire Department reopened for calls. Mr. Wilken was there, and soon he assumed the role of fire chief. He said there was no doubt he would return.
"My decision was, I'm not going to let this defeat me. My mom would not want me to give up on something I love to do."
For others, too, the dangers do not overcome the calling – and the community that comes with it.
Kevin Quinn had some moments in 48 years of firefighting. He recalls a wind shift on a wildfire in the Nez Perce national forest in Idaho. The sky turned orange, the flames licked toward them on the ridge, and his crew started running madly for their lives. As he huffed along, the local Nez Perce crew raced past him. Suddenly, a fire copter above radioed down that they were running right toward the fire and to reverse immediately.
"I went from being last to first," recalls Mr. Quinn. He laughs about it now, but the situation still haunts him 26 years later.
When his son Joshua graduated from high school in Rhode Island and wondered what to do, he asked his dad about firefighting. Before long, Joshua signed up to fight wildfires in the West, eventually joined a "helitack" crew to rappel from helicopters onto fire lines, and recently moved to Florida to a U.S. Forest Service fire team at the Ocala National Forest.
His first federal dispatch was to the stunning Glacier National Park in Montana. He was hooked. Having winters off to go snowboarding was a plus, too.
Mr. Quinn's girlfriend from Rhode Island, Erin Noblet, says she knew nothing about wildfires "other than Smokey the Bear." Soon after she joined him in Utah, 19 firefighters were killed when overrun by a wildfire in Arizona, which shook her and much of the firefighter community.
They married and now have two young children. Mr. Quinn squirms at the question of whether he would want them to be firefighters. Not his wife.
"Ironically, yes," she replies right away. "I mean, it's like family away from family. There's definitely a feeling of support."
The alarm squawks over the loudspeaker at the McCall Smokejumper Base. A team of seven men and one woman races to the "jump rack," where their suits are hanging, ready. They have two minutes to dress. Weighed down by 100 pounds of parachutes, gear, and padding stuffed into special pockets of their jumpsuits, they waddle out to the De Havilland Twin Otter plane and head to bolster a crew fighting fires in California.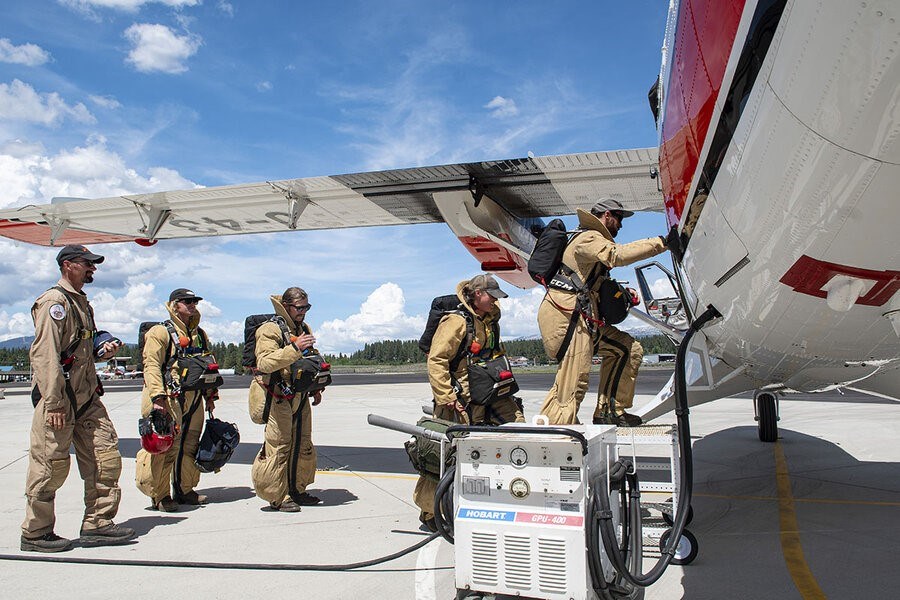 Alfredo Sosa/StaffSmokejumpers board a plane at the McCall Smokejumper Base in Idaho to go fight a fire in California, June 6, 2023.
The other jumpers cheer them on, exchanging high-fives as Willie Nelson's "On the Road Again" blares from the speakers.
"People tell us, 'I hope you don't have to jump many fires this summer,'" muses Mr. Withen, who grew up spending summers playing at the base. "They don't understand. This is the reason we do it. That's everybody's favorite part."
Besides, adds another firefighter as he watches the team depart, "this is when we get paid."
Many seasonal firefighters are paid only when they are on a fire. Others, including most smokejumpers, are paid for six months a year. But only when they are on a fire, earning hazard pay and working long hours of overtime, do their incomes start to grow. A slow fire season means low pay.
"We talk about money all the time, but a lot of us didn't get into fire for money," says Garrett Hudson, who followed his father into firefighting in 2002 and eventually smokejumping. But when his father was a firefighter, "you could afford a house. You could still afford to live fairly well," he notes. "But in the last seven to eight years, the pay hasn't gone anywhere, and the cost of everything else has gone up so high."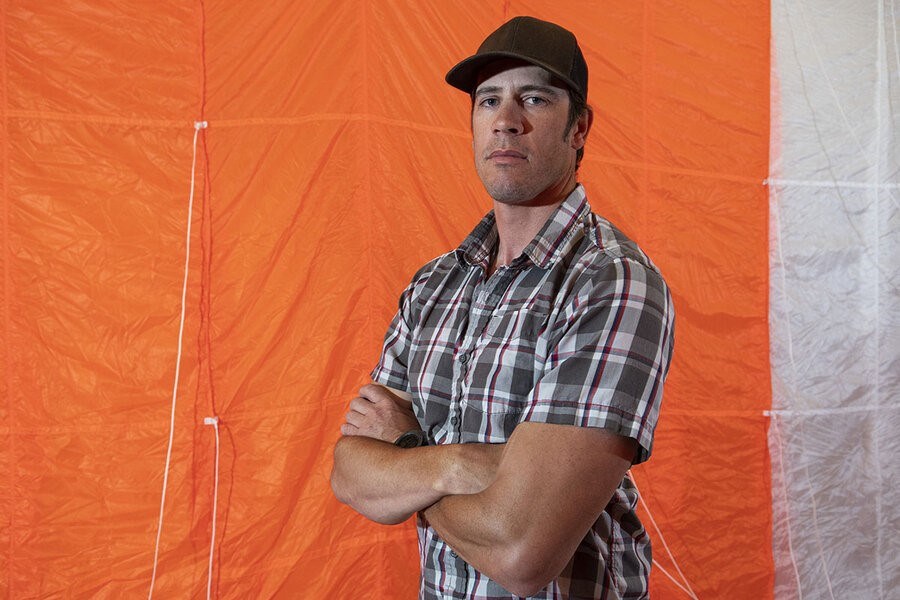 Alfredo Sosa/StaffGarrett Hudson, a smokejumper and assistant trainee manager at the McCall base, stands in front of a parachute hanging for inspection.
"There's a lot of other jobs where you can work less and get paid more," acknowledges Brent Sawyer, the operations foreman at the base. Applications and retention are down. But he notes, "I work with the best people you could ever imagine. And we get to see some amazing country."
It is the ultimate brother's compliment: "He's a good dude," says Jake Fischer of his brother Isaiah. That may help explain why three Fischer brothers followed similar paths from their parents' cattle ranch in rural Oregon into firefighting.
Jake and Isaiah are federal smokejumpers in Alaska, Ed Fischer fights fires from helicopters and engines in Oregon, and a fourth brother worked in a fire training crew for a year. There was one photo, Jake recalls, when he, Isaiah, and Ed all worked on a fire in California in 2020.
Courtesy of Jake FischerThe Fischer brothers – Isaiah (far right), Ed (center), and Jake – stand at the 2020 August Complex Fire in Northern California.
"All three of us were together," Jake says by phone from Fairbanks the day before he flies to help firefighting crews in Canada. "That was really neat. I was working for my older brother, and my younger brother was working for me."
Did it bring any fraternal friction? "Oh, I mean, how does it not?" Jake says with a laugh. "You spend 14 days at 16 hours a day glued together. And then you have your older brother, who 'knows all,' telling you what to do?"
The photo of the three of them on that fire "was one of those times where you take one picture, and that's 'the snapshot' that could be for your life."
Isaiah, the oldest, was the first to join a fire crew. He loves it, he says: "Being way out in remote Alaska, we travel to places you don't get to go as a member of the public. The adventure, wildlife, and living outdoors. The camaraderie – everybody working together."
Isaiah says Jake followed him to Alaska. Jake, eight years younger, frames it differently: "He kept pestering me to come up there."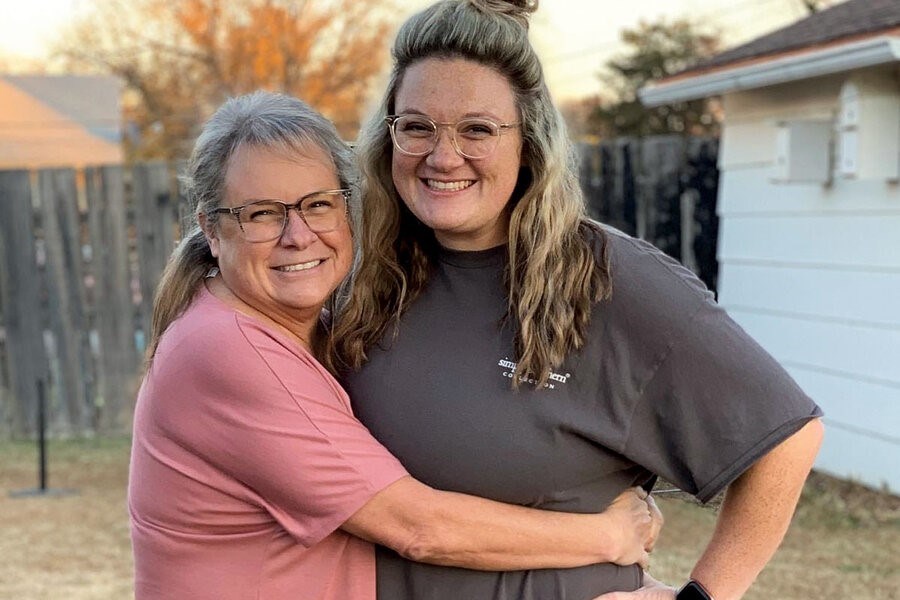 COURTESY OF SHERI NICKELSheri Nickel (left) and her daughter, Samantha McCandless, are both firefighters in Oklahoma, seen here in Enid, Oklahoma, in 2021.
Sheri Nickel has been a firefighter for 22 years. She serves with her husband, Darrin, in the Orlando Volunteer Fire Department in Oklahoma. Their two children "grew up with us leaving birthday parties," Ms. Nickel says. "We've had fires on Christmas Eve and Christmas Day and Thanksgiving. They just always understood that if we don't do it, then nobody's going to do it."Bottom of Form
One of their children, Samantha McCandless, is now married, with two young children of her own. Seven years ago, she stopped at the Shattuck Fire Department, about 150 miles from Orlando, and joined. Having watched her parents, she says it was inevitable. "I was like, 'I guess, you know, it's my turn.'"
Editor's note: To learn more about the McCall Smokejumper Base, including how rookies are trained, explore Alfredo Sosa's photo essay.
Related stories