To be selfless and help other people is heroic.
--Caroline Baron
Caroline Baron is the Chair and Founder of FilmAid International,
a nonprofit dedicated to bringing films to impoverished and war-torn areas.
MY HERO had a chance to sit down with Caroline to discuss her organization and the excellent work that it does.
I had been very distraught about what was happening, and I wanted to figure out what I could do to help. I was completely obsessed about the war in Kosovo and the refugee crisis. I decided that I had to figure out what I could do. So I called all these organizations to see if I could go and hand out food, or just do something, and no one wanted to take me.

Then, I heard a report on NPR one Sunday morning that said that the biggest problem in refugee camps was, surprisingly, not the lack of food, not the lack of shelter, not the lack of medical care, but the problems were psychological problems. The problems were boredom, idleness, fear, psychological trauma. And so I had an idea to bring films to the kids, and that's how it started.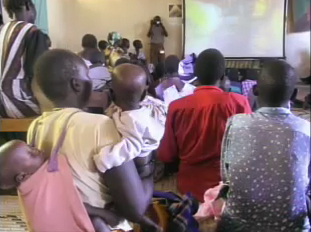 Caroline's friends and contacts in the film industry helped her reach people at the United Nations who could help her in her mission. She was able to work with the UNHCR (the United Nations High Commission of Refugees), and started thinking of ways to bring equipment and films into refugee camps. Their first screenings were in Kosovo and Macedonia.
We realized that we had, no pun intended, a captive audience--people who were starving for information and for anything else that could feed them, and we realized we could use the film to educate and inform as well as create a diversion from their sad temporary existence. And so we videotaped a UNICEF landmines awareness brochure and projected it, and started to realize how great it was to be able to communicate messages.
After the success of the first FilmAid screenings, FilmAid was asked to bring the program to Africa.
We started worked with Kenya and Tanzania in 2001, and we've been there ever since. We developed a filmmaking program for them to tell their own stories, and some are online on the FilmAid website...And then we showed films. The large evening screenings were the big draw, and we started off with music, and we'd have cartoons for the kids, and PSAs about women's rights, domestic violence, peace building, malaria prevention, and cholera prevention. And then, we'd have a big entertaining film. We have very targeted screenings throughout the day for people who don't come at night, for some women who are afraid to come at night, and there are tents, as well as semi-permanent structures, because they [the refugee camps] have been around for 15 years.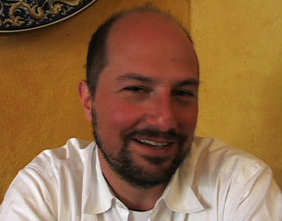 FilmAid Advisory Board Member, Anthony Weintraub told MY HERO more about the project. He explained the positive effect that FilmAid is having on people. Refugee women who screen films in the pediatric feeding center are able to relax and provide much needed milk for their malnourished infants. Before the films, people weren't coming to the pediatric feeding centers and babies weren't eating.
Then they started to show Winnie the Pooh on a loop, and the mothers would bring their babies because they were interested in the cartoon, and the kids started to eat because they were curious as well, and these are real results. Kids started gaining weight because they were engaged with their mothers, and they were stimulated. They painted a mural of Winnie the Pooh on the wall, and it became the place to go, a fun place to be, not a devastatingly depressing place to be.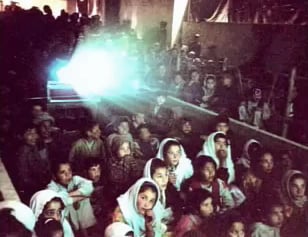 MY HERO asked Caroline what was the most moving screening she has been able to witness and she explained that the most poignant experience was showing the Wizard of Oz to orphans in Afghanistan.
There were kids who'd never heard music before because it was prohibited under the Taliban, and they'd never seen a film before--they'd never seen a photograph of a female before. If they had seen a photograph, they'd seen only men from the neck up. So for them to watch that film, and to watch that with them was emotional and beautiful.
Caroline Baron and Anthony Weintraub and all of those working with FILMAID.org are bringing hope and joy to thousands of people who would otherwise feel forgotten and lost in their status as refugees. From a wonderful idea to help refugees combat boredom with cinema...to the many powerful uses of media that filmaid today provides...Caroline has realized her dream with FILMAID and continues to expand and develop this program that educates, entertains and empowers those who are most disenfranchised in this world...those who have lost their home to wars and natural disasters.
To provide food and shelter is a priority but without a sense of community and the ability to learn and grow and laugh, these people can lose hope and that is one obstacle that FILMAID can help to combat.
This project profoundly demonstrates the need we all have to share art and culture and how we are all enriched by the collective experience of watching quality motion pictures.
Nurturing minds and providing joy is an excellant way to make a difference in this world. All of us at MY HERO honor the work of Caroline Baron and Anthony Weintraub and those working with FILMAID.org
Page created on 6/20/2008 9:59:14 AM
Last edited 6/20/2008 9:59:14 AM