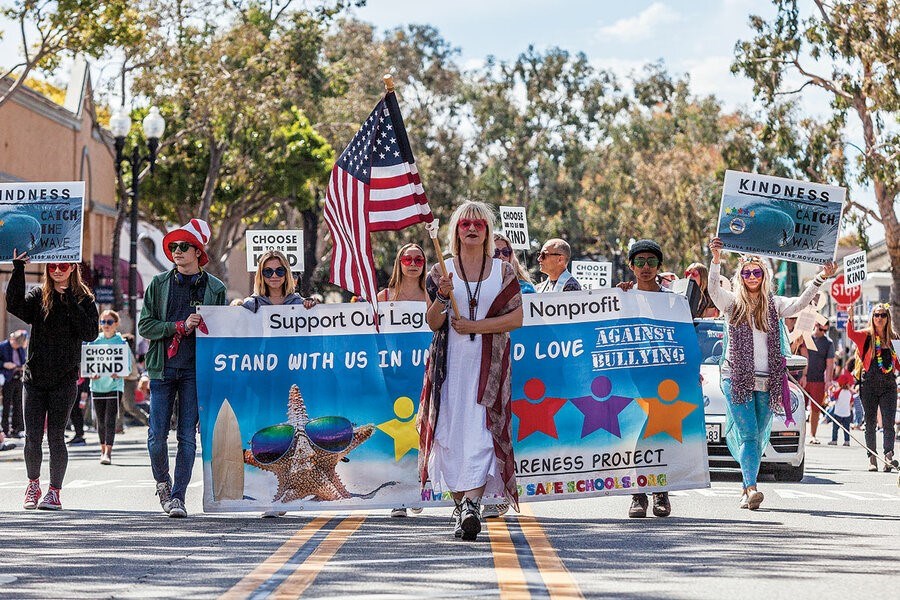 Shadi Pourkashef (center) takes kindness to the streets as she leads Ability Awareness Project participants during a 2020 parade in Laguna Beach, California. Courtesy of Mitch RldderMay 17, 2023
When Shadi Pourkashef takes the stage at elementary school auditoriums, students know she's there to talk about being kind, stopping bullying, and understanding others. So it might be surprising to them that she begins by asking what they think she does outside of her presentations.
The kids guess all kinds of things: "You're a lawyer." "You're a teacher." "You make drinks at Starbucks."
Then Ms. Pourkashef shows a photo of herself leading an orchestra and explains that she is a composer for movies and commercials, a piano teacher, and a conductor.
The kids are amazed. "You couldn't tell all that just by looking at me, could you?" she asks them.
And that's the heart of the message that she brings from her Ability Awareness Project (AAP): You don't know everything that someone is capable of just from a single observation or interaction.
At her sunny studio here, her musical work is obvious. Two keyboards and a piano occupy three walls. She works via video chat with a student on piano finger placement. But her "other work" – combating bullying with kindness – happens beyond the studio walls throughout the community.
To help create a safe environment for everyone at school, Ms. Pourkashef begins her presentations by specifically talking about distinct, but sometimes unrecognized talents.
"You want to make sure that the kids understand ... people who have different abilities," she says, adding that she shows video clips of Paralympic athletes. "And a lot of the bullying happens to those people, to kids that have some kind of a diagnosis."
This emphasis is part of what inspires the name Ability Awareness Project. The other part is that learning about people's abilities – about people themselves – is the path to kindness that makes a difference, Ms. Pourkashef says.
AAP presentations teach how bullying takes different forms, how kids can work to understand people who are different, and how everyone can play a role in creating a more respectful, inclusive environment at school.
"What's the kinder option, and why is the kinder option better?" Ms. Pourkashef asks. "You want to create a culture of kindness, and you want to create a culture where everybody is respectful and understanding of one another. ... The whole school needs to be on it."
Ms. Pourkashef started AAP in 2012, impelled to take action when her elementary school-aged son with autism was bullied and she realized the larger extent of the problem.
Stopbullying.gov reports that about 20% of students ages 12-18 experienced bullying nationwide in 2019, and about 46% of them notified an adult. Ms. Pourkashef says that even if school administrators know bullying is taking place, they don't often fully address the problem.
Ms. Pourkashef's experiences with her son confirmed that the whole community, especially schools, needed a response to bullying. With help from others, she created 10 presentations for parents, teachers, and students. Tailored to three age groups – lower elementary, upper elementary, and middle school – the presentations provide ways for students to prevent or stop bullying, whether they are bullying, being bullied, or acting as a bystander.
Ms. Pourkashef, a single mom, had to put her music on hold to carve out time to create the programs. But she did it for the sake of her son: "You just do it. You have to. Because it's their happiness. I can't see my child ... being picked on. ... Do I just sit and wait for the school to come?"
While her son is doing well now, the sense of urgency Ms. Pourkashef had about the larger problem has allowed AAP to reach over 10,000 children.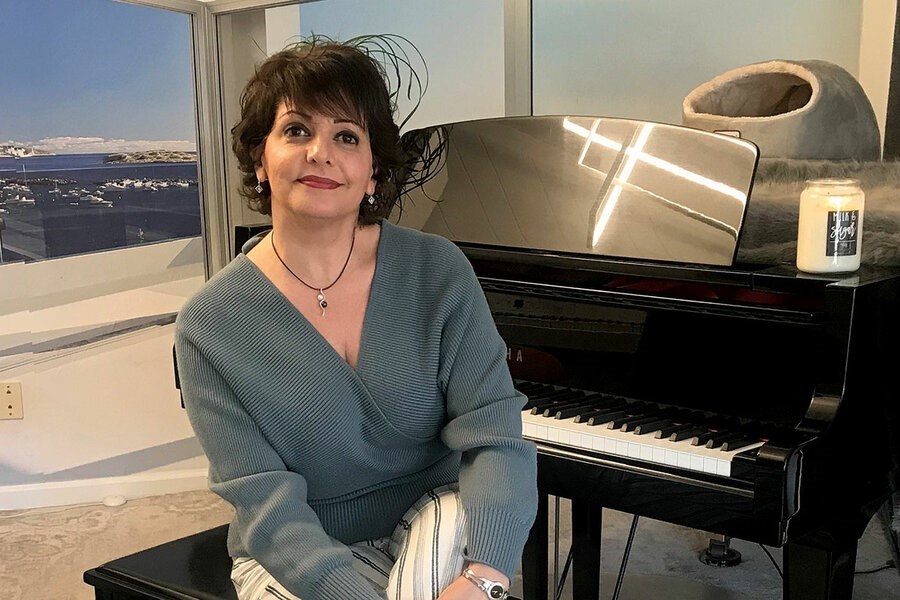 JJ Wahlberg/The Christian Science MonitorAfter her son, who has autism, was bullied in elementary school, Shadi Pourkashef took time off her music career to develop a kindness education program. Since 2012, her Ability Awareness Project has reached 10,000 school children.Kindness is cool
Fifth graders Flora McCullough and Walker Zolna say they've noticed less bullying, especially toward kids with disabilities, after three AAP presentations at their K-8 Vista Del Mar school in San Clemente.
Students are kinder to each other, says Walker, particularly to one of his fellow student council members, who uses a wheelchair: "Everyone's trying to become friends with him. That's pretty cool."
The other side of the equation – the bullies – is also part of the AAP focus, says Flora's sister Ruby, a seventh grader at Vista Del Mar middle school.
Ruby relates a moment of clarity a friend confided to her after that presentation: "She felt really bad because she had been bullying ... for like a long time. And she realized that she needed to stop because it could result in their life – losing their life."
And there's a palpable difference that Flora and Ruby's mom, Cambi McCullough, feels too:
"There's a lot of verbiage that I think ... they didn't know how to use before that they now are using. They're calling bullying 'bullying.' ... They're saying you need to be kind."
Whitney Zolna, special education representative for the Vista Del Mar PTA and Walker's mom, orchestrated the elementary school assemblies after recognizing the need to respond more consistently to bullying. A single talk with students doesn't change everything, she acknowledges. But she adds that every conversation makes a difference.
"If we reached one student with that
assembly – one student to stop bullying – the ripple effects are going to be there," Ms. Zolna confidently asserts.
Rooted in love
The Vista Del Mar community felt AAP ripple effects in its response to a suicide at a nearby high school by a student with autism after ongoing troubles fitting in with his peers, says Ms. McCullough. The news hit hard, but she saw the impact the school community could have in its response.
She and Ms. Zolna put on a Friendship Fair for students, she says, to "have a conversation," "give each other ideas," and "focus on kindness and how we can be better." Over 200 attended.
Ms. Pourkashef uses the same approach: "If I was talking to any school and say, 'We provide bullying prevention and education,' they go, 'Bullying? No, we have no bullying here.'" But, she adds, if you "say, 'We have kindness programs, they go, 'Oh, yeah!' Because they need kindness."
AAP presentations are specifically geared to the elementary and middle school levels, but the program provided an opportunity for Maya Simpson to bring its message of kindness to her Newport Beach high school, the private Sage Hill School.
Ms. Simpson, now a sophomore at Purdue University, started the Kind and Safe Schools club, which gathered weekly to do a kindness-oriented project. One day, Ms. Simpson gave club members packs of sticky notes and had them write empowering messages, compliments, or drawings to leave around hallways and bathrooms.
"It just made my school feel a lot more like home, just knowing that there was this group of people on campus that were encouraging others to love themselves, to love each other," she says.
College also presents similar opportunities, says Ms. Simpson. She's part of a service club that helps students as they find themselves away from their families, friends, and support systems back home.
"I gained a lot of empathy from [AAP] ... because at the root of it is just love," she says.Bottom of Form
Spreading that love – and kindness – is Ms. Pourkashef's top priority in preventing bullying everywhere. She notes that, recently, "We got a call from King's College in Thailand. And I'm like, 'Is there anybody [else] in the world that is doing this?!'"
But she stands ready to spread the word, herself, anywhere: "You're not standing up just for yourself, you're standing up for the whole kingdom."
Related stories