Anne Frank
by
Emily from Cincinnati
Sometimes, people who deserve the best, recieve the worst..
A hero is a person for all to look up to; someone to admire. Anne Frank was a "Survivor Hero." She showed many characteristics of a hero such as: bravery, courage, faith, and hope. She showed all these characteristics in her act of surviving the odds as a Jew in the Netherlands hiding in a loft above her father's office for many months during World War II. Many people around her were also of the Jewish faith but none had the determination of Frank. Just as a 15 year old she threw away all of her fear and stood up for her people even if it meant being put to death.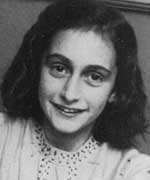 On June 12 1949 in Frankfurt am Main, Germany, a child was born by the name of Annelies Marie Frank. In 1933, 4 years later, the young 4 year old's family moved out of Germany to get away from the Nazism going on in the area. The family settled down in a town called Amsterdam in the Netherlands. While living there, in 1940, Germany invaded the area and took over with Nazism. Once again the Franks were stuck in the middle of the anti- Semetic movement. A year later Anne was forced to change schools and attend a Jewish school instead of Public like others. While all this was going on, Anne's father was building a hiding place above his office secretly hidden by a swinging book case. After Nazism took full force the Franks took to hiding in July of 1942. Not only were the Franks cooped up into that small space but they were also joined by their good friends, Mr. and Mrs. Van Pels, along with their son Peter. Also about 2 months later they were joined by another Jew, Fritz Pfeffer. The Family and friends lived up in the secret hiding space until August 4, 1944 when they were captured by the SD and sent to a concentration camp.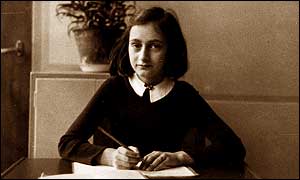 When they arrived the men and women were separated into different groups. Shortly after being transferred to a different camp Herman van Pels was gassed to death. Fritz Pfeffer was moved to many different camps but concluded his life on December 20 that year. Also while Anne, Margot and Mrs. Van Pels were moved to a different camp Edith Frank had to remain at the women's sub-camp and died of starvation and exhaustion in January 1945. Margot was the first to go at the camp with Anne. But shortly after, the short life of Anne Frank had come to an end at the age of fifteen. Even though Anne withstood all of the hardships she could not go on any longer. Her father, Otto, was the only one to survive the Holocaust and later published Anne's diary into a book about his daughter's bravery through the struggle of staying alive during those hard years.
Anne frank is a "Survivor Hero" because she had what it took to stay alive through the very rough times. She withstood all of Nazi German concentration camps and kept herself together throughout the whole period of time hiding from the Nazis in the cramped loft with six other people. Many of us today may have just given up right from the start assuming we would not be able handle this horrible life centered only around hiding from the Nazis and not being found out. But not Frank. Her determination was like no other though she suffered through the worst.
Anne Frank was indeed a "Survivor Hero" and did show many characteristics of heroism through her hardships. She is a hero to many and rightfully so. Sometimes people who deserve the best, receive the worst and this is why I chose Anne Frank as my Survivor hero.
Page created on 10/18/2004 12:00:00 AM
Last edited 10/18/2004 12:00:00 AM
The beliefs, viewpoints and opinions expressed in this hero submission on the website are those of the author and do not necessarily reflect the beliefs, viewpoints and opinions of The MY HERO Project and its staff.