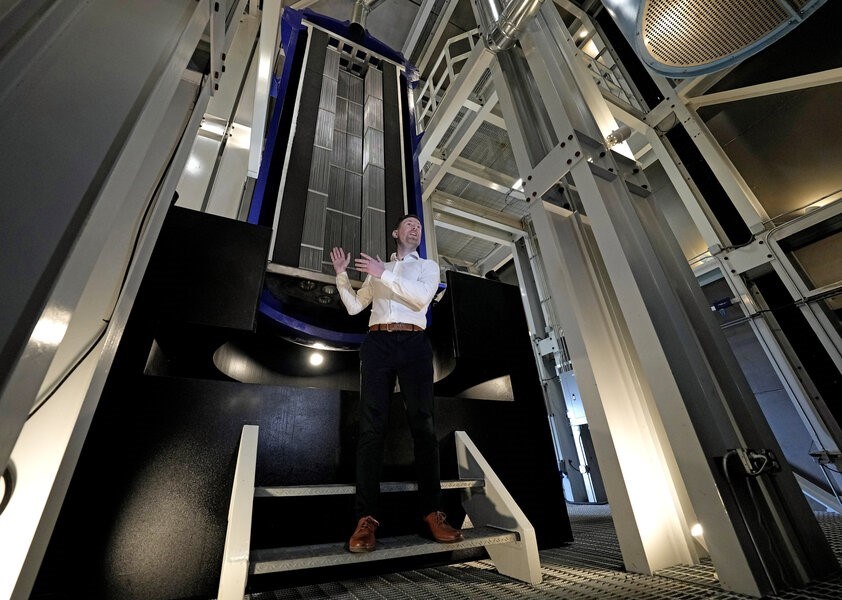 Last Energy CEO Bret Kugelmass explains how energy could be produced from a nuclear microreactor, Jan. 17, 2023, in Brookshire, Texas. Microreactors of 20-megawatt power could replace carbon dioxide-emitting fossil fuels that supply energy to factories or data centres. David J. Phillip/AP
February 10, 2023
While the thought of nuclear power conjures giant cylindrical concrete towers, American universities are exploring building miniature nuclear reactors to generate electricity for campuses to combat climate change. Are these reactors feasible and safe?
If your image of nuclear power is giant, cylindrical concrete cooling towers pouring out steam on a site that takes up hundreds of acres of land, soon there will be an alternative: tiny nuclear reactors that produce only one-hundredth the electricity and can even be delivered on a truck.
Small but meaningful amounts of electricity – nearly enough to run a small campus, a hospital, or a military complex, for example – will pulse from a new generation of micronuclear reactors. Now, some universities are taking interest.
"What we see is these advanced reactor technologies having a real future in decarbonizing the energy landscape in the U.S. and around the world," said Caleb Brooks, a nuclear engineering professor at the University of Illinois at Urbana-Champaign.
The tiny reactors carry some of the same challenges as large-scale nuclear, such as how to dispose of radioactive waste and how to make sure they are secure. Supporters say those issues can be managed and the benefits outweigh any risks.
Universities are interested in the technology not just to power their buildings but to see how far it can go in replacing the coal and gas-fired energy that causes climate change. The University of Illinois hopes to advance the technology as part of a clean energy future, Mr. Brooks said. The school plans to apply for a construction permit for a high-temperature, gas-cooled reactor developed by the Ultra Safe Nuclear Corporation and aims to start operating it by early 2028. Mr. Brooks is the project lead.
Microreactors will be "transformative" because they can be built in factories and hooked up on site in a plug-and-play way, said Jacopo Buongiorno, professor of nuclear science and engineering at the Massachusetts Institute of Technology. Mr. Buongiorno studies the role of nuclear energy in a clean energy world.
"That's what we want to see, nuclear energy on demand as a product, not as a big mega project," he said.
Both Mr. Buongiorno and Marc Nichol, senior director for new reactors at the Nuclear Energy Institute, view the interest by schools as the start of a trend.
Last year, Penn State University signed a memorandum of understanding with Westinghouse to collaborate on microreactor technology. Mike Shaqqo, the company's senior vice president for advanced reactor programs, said universities are going to be "one of our key early adopters for this technology."
Penn State wants to prove the technology so that Appalachian industries, such as steel and cement manufacturers, may be able to use it, said Professor Jean Paul Allain, head of the nuclear engineering department. Those two industries tend to burn dirty fuels and have very high emissions. Using a microreactor also could be one of several options to help the university use less natural gas and achieve its long-term carbon emissions goals, he said.
"I do feel that microreactors can be a game-changer and revolutionize the way we think about energy," Mr. Allain said.
For Mr. Allain, microreactors can complement renewable energy by providing a large amount of power without taking up much land. A 10-megawatt microreactor could go on less than an acre, whereas windmills or a solar farm would need far more space to produce 10 megawatts, he added. The goal is to have one at Penn State by the end of the decade.
Purdue University in Indiana is working with Duke Energy on the feasibility of using advanced nuclear energy to meet its long-term energy needs.
Nuclear reactors that are used for research are nothing new on campus. About two dozen U.S. universities have them. But using them as an energy source is new.
Back at the University of Illinois, Mr. Brooks explains the microreactor would generate heat to make steam. While the excess heat from burning coal and gas to make electricity is often wasted, Mr. Brooks sees the steam production from the nuclear microreactor as a plus, because it's a carbon-free way to deliver steam through the campus district heating system to radiators in buildings, a common heating method for large facilities in the Midwest and Northeast. The campus has hundreds of buildings.
The 10-megawatt microreactor wouldn't meet all of the demand, but it would serve to demonstrate the technology, as other communities and campuses look to transition away from fossil fuels, Mr. Brooks said.
One company that is building microreactors that the public can get a look at today is Last Energy, based in Washington, D.C. It built a model reactor in Brookshire, Texas that's housed in an edgy cube covered in reflective metal.
Now it's taking that apart to test how to transport the unit. A caravan of trucks is taking it to Austin, where company founder Bret Kugelmass is scheduled to speak at the South by Southwest conference and festival.
Mr. Kugelmass, a technology entrepreneur and mechanical engineer, is talking with some universities, but his primary focus is on industrial customers. He's working with licensing authorities in the United Kingdom, Poland, and Romania to try to get his first reactor running in Europe in 2025.
The urgency of the climate crisis means zero-carbon nuclear energy must be scaled up soon, he said.
"It has to be a small, manufactured product as opposed to a large, bespoke construction project," he said.
Traditional nuclear power costs billions of dollars. An example is two additional reactors at a plant in Georgia that will end up costing more than $30 billion.
The total cost of Last Energy's microreactor, including module fabrication, assembly, and site prep work, is under $100 million, the company says.
Westinghouse, which has been a mainstay of the nuclear industry for over 70 years, is developing its "eVinci" microreactor, Mr. Shaqqo said, and is aiming to get the technology licensed by 2027.
The Department of Defense is working on a microreactor, too. Project Pele is a DOD prototype mobile nuclear reactor under design at the Idaho National Laboratory.
Abilene Christian University in Texas is leading a group of three other universities with the company Natura Resources to design and build a research microreactor cooled by molten salt to allow for high-temperature operations at low pressure, in part to help train the next-generation nuclear workforce.
But not everyone shares the enthusiasm. Edwin Lyman, director of nuclear power safety at the Union of Concerned Scientists, called it "completely unjustified."
Microreactors in general will require much more uranium to be mined and enriched per unit of electricity generated than conventional reactors do, he said. He said he also expects fuel costs to be substantially higher and that more depleted uranium waste could be generated compared to conventional reactors.
"I think those who are hoping that microreactors are going to be the silver bullet for solving the climate change crisis are simply betting on the wrong horse," he said.
Mr. Lyman also said he fears microreactors could be targeted for a terrorist attack, and some designs would use fuels that could be attractive to terrorists seeking to build crude nuclear weapons. The UCS does not oppose using nuclear power, but wants to make sure it's safe.
The United States does not have a national storage facility for storing spent nuclear fuel and it's piling up. Microreactors would only compound the problem and spread the radioactive waste around, Mr. Lyman said.
A 2022 Stanford-led study found that smaller modular reactors – the next size up from micro – will generate more waste than conventional reactors. Lead author Lindsay Krall said this week that the design of microreactors would make them subject to the same issue.
Mr. Kugelmass sees only promise. Nuclear, he said, has been "totally misunderstood and under leveraged." It will be "the key pillar of our energy transformation moving forward."
This story was reported by The Associated Press.
Related stories