CONTACT: Wendy Milette FOR IMMEDIATE RELEASE
Director of Media
[email protected]
949-376-5964
GABRIEL DIAMOND WINS DOUBLE AWARDS AT THE MY HERO INTERNATIONAL FILM FESTIVAL
JANUARY 15, 2019 - LAGUNA BEACH, CA - Filmmaker and photographer Gabriel Diamond has taken home two wins from the 2018 The MY HERO International Film Festival. Diamond and filmmakers Patrick Barnes and Phil Collis won the prestigious Best of Fest Award.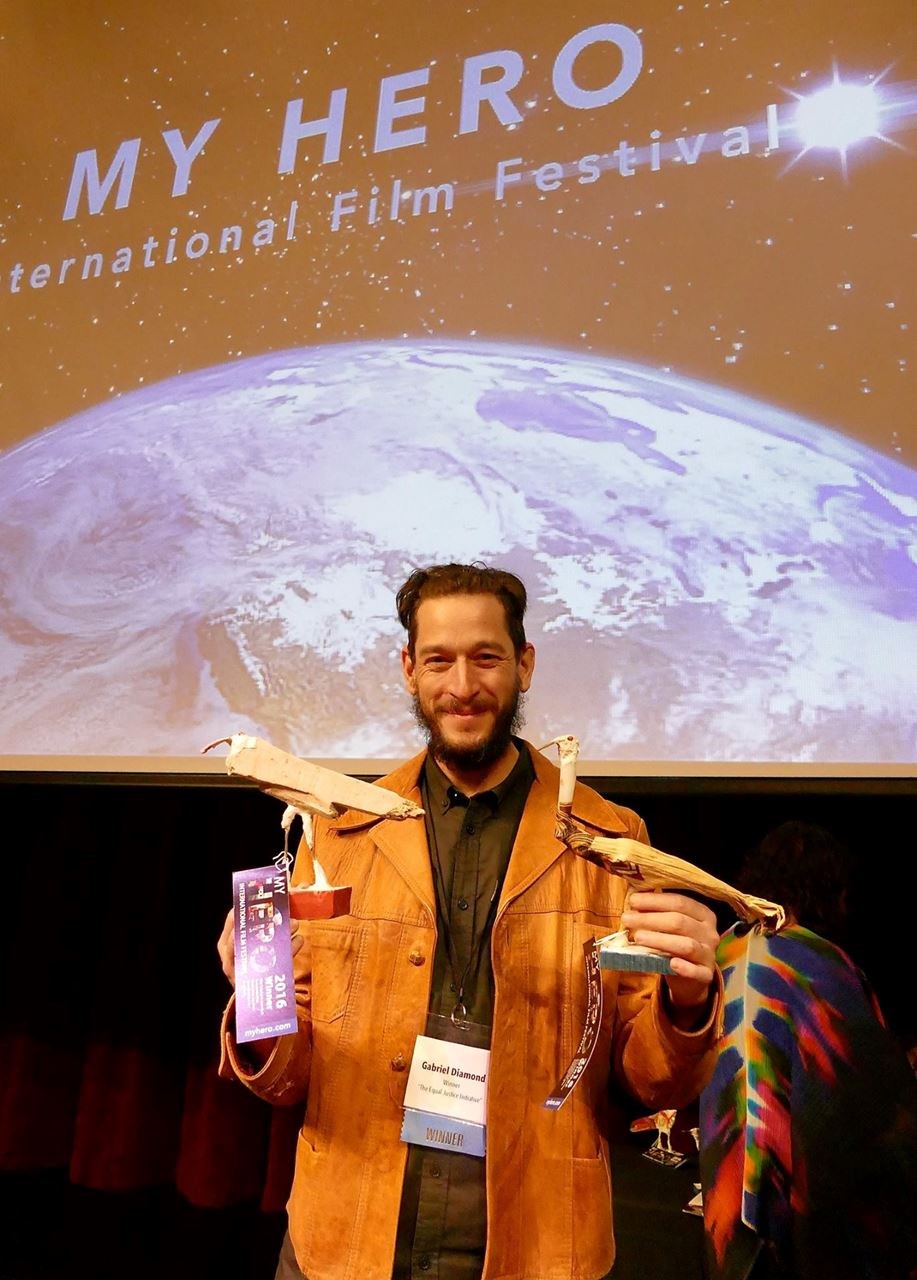 Gabriel Diamond - MHIFF 2016photo by Michelle FalerneStill I Rise is an experimental film that artfully illustrates the poem by Maya Angelou. The film examines the theme of equality using Angelou's powerful words and commanding voice. The film is a collaboration with the Skoll Foundation, a Palo Alto charitable organization that helps fund social entrepreneurs, innovators and organizations working to improve the world.
Educate Girls, another film by Diamond and the Skill Foundation, is the winner of the Dan Eldon Activist Award. The award is given each year to a film that showcases activism. Dan Eldon was an activist and photo journalist who bravely told stories that needed to be shared with the world. He was killed on assignment in Somalia in 1993, at the age of 22.

Educate GirlsMY HEROHis mother Kathy Eldon, and his sister Amy Eldon Turteltaub, keep Eldon's work and legacy alive through their non-profit Creative Visions Foundation. Each year, they offer the Dan Eldon Activist Award, which includes a $500 cash prize, to a filmmaker who uses his or her medium to create positive change. They present the award at The MY HERO International Film Festival.
Educate Girls shows the efforts of a non-profit organization in India that is tackling gender equality by reforming educational practices in a region in which most girls don't finish primary school. The effort, which began in 2007, has introduced new learning and teaching techniques in more than 12,000 government run schools and is having a measurable impact on education.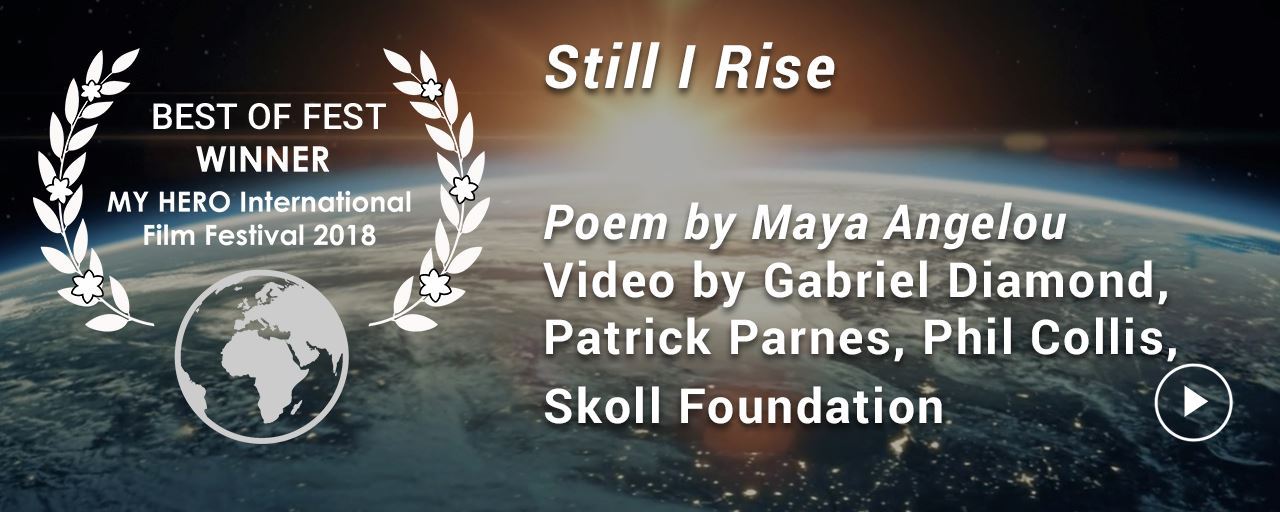 Still I RiseMY HERODiamond, who has been a filmmaker since age 13, makes films that showcase true heroes in the world. Before joining Skoll, He co-founded The Factory, a Bay Area filmmaking lab designed to mentor young people. His mentees include an Emmy winner and winners of many national film festivals. His short documentry "We Are In The Field: Adventures of a 3rd World Environmental Activist," which was shot in Nepal, is being developed into a feature length film with primatologist Jane Goodall.
"What an incredible honor to receive these awards and recognition from My Hero," said Diamond. "I feel like it's the Oscars for impact filmmaking. Thank you to My Hero for curating and celebrating uplifting films from around the world. I'm delighted to be part of this community."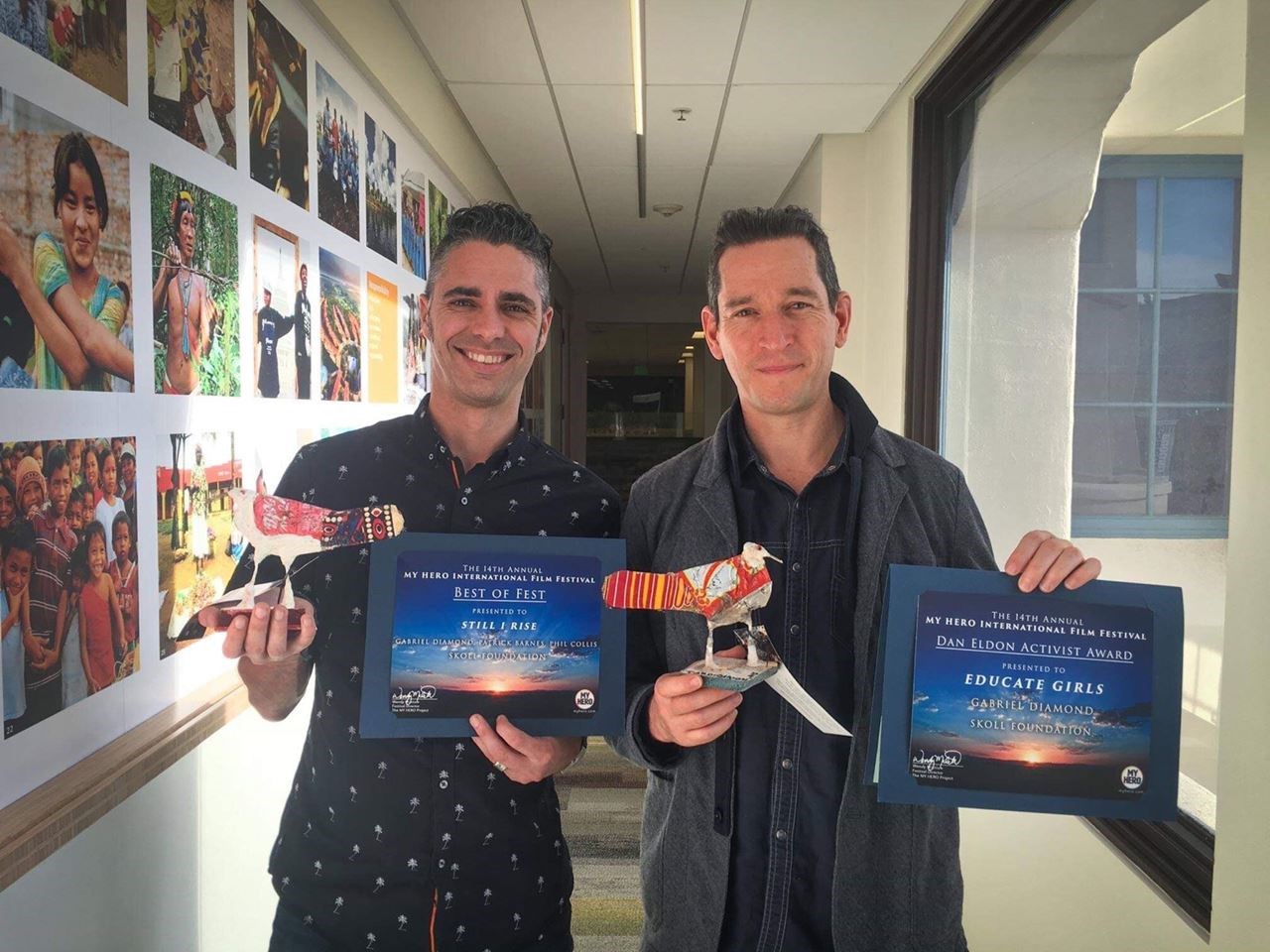 Filmmakers Phil Collis (l.) and Gabriel Diamond (r.)MY HERODiamond will soon share his work and wisdom with student filmmakers at BAYCAT, a San Francisco non-profit with a mission to end racism and inequality through storytelling, and will take part in Stories of Change (SOC), a joint effort of the Skoll Foundation and the Sundance Institute designed to create a larger global network of storytellers.
Page created on 1/14/2019 12:00:00 PM
Last edited 1/16/2019 6:16:53 PM