A hero in my mind changes the way people think forever, and he changes history forever. Rather than doing one courageous thing in his life, he dedicates his entire life to what he believes in. Heroes can dedicate their entire life to their beliefs because they have a determination that doesn't allow anything to get in their way. A hero can't be scared of anything either. He can't be scared of what might happen to him when he acts out, and he can't be scared of what people might think of him when he voices his beliefs. Most importantly, heroes must have the ability to change the way people think about things. One person that fits these traits, in my mind, is the famous Hindu, Mahatma Gandhi.
Mahatma Gandhi was born in 1869 in Gujarat, India. At the age of 22, he went to London to study law, which is where his strong belief in law and equal justice began. Soon after studying law, he began to be active in protests in southern Africa to help the treatment of Indian immigrants. It was in southern Africa where he began to strongly believe in non-violence. In 1915, he returned to India and became active in more protests. Gandhi's main desire was to get India's independence from Britain and he would do most anything to achieve that. Gandhi knew that many other Indians had the same wish, and he tried to encourage them to use non-violence. Gandhi mainly supported non-violence because he believed that "acts of violence against the British only provoked a negative reaction" (https://www.historylearningsite.co.uk/mahatma_ghandi.htm).
Gandhi began to think of ways for his voice to be heard, but not to hurt anyone. Gandhi immediately had followers that joined him in his passive protests. Gandhi's protests didn't always go as planned, and he was imprisoned on numerous occasions. In the years 1922, 1930, 1933, and 1942, Gandhi spent time in jail. Just because Gandhi was in jail didn't mean he would stop fighting for his rights. Any time Gandhi heard about violence, he would go on a hunger strike until it stopped. One of Gandhi's most famous protests was the Dandi March on March 21. Gandhi and thousands of Indians marched 400 kilometers to produce their own salt. This was a major statement because any money spent on salt that was bought in India went to Britain. After his march, thousands of people were jailed, but were later freed when Gandhi and Lord Irwin negotiated a deal. Finally in 1947, India declared independence from Britain. Immediately after that, Gandhi began to voice his next belief, which was that Muslims and Hindus were equal in society. "He realized that the religious issues of India were too deep for any remedy to work," (https://www.historylearningsite.co.uk/mahatma_ghandi.htm). Gandhi knew how hard it would be to convince people that everyone was equal, he would work on that until the day he died.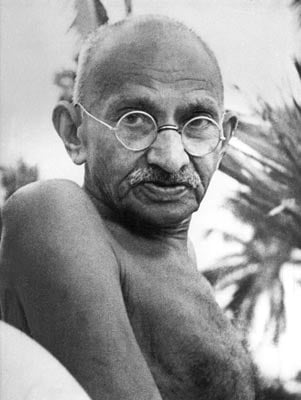 It is easy to see a hero in Gandhi, but not everyone did; many, in fact, disagreed with his ways of life. On January 30th, 1948, Mahatma Gandhi was assassinated on his way to evening prayers. The man who killed Gandhi shot him because he disagreed with Gandhi's belief that everyone in the world is equal, no matter their religion. For Gandhi to think and to voice his opinion on equality and religion was courageous at the time.
Even after Gandhi's death in 1948, he was still influencing people. People around the world were still supporting his beliefs in non-violent ways. One of the most famous passive protests was in the 1950s and 1960s led by Martin Luther King, Jr. These two men shared a lot in common, including their dreams. Arun Gandhi once said, "Both shared the same dream that people would live in peace and harmony without looking at each other's differences." I thought it was the most amazing thing that Mahatma Gandhi could influence people by doing nothing at all.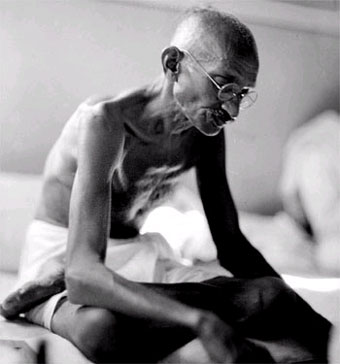 Gandhi is no doubt a heroic figure in my mind and has also made a huge mark in history. He changed India's history without harming a single person. He had amazing willpower considering he went on several hunger strikes just to get violence to stop. He dedicated his entire life to the hope that one day people could live in a more peaceful world. Gandhi would be surprised at how much of a mark he really made on the world today. People all over the world are beginning to understand the importance of non-violent protests, and that a voice can still be heard without violence. In 1989, a young man stood in front of a line of tanks in hopes they would turn out of his hometown. This small act shows how much Gandhi's philosophy and protests affected the world. Gandhi sacrificed his life for a good cause and something he truly believed, which is why Gandhi is my hero.
Page created on 5/16/2005 12:00:00 AM
Last edited 5/16/2005 12:00:00 AM